Fake News Runs Rampant After Las Vegas Mass Shooting
Fake news capitalized on panic and distrust in traditional media. In an effort to pip news channels many fell for fake news.
A tsunami of fake news and fake posts on social media following the deadly mass shooting in Las Vegas on October 1st exacerbated the attack by causing panic, spreading disinformation and reinforcing harmful stereotypes and divisive opinions.
Fake news ran riot after a shooter opened fire from the 32nd floor of the Mandalay Bay hotel on the Las Vegas strip, killing 59 people and injuring more than 500.  The suspect identified by police as 64-year old Stephen Craig Paddock of Mesquite, Nevada then turned a weapon on himself.
The attack, which authorities have steered clear of calling a terror attack, has been called the deadliest mass shooting in modern U.S. history.
While police and journalists scrambled to piece together details how the attack unfolded, fake news filled the void.
Journalists were seen fire-fighting fake posts about the identity of the suspect and his make believe links to ISIS. As was seen after the Manchester bombing at an Ariana Grande concert in May, retweet hungry individuals made up fake posts about missing people.
More worryingly fake news stories ran rampant on Twitter, Google and Facebook, demonstrating that their algorithms had been gamed by the velocity with which these stories were being shared.
GOOGLE's TOP STORIES SHOWED LINK FROM MESSAGE BOARD WHICH MISIDENTIFIED THE SUSPECT 
Google's top stories unit displayed a link to a toxic, anything-goes messaging board called 4chan where anonymous users had misidentified the shooter as 'Geary Danley' and called him a leftist and a democrat, as pointed out by BuzzFeed's Ryan Broderick on Twitter.
Also, apparently Google is putting 4chan threads in their top story unit now? So, the number one hit for his name is a /pol/ thread. pic.twitter.com/OYwW6pbWvy

— Ryan Broderick (@broderick) October 2, 2017
The thread was picked up and fleshed out into a story by far-right website Gateway Pundit in its now deleted story –
The @gatewaypundit wrote up Geary Danley as the #mandalaybay shooter and then deleted their post. pic.twitter.com/ocXtTOX6rL

— Ryan Broderick (@broderick) October 2, 2017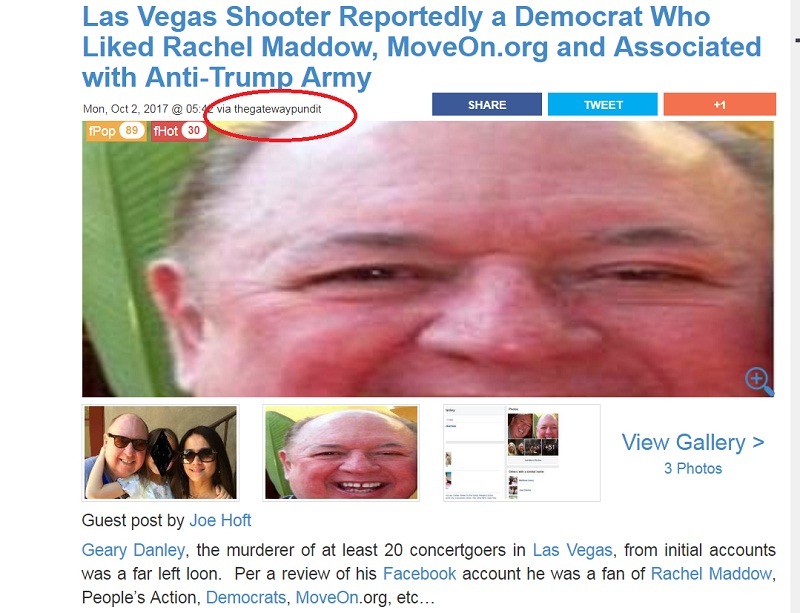 In a statement given to news agencies, the search engine giant pinned responsibility on its algorithm.
"Unfortunately, early this morning we were briefly surfacing an inaccurate 4chan website in our search results for a small number of queries," a Google spokeswoman said in an emailed response to Bloomberg. "Within hours, the 4chan story was algorithmically replaced by relevant results.This should not have appeared for any queries, and we'll continue to make algorithmic improvements to prevent this from happening in the future."
FACEBOOK'S 'SAFETY CHECK' PAGE DISPLAYED A LINK FROM A FAR RIGHT WEBSITE 
In the case of Facebook, its 'Safety Check' page for the shooting displayed a story from a blog called 'Alt-Right-News'.
Also: one of the first news links posted in the safety check page goes to alt-right-news.blogspot. com pic.twitter.com/bpeZsZA2K6

— Charlie Warzel (@cwarzel) October 2, 2017
One look at the story which spins wild conspiracy theories shows why promoting it on Facebook was so problematic.
 "As the event was a country and western show, practically all the victims would be White. Two police officers were also among the slain. This sounds more like the kind of target a Left-wing nutjob would choose than a Right-wing nutjob" – an extract from Alt Right News' story.
TWITTER USERS MADE UP FAKE POSTS ABOUT THE SUSPECT
Some Twitter users shared a photo that falsely claimed that the shooter had been identified as 'Islam Convert Samir Al Hajeed'. However, the photograph belonged to American stand-up comedian Sam Hyde.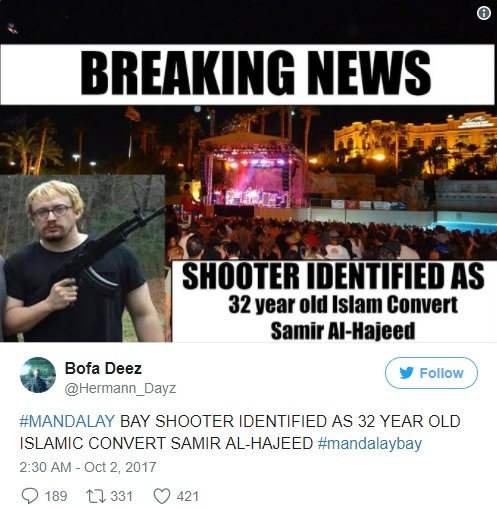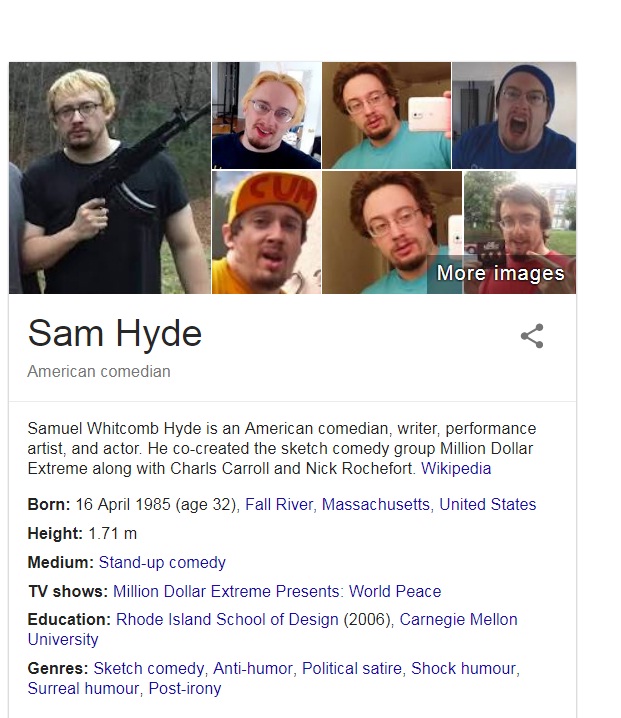 PLEASE STOP SHARING THIS SAM HYDE PIC! This is NOT the shooter! Hyde is a Stand Up Comedian! Google People!#MandalayBay #LasVegasShootings pic.twitter.com/xybDsxcw2u

— Kuuleme Stephens (@kuuleme69) October 2, 2017
Many from the politically right spectrum were convinced that the shooter had converted to Islam and had links to ISIS. This was compounded when the terrorist organisation claimed responsibility for the attack but did not provide any evidence to support its claim. The Federal Bureau of Investigation rubbished the claim.  (FBI: Las Vegas Shooter Stephen Paddock Didn't Have Any Connection to ISIS)
RETWEET HUNGRY INDIVIDUALS CREATE FAKE POSTS ABOUT MISSING PEOPLE
And as people worried about the safety of friends and family at Las Vegas during the attack retweet hungry trolls thought it was a good idea to create fake missing persons posts.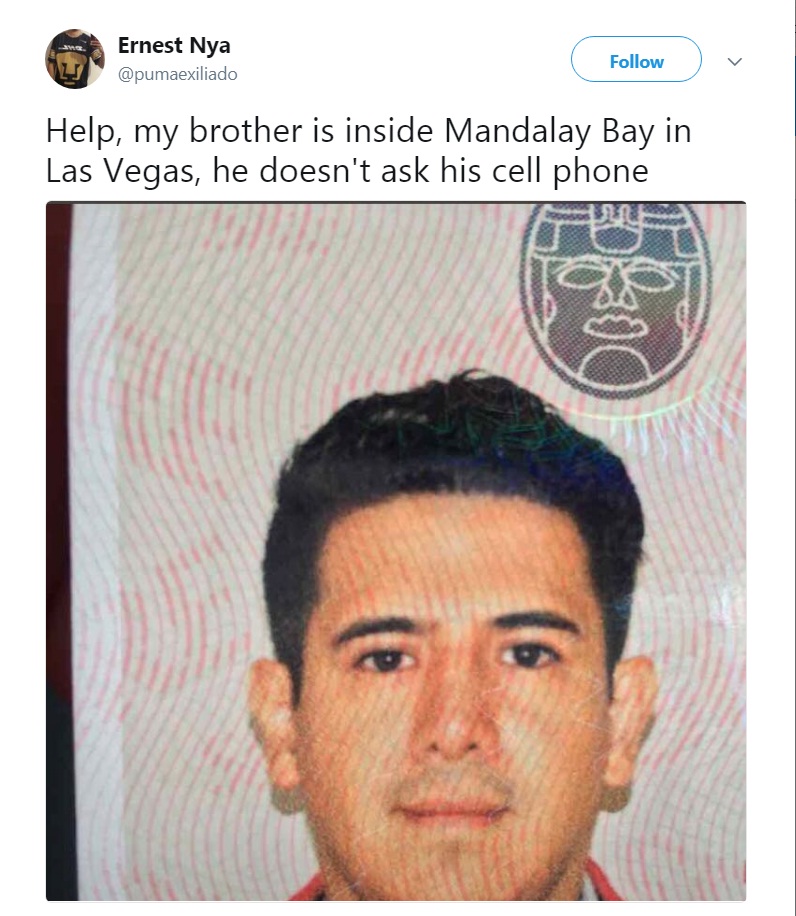 Stop. Posting. False. Information.https://t.co/1Cw0IPobsI pic.twitter.com/T1LEd9oMQo

— Caroline O. (@RVAwonk) October 2, 2017