Fake News Police: No 5-Day Week For Banks On Cards
There is no RBI notification approving 5-day working week for banks from June 1. Message on WhatsApp is a hoax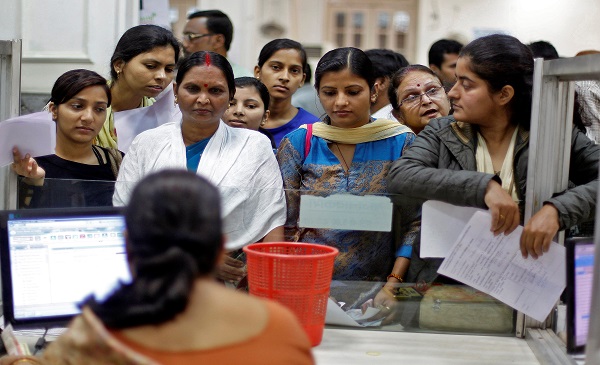 People queue to deposit inside a bank in Allahabad. Reuters
Has RBI approved a 5-day week work schedule for the banking industry starting from June 1 ?
Yes, if this message circulating from the last few days on WhatsApp is to be believed.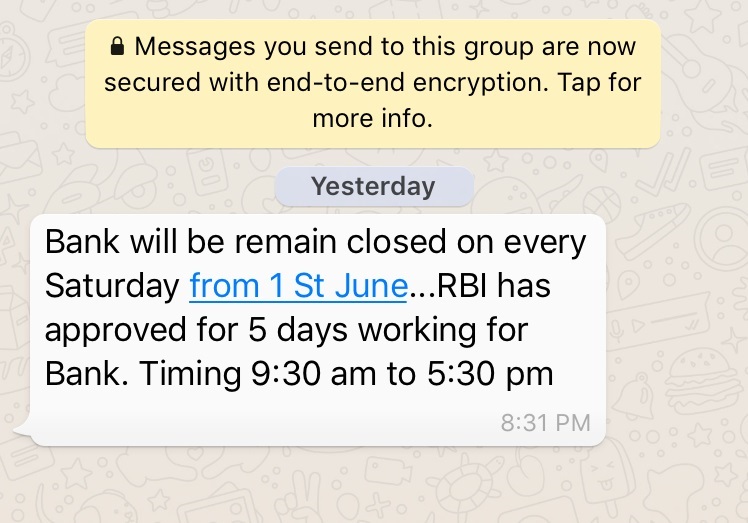 Screenshot of WhatsApp message
The message has evoked mixed reactions - from relief for banking employees to despair for depositors and traders who are finding the present alternate week saturday shutdown already troublesome.
BOOM spoke to sources across banks, Indian Banking Association (IBA) and the employees union associations.
And the verdict is very clear - There is no such notification from the RBI and the WhatsApp message is a hoax.
Speaking to BOOM, Vishwas Uttagi representing United Forum Of Bank Unions, an umbrella body of 9 PSU banks unions, confirmed that the message is a hoax. "This is our long pending demand and the last wage settlement approved alternate weekends off for bank employees. We will be meeting with the IBA on May 2 at 4 pm to initiate discussions on our many pending demands. But as of date, there is no such notification from the RBI and we are yet to begin any fresh talks on the matter of 5-day week," said Uttagi.
The last notification (Click here) regarding working hours and bank holidays were issued by the RBI on August 28, 2015.
"All scheduled and non-scheduled banks – public, private, foreign, cooperative, regional rural and local area banks – will observe public holiday on second and fourth Saturdays from September 01, 2015; and will observe full working days on Saturdays other than second and fourth Saturdays," said the RBI notification dated August 28, 2015.
Uttagi said that while the IBA and RBI were open to their demand for a 5-day week, the private banks proved to be the roadblock. He expects all stakeholders to take a sympathetic view considering that RBI and central government employees enjoy a 5-day week schedule, except for certain departments. The unions have pointed out the options of electronic banking channels to tide over inconvenience to consumers over the weekend.
But the government is yet to give its final approval for the move. The banking industry is also a divided lot as many are of the view that a 5-day week will be a operational nightmare and will result in loss of business. Some have also argued that while consumers in the cities will adapt, this move will impact the steps government has taken towards financial inclusion and ensuring better banking for those in semi urban and rural areas where electronic banking is not as widely used as in the cities.
So relax. You can enjoy finishing pending banking work on the 1st and 2nd Saturdays as scheduled.
BOOM will fact check and bust fake news. If you see anything that deserves our attention, please tag us on Twitter @boomlive_in