Fake News: Indian Man Marries Rat, Says It's A Reincarnation Of Dead Wife
Fake news website World News Daily Report strikes again, claims a Hindu man married a rat. Many websites including Pakistan Defence fall for it.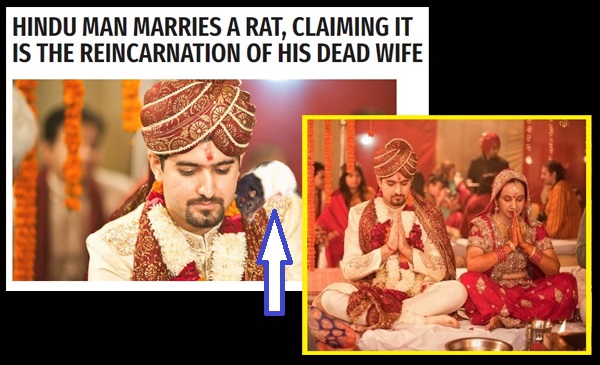 The story of a Hindu man marrying a female rat claiming it is the reincarnation of his wife who died in a car accident, is fake. The story has been conjured by notorious serial fake news offender World News Daily Report (WNDR).
World News Daily Report (WNDR) fabricated the entire story, including making up quotes. The website even photoshopped a rat into the picture in its story published on August 28.
The story has recently begun to go viral on social media and has garnered over 55,000 Facebook shares and over 400 tweets.
The fake story claimed 41-year old  Bangalore based widower Chidhatma Basu, father of four young children, had an unusual encounter with a female rat who showed up at his doorstep.
  "This little female rat showed up on my doorstep, and it had my wife's eyes and nose."

'Mr. Basu says he rapidly understood that the rodent was the reincarnation of his deceased wife.'
The story also claims the man consulted with temple officials about the rodent and was assured that the rat was, indeed, his reincarnated wife.
The ceremony ended up being very controversial and was criticized by animal rights groups in the West including PETA, the WNDR claimed.
FACTS
1. WNDR is a fake news website that has been busted by BOOM in the past and other fact checking organisations such as Snopes. WNDR's disclaimer uses satire as an excuse to peddle fake news. Read its disclaimer
here
.
 "All characters appearing in the articles in this website – even those based on real people –  are entirely fictional and any resemblance between them and any persons, living, dead, or undead is purely a miracle." – WNDR's disclaimer
WNDR is the site responsible for another viral fake story of a Saudi Prince losing five wives while gambling.  – How India's Twitter Influencers Fell For A Known Fake News Website
2. We found another image taken by photograher Saneesh Sukumaran which shows both bride and groom.  BOOM reached out to individuals in the photo who wished to keep their identity private.
3. The photograph of the Hindu priest in the story is that of Pandit Shri Martand Sharma Ippili Ji.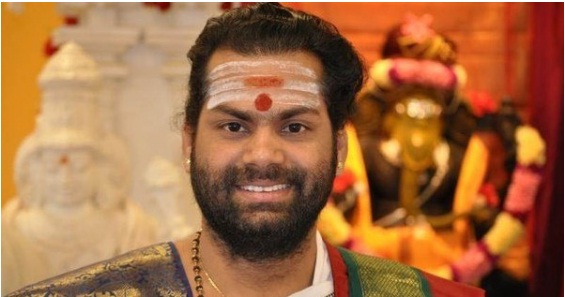 World News Daily Report's story was shared by many websites including defence.pk, which subsequently deleted it.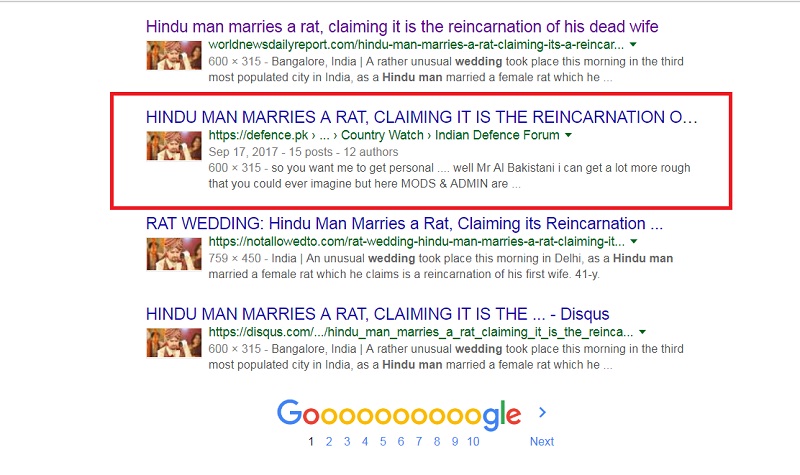 Below is a visualization of how the story has been shared on Facebook and Twitter.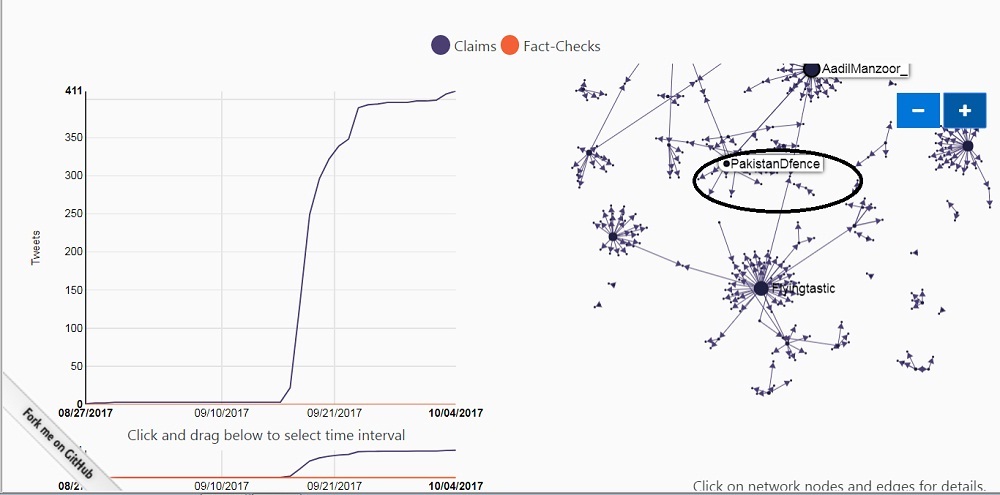 (BOOM is now available across social media platforms. For quality fact check stories, subscribe to our Telegram and WhatsApp channels. You can also follow us on Twitter and Facebook.)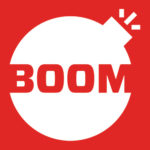 Karen Rebelo
Karen Rebelo works as an investigative reporter, fact-checker and a copy-editor at BOOM. Her specialization includes spotting and debunking fake images and viral fake videos. Karen is a former Reuters wires journalist and has covered the resources sector in the UK and the Indian stock market and private equity sector. She cut her teeth as a prime-time television producer doing business news shows.