Fake Message Claims No EVMs In Constituencies With More Than 100 Candidates
Latest EVMs can take up to 384 candidates including NOTA, a spokesperson for the Election Commission said.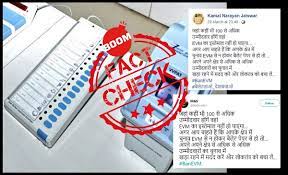 A viral message falsely claiming that Electronic Voting Machines (EVMs) will not be used at places where there are more than 100 candidates, have been doing the rounds on social media, particularly Facebook and Twitter.
The message goes on to urge people to prop up more candidates so that EVMs can be banned and ballot paper can be used instead.
The message in Hindi translates to, "EVMs will not be used wherever there will be more than 100 candidates. If you want the election in your constituency to happen through a ballot paper and not EVM, then help more candidates to contest the election. This will save our democracy. "
(जहां कहीं भी 100 से अधिक
उम्मीदवार होंगें वहां
EVM का इस्तेमाल नहीं हो पाएगा…
अगर आप चाहते हैं कि आपके क्षेत्र में
चुनाव EVM से न होकर बैलेट पेपर से हो तो…
अपने अपने क्षेत्र से अधिक से अधिक
उम्मीदवारों का चुनाव में
खड़ा रहने में मदद करें और लोकतंत्र को बचा लें…)
The hashtag #BanEVM has been used in many of the messages which were shared.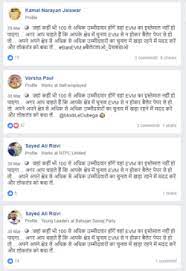 Fact Check
In a tweet, Sheyphali Sharan, official spokesperson of the Election Commission of India (ECI), denied any such measure introduced by the ECI and urged voters not to believe the piece of misinformation.
Sharan also mentioned that the most recent EVMs can accommodate up to 384 candidates including the None of the Above (NOTA) section. In fact places where such EVMs are required, the ECI will deploy them, Sharan mentioned. You can view Sharan's tweet thread below.