Fake Lokniti Survey Predicts Telugu Desam Party Win In Andhra Pradesh
The fake survey claims that research organisation Lokniti CSDS conducted a survey and predicted a landslide victory for TDP owing to Chandrababu Naidu's schemes.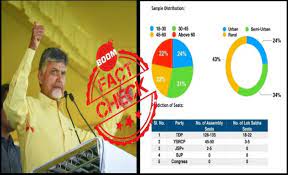 A pre-election survey attributed to Lokniti predicting the Chandrababu Naidu led Telugu Desam Party (TDP) will win in Andhra Pradesh in the upcoming 2019 elections, is fake. Lokniti CSDS issued a statement saying it has not carried out any such survey in the state.
Two local news outlets in Andhra Pradesh fell for the bogus survey and the same is also being shared on Facebook.
The fake survey, which features the logos of Lokniti and CSDS, predicts a landslide win for TDP with 126-135 Assembly seats and 18-22 Lok Sabha seats. It also lists that YS Jaganmohan Reddy led YSRCP (YSR Congress Party) will lose to TDP and get only 45-50 Assembly seats and 3-5 Lok Sabha seats.
(CSDS stands for Centre for the Study of Developing Societies)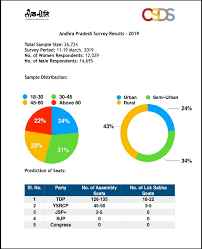 The fake survey document also lists out four reasons for the massive TDP victory -- 'Confidence on Leadership, Welfare Schemes, Development and Weak Opposition.' In the first three reasons, the bogus survey details welfare schemes initiated by Naidu and also talks about development projects including "construction of capital city Amravati, interlinking of rivers and attracting investors". It further says that the opposition, YSRCP, "is weak in credibility among people" and also talks about the CBI investigating Reddy and says, "Pawan Kalyan is yet to graduate as a politician."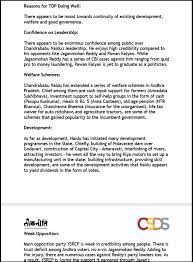 NEWS OUTLET CARRIES FAKE SURVEY
News outlet, ABN AndhraJyothi carried the fake survey on its news channel - ABN Telugu and its newspaper Andhra Jyothi, complete with graphics.
The channel uploaded the news on March 31, 2019 with the title, 'Lokniti CSDS Survey Says TDP Wins in AP Elections 2019' and anchor also narrated details results from the fake survey including the predicted number of seats. The same news group carried the fake survey in its newspaper on the same day.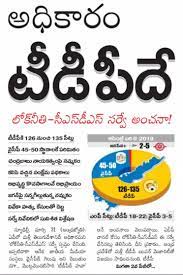 The results of the fake survey are being shared on Facebook too with the caption, "Good News For #TDP Supporters! CSDS Lokniti Survey" A search for "CSDS TDP" provides results for various posts sharing the fake survey.
FACT-CHECK
CSDS Lokniti has issued an official statement calling the survey fake and also tweeted that they have not conducted any such survey in the state of Andhra Pradesh.
BOOM contacted Sandeep Shastri, National Coordinator, Lokniti who confirmed that the survey was fake. "It is very clear that the survey has been manufactred and that too by someone who does not understand sampling and surveys. Any survey which predicts zero percent for BJP-Congress is not a survey based on facts. There is clear manufacturing of data,"he said. Shashtri added that a simple comparison of actual Lokniti surveys with the fake survey shows many differences. "We explain in detail the sample size and the demographics and also our style of writing is different."
In its official statement, Lokniti-CSDS has said, "some social media platforms and print media have circulated findings of survey purported to be made by Lokniti CDS in Andhra Pradesh projecting vote shares and seat shares. Lokniti wishes to clarify that it has not done any such survey in Andhra Pradesh, that it was not associated with any such survey, that it has not placed in public domain any reported findings and news that is being circulated is mischievous and malafide.
Read the complete statement below
Updated On:
2021-05-24T16:06:00+05:30
Claim Review :
Lokniti survey predicts TDP win in Andhra Pradesh
Claimed By :
Facebook posts