Business
FactChecking RSS Ideologue S Gurumurthy's Claims On Demonetisation
5 claims by S Gurumurthy on demonetisation that were fact checked by BOOM and found to be largely untrue.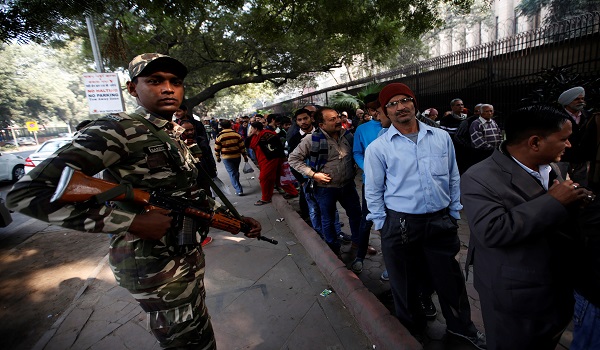 People queue outside RBI to exchange their old high denomination bank notes as a security personnel stands guard, in New Delhi. REUTERS/Adnan Abidi
RSS Ideologue and political analyst S Gurumurthy gave a series of interviews to news channels defending Prime Minister Narendra Modi's move on November 8 to demonetise high denomination notes. In these interviews, he made several claims connecting the circulation of high denomination notes to poor quality GDP that fails to generate large scale jobs. He also claimed India's high GDP growth years between 2004-2010 were not due to production but asset price inflation.
Here are 5 claims by S Gurumurthy that were fact checked by BOOM and found to be largely untrue.
Claim 1: Cash to GDP grew disproportionately during the UPA/Congress regime from 2004-2014.
Gurumurthy's central argument is about UPA's ineffectiveness in controlling the usage of cash in the economy thus contributing to uncontrolled growth of black money.
FACT: A look at the data suggests otherwise.
Cash in the economy grows in line with GDP growth.
Infact the table below clearly shows that cash to GDP ratio fell when GDP growth slowed between 2010 to 2014.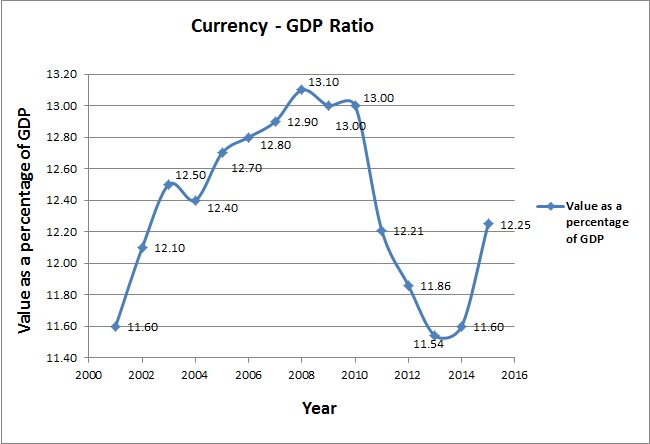 Source: RBI, Bank for International Settlements
Between 2001 to 2004, with average GDP growth of 5.5%, cash to GDP showed a steady rise from 11.6% to 12.4%.
The UPA came to power in 2004 and till 2010 with over 8% GDP growth, cash to GDP once again showed a steady rise from 12.4% to 13%.
But the period from 2010 onwards to 2014 shows a clear decline in the proportion of cash. The ratio fell from 12.21% to 11.60% and spiked to 12.25% in 2015 at a time when the BJP returned to power.
This clearly shows there is nothing unusual in the rise of cash in the economy as it usually follows the GDP growth trajectory and is also linked to inflation.
Claim 2: India's high cash to GDP ratio is responsible for low job creation
Fact: While Gurumurthy is correct that high GDP growth has not necessarily resulted in creation of higher number of jobs, there is no specific research to prove a correlation between high cash and GDP in job creation.
Countries with varied range of cash to GDP ratio have lower unemployment rate. For instance, Japan which has a high cash to GDP ratio at 18% has an unemployment rate of 3.1%. Switzerland's cash to GDP is at 10% but their unemployment rate is also around 3.3%.
Claim 3: India's GDP growth between 2004 and 2010 was led by asset price inflation.
Gurumurthy's next claim dismisses the over 8% GDP growth in the period between 2004-2009. He claims that the growth during this time was primarily led by asset price inflation in real estate,gold and stocks.
FACT: While asset prices did rise exponentially, there is no credence in the claim that economic output or production of goods was poor during 2004-2009. This can be seen in the manufacturing numbers of automobiles and steel.
In the period between 2004-2009, 55 million new vehicles (click here) were manufactured versus 30 million vehicles manufactured between 1999-2004. Also, around 257 millions of steel (click here) were produced domestically as compared to 160 million tonnes of steel produced in the five year period between 1999-2004.
This growth in economic output reflected in the profits of BSE 500 companies that grew at a CAGR of 21% in the period between 2004-2009.
Claim 4: Rise in High Denomination Notes was very large between 2004 to 2010.
Gurumurthy blames the Manmohan Singh government for raising the supply of high denomination notes during this period which made it easier to hoard black money.
FACT: 1,000-Rupee notes were introduced in 2001 and its share rose ten times between 2001-2004. The share of 500 Rupeenotes also nearly doubled during this period. This RBI report points out that 500 denomination notes quickly emerged as the second most important denomination since 1998-99 and replaced 100 Rupeenotes as the most important denomination in 2003-04.
Hence, to single out a particular period for a rise in high denomination notes is selective splicing of data without giving a context of how the supply rose in the preceding years as well.
Claim 5: Demonetisation will lead to more jobs through better quality GDP growth
FACT: Again, this is Gurumurthy's personal opinion as he has not presented any data to support this claim. The benefit of demonetisation to the country's economy is yet to be proven with no domestic or global precedence available.
Do you always want to share the authentic news with your friends?
Subscribed Successfully...
Enter Valid Email Id