Rajya Sabha MP Rajeev Chandrasekhar's Defence Deals - Conflict of Interest Or Not?
What Prompted Rajeev Chandrasekhar To Stamp Down The Wire with a legal injunction? And does his membership of the Parliamentary Committee on Defence stand in conflict with his business interests?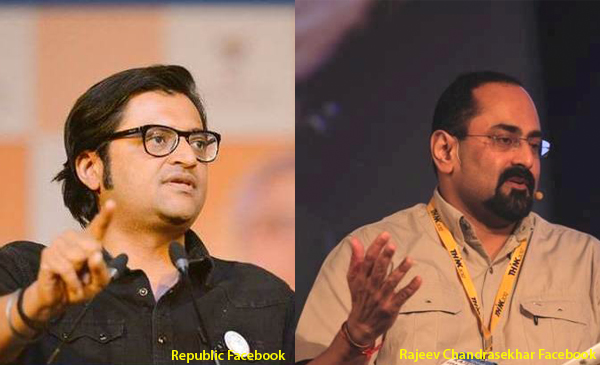 Arnab Goswami & Rajeev Chandrasekhar
Rajya Sabha MP Rajeev Chandrasekhar's ex-parte temporary injunction against two articles filed by digital news website The Wire has once again brought focus on his business interests in the area of defence and deals done by his related companies under the Make In India initiative. In a written statement to BOOM, Chandrasekhar has called the articles motivated by the Congress to defame him.
"This court action is not about a takedown, it is about holding those who did this, accountable for their actions," said Chandrasekhar.
The Wire while complying with the order said that they will be challenging the injunction.
"We will be challenging the injunction, as a first step. And will fight Chandrasekhar's attack on media freedom every inch of the way," said Siddharth Vardarajan, Founding Editor, The Wire.
The temporary injunctions served by Chandrasekhar's lawyer are connected with two stories filed by The Wire in the months of January and February, 2017. The first story filed by Sandeep Bhushan on 25th January, titled 'Arnab's Republic, Modi's Ideology' spoke about the association of former Times Now editor and prime time anchor Arnab Goswami and Rajeev Chandrasekhar. The Rajya Sabha MP is said to have invested substantial amounts of money in Goswami's upcoming news channel along with a bunch of other investors.
This story was followed by another report by Sachin Rao on 17th February, titled 'In Whose Interests Do Our Soldiers March?'. This report raised questions about the conflict of interest arising out of Chandrasekhar's investments in defence companies and his continuing as a member of the Parliamentary committee on defence.
Sandeep Bhushan's story while focusing on Goswami's soon to be launched news channel also pointed out to an integrated strategy arising out of the Rajya Sabha MP's public positions against Pakistan, pro-military statements, his investments in defence projects through Jupiter Capital and creating a right-wing news network to propagate his views and further his business interests. The article mentioned that Chandrasekhar was given an opportunity to provide his views but no response was provided.
Rajeev Chandrasekhar, an independent Rajya Sabha MP from Karnataka has been a vocal supporter of issues related to the armed forces, coming out openly in support of the veterans in the One Rank One Pension controversy. Chandrasekhar also moved a private members' bill in late 2016 that called to declare Pakistan a 'state sponsor of terrorism' and snapping all economic and trade relations with the neighbouring nation.
Recently, Chandrasekhar wrote an open letter to Delhi University student Gurmehar Kaur who came under attack from the ABVP for her views on Indo-Pak relations. Chandrasekhar, even as he cheered her for taking a stand, explains to her why she is wrong about Pakistan.
But ever since he became the Vice-Chairman of the BJP led NDA in Kerala in September 2016, his business interests have also come under close scrutiny. Chandrasekhar is a member of the Parliamentary Standing Committee of Defence and also on the Consultative Committee for the Ministry of Defence.
This has raised questions of conflict of interest by his critics as his own firm based out of Bangalore, Jupiter Capital owns substantial stake in Axiscades Engineering Technology Limited, a company focussed on high-end strategic technologies for the aerospace and defence sector. As of December 2016, Jupiter Capital owns 22.1 % stake in Axiscades and the combined promoter group entities, own 70.56% of the company. The company is listed on the exchanges and its market cap is over Rs 600 crore according to the last closing price on Wednesday.
On 28th March, 2016, Axiscades also announced that they have won and signed a contract with the Ministry of Defence for supply of 88 ACRT (Aircraft Recognition Trainer) systems. The contract spread across 18 months and subsequent warranty and AMC for 7 years was won after stiff competition from domestic defence companies including government company Bharat Electronics, said the company's press release.
On 14th February, 2017, Axicades and France based DRONE VOLT announced signing of a MOU at Aero India 2017 to jointly address the growing market for drones in the Indian defence and aerospace sector. The company hopes that this partnership will help them to increase its contribution in the Make In India initiative and become an integral part of OEM's global supply chain delivering drone solutions.
But Bhushan is not the only reporter to raise questions about the independence of the media ventures owned by Chandrasekhar and its potential conflict with his own political views. Media critique website The Newslaundry wrote an extensive article on October 20,2016. This referred to the now famous email sent by Jupiter Capital CEO Amit Gupta to editorial heads of media outlets owned by them, chief among them Malayalam news channel Asianet News, Kannada news channel Suvarna News, web portal Newsable and newspaper Kannada Prabha.
The website said that they have seen the email which asked for all future candidates at these media outlets to be "right of centre in his/her editorial tonality, pro-India , pro-military and aligned to Chairman's (read Chandrasekhar) ideology."
This directive was not provided to the editorial heads as an option but to be followed strictly. But Gupta is said to have recalled the email and its directives on a possible pushback by the editorial heads against such an open call to follow a certain ideology.
This was also followed by another report in the Indian Express on 13th January, 2017 that mentioned "Chandrasekhar, through companies owned by him, has invested over Rs 30 crore in ARG Outlier, holding company of the news channel Republic." The story also mentions the email sent by Amit Gupta and its subsequent recall.
Hence, this ex-parte order against The Wire has surprised many in the media circles and raises questions on why the Rajya Sabha MP chose to take legal steps to only take down The Wire's articles. This has also come as a surprise as Chandrasekhar's media partner Arnab Goswami has gone around the country addressing large audiences about the need to encourage and protect independent media, promising to chase all shades of stories with his only responsibility as an editor being towards the viewer and the country.
Chandrasekhar has meanwhile opened a new front in this battle by accusing the Congress of campaigning against him through select media. Responding to the charges, Vardarajan says, "Chandrasekhar's statement about The Wire being part of a 'nexus' with the Congress is laughable. I am tempted to call it 'defamatory' but I think 'delusional' may be a more accurate description."