FactCheck For Tripura CM Biplab Deb: Tagore Gave Up Knighthood Not Nobel
Tagore had renounced his title of Knighthood in protest against the British post the Jallianwala Bagh massacre in 1919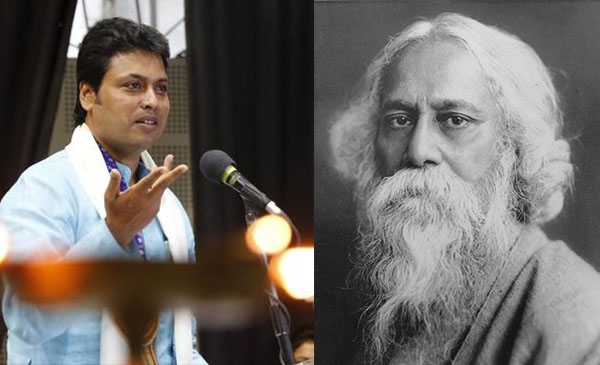 Tripura Chief Minister Biplab Kumar Deb known for his historical gaffes has come up with a new gem. Speaking at a function at Udaipur in Tripura, Deb said that the world famous poet Rabindranath Tagore had returned the Nobel Prize in protest against the British rule in India.
In a video being widely shared on social media, he was heard saying in Bengali, 'Rabindranath Tagore returned his Nobel Prize in protest against the British'.
https://twitter.com/paediatric_inc/status/994635356162088965
However, historical accounts do not show any record of Tagore having returned the Nobel prize. On the contrary, Tagore had renounced his title of Knighthood as a protest against the Jallianwala Bagh massacre in 1919.
The Jallianwala Bagh massacre which took place on April, 1919 was marked as a turning point in India's freedom struggle against the British. The British troops under General Dyer had opened fire on unarmed civilians who had gathered for a peaceful protest at Jallianwala Bagh, Amritsar on the day of of Baisakhi. Thousands of people lost their lives and many trapped as the garden was enclosed by walls and the main entrance was blocked by soldiers. The massacre is considered as one of the most heinous events of the Indian independence history.
Tagore was a well-known Indian literary figure and received the Nobel Prize for Literature in 1913. He was the first Nobel laureate from Asia. In 1915, he was knighted by the British Crown only to relinquish it in 1919.
It has to be noted that Nobel Prizes are awarded by the Swedish Academy under the Nobel Foundation. Tagore relinquished the title given to him by the British government to register his protest.
Repudiating the title and expressing his protest, Tagore had this to say in a letter he wrote to Lord Chelmsford, Viceroy of India:
'The very least that I can do for my country is to take all consequences upon myself in giving voice to the protest of the millions of my countrymen, surprised into a dumb anguish of terror. The time has come when badges of honour make our shame glaring in the incongruous context of humiliation, and I for my part wish to stand, shorn of all special distinctions, by the side of those of my countrymen, who, for their so-called insignificance, are liable to suffer degradation not fit for human beings.'
Below is a copy of the letter dated May 30, 1919 written in Calcutta, as obtained from the publication, 'Tribute to Gurudev'. It was compiled by the Central Secratariat Library, Ministry of Culture in 2011 to commemorate Tagore's 150th Birth Anniversary.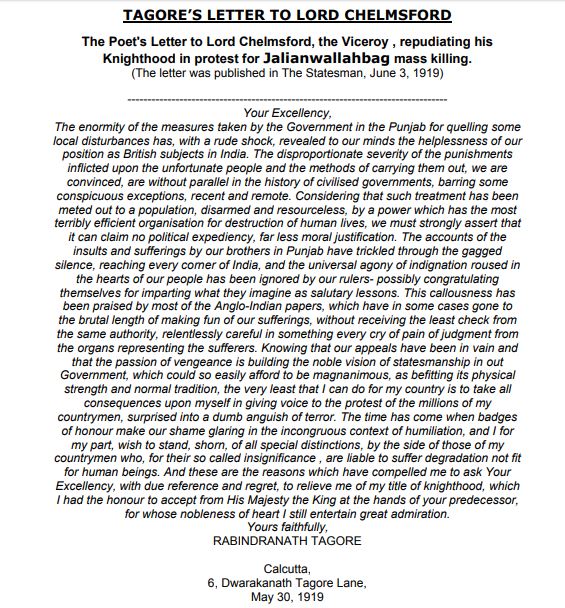 Twitter users were quick to point out the glitch and give history lessons to the Chief Minister.
https://twitter.com/zules7172/status/994672072558239744
https://twitter.com/_NairFYI/status/994783107701268482
https://twitter.com/shuvankr/status/994663041948991488
Ever since he was sworn as Chief Minister of Tripura in March 2018 after ousting the Left Front who ruled the state for 25-years, Deb has courted fresh controversies with his statements, one after the other.
1) Internet existed during Mahabharata: "India has been using internet since ages. In Mahabharata, Sanjay was blind but he narrated what was happening in the battlefield to Dhritarashtra anyway. This was due to internet and technology. Satellite also existed during that period.'
2) Milk cows instead of running after government for jobs: 'There should be cow in every house. Why run after netas for government jobs? Graduates should get cows and milk it to earn Rs 10 lakh in 10 years. Instead of running after political parties, had the same youth set up a paan shop, he would have had a bank balance of Rs 5 lakh by now.'
3) Diana Hayden does not fit as Indian beauty : 'Even Diana Hayden got it (the world title). See, everyone is laughing. Tell me, was Diana Hayden supposed to get it? Aishwarya Rai got it. That's justified, because she carries the essence of the beauty of Indian women. Indian beauty is all about Goddess Laxmi, Goddess Saraswati... Diana Hayden does not fit to that class of beauty.' Later he apologized for the statement.
4) Civil Engineers and not mechanical engineer should go for civil services: 'After pursuing mechanical engineering one should not go for civil services. Instead, civil engineers should join civil services as they have the knowledge and experience to help build administration and society.'
5) Nails of those who criticize the government should be chopped off: 'It shouldn't happen that with my government, somebody points fingers at it or scratches it with their nails. Anyone who scratches it, their nails should be chopped off.'