Entertainment
Daler Mehndi Falls For Spoof, Thanks Prince Harry For Listening To His Songs
Daler Mehndi fell for a joke by a handle that had made a spoof tweet on the revelations in Prince Harry's new book 'Spare'.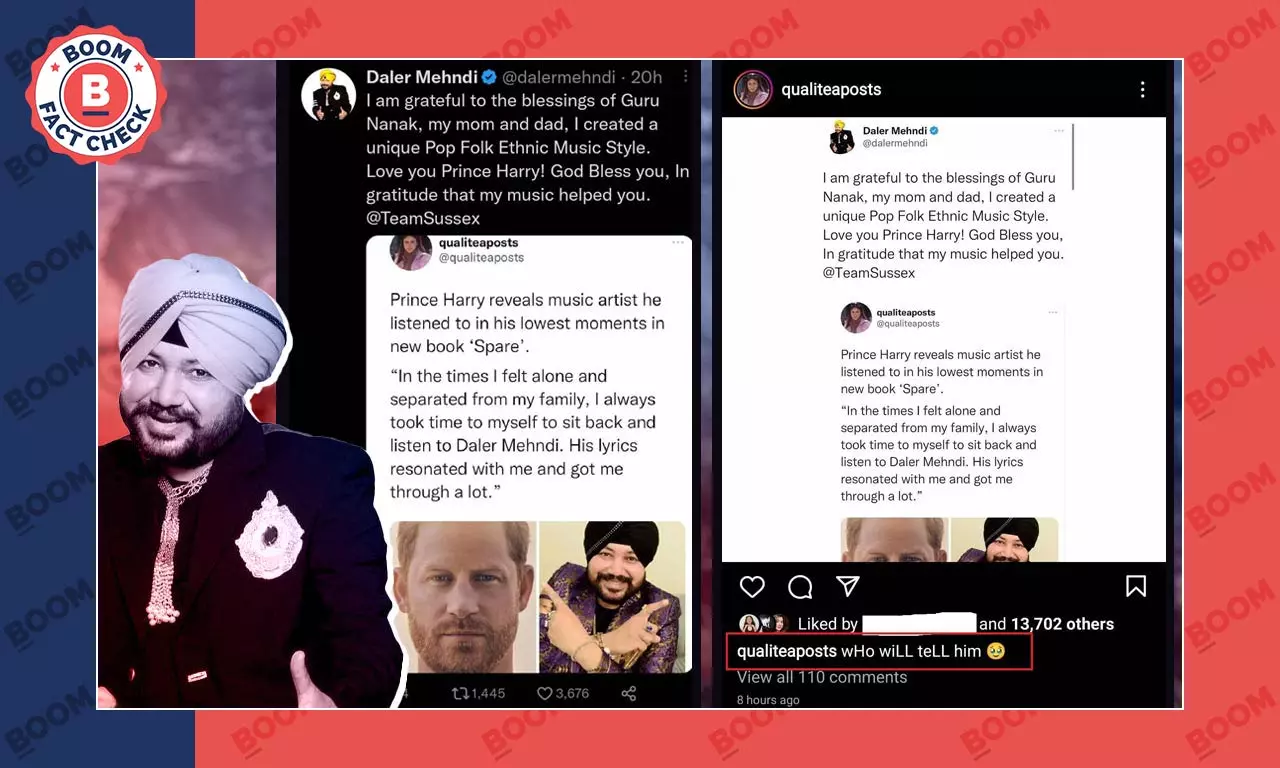 Punjabi Bollywood singer Daler Mehndi suddenly started trending on Twitter on Sunday, however not for releasing a new song, but for falling for a spoof tweet. The tweet sarcastically claimed that Prince Harry in his new book 'Spare' revealed that in his lowest moments, he turned towards Daler Mehndi's songs.
Mehndi is known for singing famous Punjabi hit songs like "Tunak Tunak Tun" among many others. Prince Harry, the youngest son of King Charles III, King of the United Kingdom recently released 'Spare' his memoir which has revelations about his life as a member of the royal family and his wife, Meghan, Duchess of Sussex, against her persecution by the tabloid press and the alleged complicity of his family in it. Harry and Meghan are currently living in California, United States after a rift with the royal family over this.
Mehndi seems to have missed the joke and tweeted with a screenshot of a tweet by '@qualiteaposts' which read, "Prince Harry reveals music artist he listened to in his lowest moments in new book 'Spare'. "In the times I felt alone and separated from my family, I always took time to myself to sit back and listen to Daler Mehndi. His lyrics resonated with me and got me through a lot,"" the screenshot read.
Mehndi tweeted on January 20, 2023, the screenshot with the caption, "I am grateful to the blessings of Guru Nanak, my mom and dad, I created a unique Pop Folk Ethnic Music Style. Love you Prince Harry! God Bless you, In gratitude that my music helped you. @TeamSussex"
Click here to view
Origins of the joke Daler Mehndi fell for
The joke that Mehndi fell for is a play on British outlet The Independent falling for a parody tweet by the Twitter handle '@thereturnofBWA'. Press Gazette reported that the Biritish magazine had fallen for a parody tweet. The parody handle had tweeted claiming that Prince Harry revealed the music artist he listened to in his lowest moments in his new book 'Spare' is Shenseea, a Jamaican dancehall artist.
Shenseea had quote tweeted the parody handle's tweet on January 5, 2023, saying, "I know Rebel is his song! That intro is it"
This quote tweet could have led The Independent to misreport it. The article was later taken down by the outlet.
However, these "singer revelations by Prince Harry in his book" led to a meme fest, prompting similar fake quotes claiming that the Duke of Sussex had been consoled by Paris Hilton or actor Tom Holland. The Mehndi joke seems to be inspired by this.
Who will tell him: The page posted on Instagram after Mehndi falls for spoof tweet
@qualiteaposts, the handle which can be seen in the screenshot that Mehndi tweeted, posted a screenshot of his tweet on Instagram with the caption, "who will tell him". It also posted another comment with sone of the hashtags, "#desimemes #memes #indianmemes #funnymemes #memesdaily #bollywood #hindimemes #meme #bollywoodmemes"
This clearly indicates it was a joke by the handle.
Click here to view
Claim :
Prince Harry Listens To Daler Mehndi songs
Claimed By :
Daler Mehndi
Do you always want to share the authentic news with your friends?
Subscribed Successfully...
Enter Valid Email Id