Elections
Exit Polls 2019 Predict A Clear Win For BJP-led NDA
According to most exit poll results, with the exception of ABP News, BJP-led NDA is expected to outperform itself from the 2014 general elections and come back to power with a majority.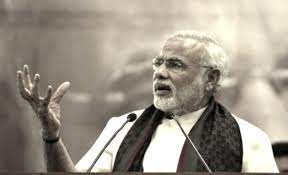 As the 2019 general elections came to an end on May 19, 2019, the exit poll results show Bharatiya Janata Party-led National Democratic Alliance coming back with a majority.
ABP News provided the only contradictory results, with its predictions stating that NDA may miss out on a majority by a small number of seats.
According to the regulations set by the Election Commission, media organisations are barred from publishing the results of exit polls before the end of the final phase of voting.
As the last phase came to a close on Sunday evening, media organisations who have conducted country-wide surveys outside polling booths have finally come out with the results.
Times Now - VMR
Times Now-VMR has predicted a comfortable victory for the NDA with 306 seats, while the UPA trails behind with 132 seats, and other parties getting 104 seats.
Republic - CVOTER
Republic-CVOTER survey has predicted a clear victory for the NDA with 287 seats, while UPA is likely to get only 128 seats. Mahagathbandhan and other parties get 40 and 87 seats, respectively.
ABP News
Contradicting all other exit poll surveys, the prediction by ABP News show that the NDA will fall short of forming a majority by a small margin.
According to ABP, NDA will get 267 seats, UPA gets 127 seats while other parties get 148 seats.
India Today - Axis
India Today predicted a massive victory for the BJP-led NDA with 339-365 seats, with the UPA poised to win only 77-108 seats and other parties at 69-95 seats.
CNN News18 - IPOS
CNN News18 has predicted 336 seats going to the NDA, providing a thumping majority to the BJP-led coalition, while UPA gets only 82 seats and other parties getting 124 seats.
News24 - Today's Chanakya
News24 has predicted NDA winning 350 seats, with UPA trailing at 95 seats and other parties getting 97 seats.
Poll of Polls
Calculating the average figures for each of the prediction, we get an expectation of 309 seats for NDA, 114 seats for UPA and 119 seats for other parties.
Will The Predictions Match The Actual Results?
The accuracy of exit poll results have been a matter of debate for a while, with the predictions being a hit-or-miss.
The exit poll survey from 2014 had predicted the BJP-led NDA having a good possibility of forming a majority government, with News24 - Chanakya giving the most accurate prediction of a standalone majority for BJP.
The NDA surpassed all exit polls and won 336 seats while the UPA, which had been in power for a decade, won only 59 seats.

Do you always want to share the authentic news with your friends?
Subscribed Successfully...
Enter Valid Email Id