Exit Poll Promotional Video Shows Dummy Data, Clarifies India Today
India Today's editor Rahul Kanwal told BOOM that dummy data was used for tech checks in preparation for exit polls.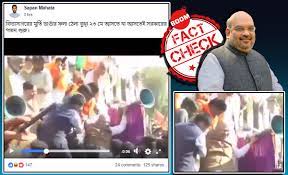 Exit poll figures shown in a recently released promotional video by India Today is based on dummy data and does not show the actual expectations for the outcome of the ongoing general elections, the channel clarified.
A video that has gone instantly viral on social media, shows news channel India Today's editor Rahul Kanwal promoting the channel's presentation of exit polls for May 19, 2019.
Kanwal, in an attempt to show India Today's preparation of an 'Election Intelligence Dashboard', walks over to a computer showing a map of India. As the camera zooms in on the screen, a tab suddenly opens up, seemingly showing exit poll figures for NDA, UPA and others.
The figures shown in the video are: 177 seats for NDA (with a loss of 177 seats), 141 seats for UPA (with a gain of 76 seats) and 224 seats for other parties (gaining 101 seats).
Is It True?
The Election Commission of India has banned the presentation of exit polls until the end of the last phase of polling, which is to be held on May 19, 2019.
However, India Today's promotional video was taken seriously by many, with questions being asked as to how authentic the figures were.
Kanwal's colleague and fellow India Today anchor Rajdeep Sardesai, responded to one such questioning tweet, by stating that it was fake news and "that no such poll has been done".

Despite Sardesai's comment, the video was widely shared by Twitter users, including the official handle for Congress' Madhya Pradesh unit.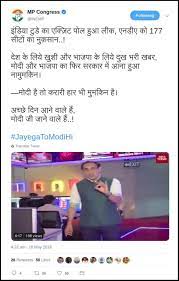 Times Now's editor-in-chief Rahul Shivshankar also posed the same question, that was going on in everyone's mind: "Is it true?"
No, It's Just Dummy Data
BOOM reached out to Rahul Kanwal, who explained that the figures shown in the video were actually dummy data, and did not show the real figures.
"They were just dummy data, the tech checks are going on in preparation for the 19th," said Kanwal.
India Today's official Twitter handle quickly tweeted out an explanation for the figures shown on the promotional videos.