Dutch Warning: Rs 322-Crore/Km Mumbai Highway May Be A "Disaster"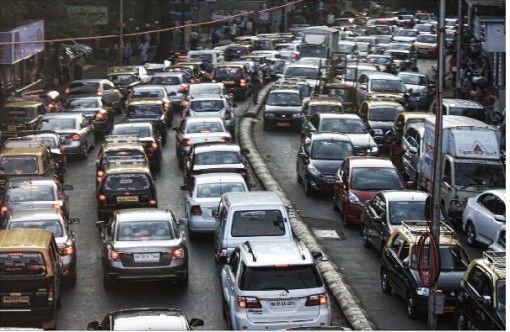 At a public meeting convened by the Mumbai Waterfronts Centre  the Dutch Consul General in Mumbai, Arend Gouw, said that the city's ambitious, Rs. 11,300-crore coastal road, if not planned properly, would "destroy" the coast.
On June 5, Dutch Prime Minister Mark Rutte attended a meeting with Maharashtra Chief Minister Devendra Fadnavis, where he announced Dutch technical assistance for the 34.6-km-long road—53 years after it was first planned—to be built at a cost of Rs 322 crore per km, or only Rs 28-crore per km less than Mumbai's future Metro lines.
Holland has considerable experience in reclaiming land from the sea, but it does that to protect the coastal areas, vast tracts of which lie below the sea.
Rutte and other Dutch experts mentioned that in Holland, the government always considers the views of stakeholders before finalising a project. This saves both time and money.
The reverse has occurred with Mumbai's coastal highway.
Make the plan, then call for comments
Dutch experts suggested incorporating the third Metro line, which traverses much of the route along the west coast, in the road. Fadnavis welcomed the proposal and is taking it further.
Mumbai Metro Rail officials present also pointed out that this Metro route was already finalised and in any case, a Metro along the sea wouldn't be connected with existing rail and Metro lines inland.
Although the consultants presented the detailed project report (DPR) on the road on Mumbai's western seafront this February, the municipal corporation only made it public on June 24.
This was after Union Environment Minister Prakash Javadekar cleared the road, connecting Nariman Point in south Mumbai to Kandivali in the northern suburbs, on June 8, subject to two conditions:
One, to reclaim as little land for the project; such reclamation was halted in 1974 after protests by environmentalists.
Second, to retain the current building restrictions under the Coastal Regulation Zone (CRZ). These prohibit construction within 500 metres of the high-tide line.
Since the road will be constructed some 100-200 metres off the coast, there was the danger that the high-tide line would have been pushed back by that much, permitting construction on some of India's most expensive real estate.
Activists attended a meeting convened by the MWC on July 3 to list their objections to the project, originally mooted by Los Angeles-based planners in 1962.
The DPR reveals the lack of institutional support for a coherent mobility policy, according to Rishi Aggarwal from the Observer Research Foundation.
How car traffic to downtown Mumbai is drying up
A Unified Metropolitan Transport Authority (UMTA) was set up in 2008, but various agencies planned stand-alone projects without consulting each other.
In its current avatar, the coastal road was conceived by former Chief Minister Prithviraj Chouhan and was to be built originally by the state government. However, the BJP coalition in the state has handed it over to the municipal corporation, the long-time fiefdom of its political partner, the Shiv Sena.
The authorities should have identified earlier road projects, including tunnels, which have not been executed, before taking on a project that will change the face of the city, Aggarwal said.
What is the coastal road for, asked Hussain Indorewalla, a professor of the Kamala Raheja College of Architecture. While Javadekar said that the coastal road is meant to decongest the city, Indorewalla believed it would be counter-productive.
When Nitin Gadkari was the PWD minister in the BJP-Sena coalition in the state in the early 1990s, he built 55 flyovers in Mumbai. While these eased traffic temporarily, the number of cars increased, creating traffic snarls.
The DPR itself cites how due to the global economic downturn, the population  growth of Mumbai has slowed perceptibly. Between 2001 and 2011, the city only grew by 500,000 people.
It shows that the growth in car traffic will peak at 3% per annum between 2015 and 2019, slowing down to 0.3% between 2040 and 2043, an average of only 1.7% in these 28 years.
It estimated a maximum of 34,090 cars per day in 2014 through the existing Bandra-Worli Sea Link (BWSL), which was built in 2009 and will be connected to the road. This dropped to 11,378 cars at its southernmost section at Nariman Point.
In 2044, it estimated at most 61,749 cars a day at BWSL, dropping to 27,616 at Nariman Point.
Nariman Point and south Mumbai are losing their clout as the old central business district. They are ceding ground to the Bandra-Kurla Complex, where real estate prices are higher. Other centres have opened up in the suburbs too for IT and other industries.
Why the Sea Link is carrying half the cars it should be
The BWSL should have been carrying 1,25,000 cars a day by n0w, but only some 60,000 cars use it, according to Ashok Datar of the Mumbai Transport Forum, a network of public transport advocates.
This means that the public is in effect subsidising motorists, who constitute only 7% of those using motorised transport to commute, according to Datar.
Apart from the declining importance of Nariman Point, motorists are reluctant to pay Rs 60 one way, Rs 90 return and prefer to use the old inland route, which takes more time.
If one took the interest on Rs 11,300 crores spent on the road—which will go up when finally ready in three or more years—and added maintenance costs, the one-way toll from Kandivali to Nariman Point should be around Rs 400, according to Datar. Few people would pay this.
The alignment of the road is also questionable, according to Shweta Wagh, also on the faculty of Kamala Raheja college. There will be an undersea 5- km-long tunnel from Nariman Point across the Marine Drive bay through Malabar Hill to Nepean Sea Road.
The DPR mentions the need to carry out further investigations into geological and engineering parameters. When Marine Drive already exists as a reclaimed road, why not align the road to follow its contours, asks Wagh.
There will also be a tunnel under Juhu beach. There is need for deep-sea surveys and modelling to establish at what depth this can be carried out, according to P.K. Das of the MWC.
At Dadar Prabhadevi beach, Das has used Dutch technology to replenish the sandy beach and prevent further erosion. With the construction envisaged for the road, further damage to the coastal topography can't be ruled out.
According to an earlier official report, 186 hectares will be reclaimed, but no buildings will be permitted on them.
This will obstruct the operations of fisherfolk, according to Rajesh Mangela of the Maharashtra Machimar Kruti Sangh. In the past, reclamation at Nariman Point and BWSL has similarly affected their livelihood.
From waterfront city to highway city?
Mumbai's most prized natural assets are its coasts. "The road will change it from a waterfront city to a highway city," says Wagh.
With reclamation, there will be open areas and parks between the road and the present shoreline. This will enhance open space in Mumbai, according to Javadekar.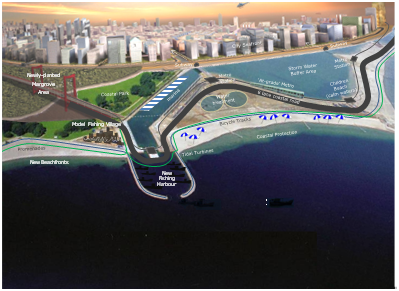 Sketch of a coastal road with many amenities, drawn by Dutch experts for Mumbai.
However, there is the danger that these spaces, inaccessible to most citizens, will turn into private enclaves for the well-to-do who reside along the coast, like at Nepean Sea Road.
The natural beauty of the coast, like the rocks around the 16th century Portuguese fort at Bandra, will be destroyed by reclamation.
Under the original scheme for the road, proposed by the architect Hafeez Contractor, there would have been an even 100-metre-wide entirely reclaimed swathe to serve as the highway. This would have privatised public space, says Das.
If the Metro is built into the road, it will increase reclamation "drastically", according to an official who worked on the road. Officials have also mentioned creating parking areas along the road.
The DPR cites how surveys by the Council of Scientific and Industrial Research and National Institute of Oceanography showed that the reclamation with an average width of about 100 metres will not cause any impact on tidal movements and will have no adverse impacts to the coastline.
However, previous reclamation in south Mumbai has led to erosion of the coast along Dadar Prabhadevi and further north in Versova. Javadekar has permitted unrestricted reclamation for the road, including cutting down mangroves.
The DPR mentions how housing, industrialisation, pollution and increasing population of Mumbai have degraded mangroves. Worst affected was the western seafront excepting where the mangroves have been protected by citizens.
Several religious and archaeological sites along the coast will be threatened. These include the Mahalaxmi temple, the Haji Ali dargah and the Bandra fort, which is a protected monument, according to Wagh.
While the DPR route shows the road ending abruptly in Madh island, which will be connected to Greater Mumbai by a bridge, the narrow roads running through these northern villages will be widened even more than the coastal road. This will destroy the ambience of these areas, which serve as week-end getaways for Mumbaikars.
The DPR admits that the project will not be financially viable on a 'Build, operate and transfer' basis. However, it does not specify how much it should charge as tolls to recover capital and recurring costs. ■
This article has been republished from Indiaspend.com.
(BOOM is now available across social media platforms. For quality fact check stories, subscribe to our Telegram and WhatsApp channels. You can also follow us on Twitter, Facebook, Instagram and Linkedin .)
Related Topics:
Bandra-Worli Sea Link, Coastal Regulation Zone, Detailed Project Report, India, India Spend, Maharashtra, Mumbai, Mumbai Metro Rail Officials, Mumbai Waterfronts Centre, Nariman Point, National Institute of Oceanography, Unified Metropolitan Transport Authority
BOOM
BOOM is an independent digital journalism initiative. We are India's first journalist-driven fake news busting and fact checking website, committed to bring to our readers verified facts rather than opinion. When there is a claim, we will fact check it. We also report on stories and people who are fighting for individual rights, freedom of expression and the right to free speech. And some cool stuff when we are not doing that.