Fact Check
Do Pepaero And Caripill Cure Dengue? A FactCheck
Papaya leaf extract only aids in increasing blood platelets and does not cure dengue in 48 hours.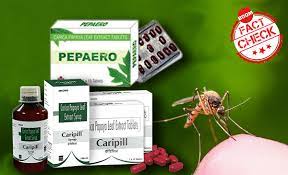 Viral messages claiming the medicines Pepaero and Caripill, made from papaya leaf extract, cure dengue, are misleading as their manufacturers themselves state that their medicines help in recovery rather than cure.

Dengue, transmitted by the Aedes mosquito, is a viral fever which is spread due to unhygienic conditions. You can read about measures to prevent dengue here.
ALSO READ: Does Coconut Oil Prevent Dengue? A FactCheck

With India in the thick of the monsoon season (June-September), several messages on the prevention and treatment of dengue have been viral on WhatsApp.
Papaya leaf extract is frequently hailed as a cure among the misinformation being circulated about dengue, online.
BOOM received the below message from a reader on its WhatsApp helpline (7700906111) asking about its veracity.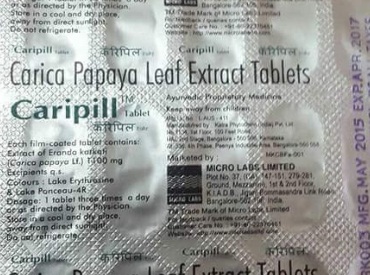 The message claims Pepaero cures dengue in 48 hours and individuals should contact Ahmedabad-based Aerochem Neutron, to avail free medicines.
BOOM contacted the company to fact-check the claim.
Vikram Chandwani, marketing director at Aerochem Neutron confirmed that Pepaero is manufactured by them.
He also told BOOM that the medicine does not cure dengue as the image claims and that the misleading message has not been shared by his company.
"It does not cure dengue. It only helps in the process," Marketing Director, Aerochem Neutron, Vikram Chandwani told BOOM.
"We always tell people who contact us that this medicine helps in increasing low platelet count,"
The company also forwards an email stating the dose of the medicine and when it should be taken to people contacting them for information, Chandwani said.
"This is an Ayurvedic medicine that we manufacture but do not provide without a doctor's prescription and viewing the patient's platelet count. There is no direct cure for dengue, which is a viral fever," he added.
Chandwani also confirmed that doctors who practice allopathy also prescribe this medicine as it quickens the recovery process.
The company states that this message has been around for a few years now and usually resurfaces during the monsoon.
Caripill - Not a cure either
Another medicine - Caripill, made from the papaya leaf extract manufactured by Bangalore based- Micro Labs is surrounded by similar misinformation.
BOOM reached out to the makers of Caripill.

"The message which has gone viral for Caripill has not been circulated by the company and the numbers on the message are fake," Praveen Singh, General Marketing Manager at Microlabs told BOOM.
"We provide Caripill for increasing the platelet count and on a doctor's prescription", he added.
Why papaya leaf extract?
Papaya leaf extract contains antioxidants that assist in boosting immunity.
When a person suffers from dengue. the body's blood platelet count takes a hit. A high platelet count is needed to fight infections.
The juice from the leaf extract and not from the fruit, should only be consumed after testing for the NS1 antigen and receiving further treatment by a doctor. Juice or medicines from the papaya leaf extract should be taken along with regular dengue medicines prescribed by a doctor.
Claim :
Medicines from papaya leaf extract cure dengue
Do you always want to share the authentic news with your friends?
Subscribed Successfully...
Enter Valid Email Id