Did Social Media Rumours Fuel Smriti Irani's Comment On Sabarimala?
BOOM spoke to Rehana Fathima who rubbished the allegations against her and said that she did not carry sanitary napkins nor did that thought even occur to her.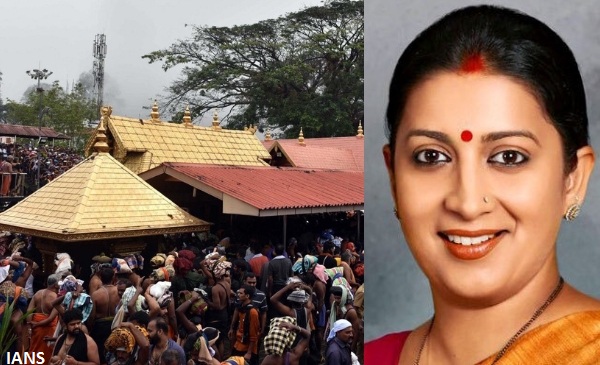 Union Minister Smriti Irani's comment on the Sabarimala controversy at an event in Mumbai on Tuesday has snowballed into a huge controversy. At an event of the Observer Research Foundation, while responding to a question Irani said, " I believe I have a right to pray, but I do not have the right to desecrate. And that is the difference, that we need to recognize and respect. So the difference is.. I am nobody to speak of the Supreme Court verdict, because I am a current serving cabinet minister. But just plain common sense. Would you take sanitary napkins seeped in menstrual blood and walk into a friend's home? You would not.Would you think it is respectful to do the same thing and walk into house of God? So that is the difference. I have the right to pray, I do not have the right to desecrate. That is my personal opinion."
As her quote went viral on social media attracting strong reactions, a combative Irani called the news fake and promised to post the video soon.
Fake news ...... calling you out on it. Will post my video soon. https://t.co/ZZzJ26KBXa

— Smriti Z Irani (@smritiirani) October 23, 2018
#WATCH Union Minister Smriti Irani says," I have right to pray,but no right to desecrate. I am nobody to speak on SC verdict as I'm a serving cabinet minster. Would you take sanitary napkins seeped in menstrual blood into a friend's home? No.Why take them into house of God?" pic.twitter.com/Fj1um4HGFk

— ANI (@ANI) October 23, 2018
Several hours later, Irani tweeted the full video and a series of tweets.
Since many people are talking about my comments — let me comment on my comment.

As a practising Hindu married to a practising Zoroastrian I am not allowed to enter a fire temple to pray.

— Smriti Z Irani (@smritiirani) October 23, 2018
Irani's clarification stuck to her own experiences at not being allowed to enter a Parsi temple, a faith followed by her Zoroastrian husband and kids. She said that she "respects that stand by the Zoroastrian community / priests and do not approach any court for a right to pray as a mother of 2 Zoroastrian children."
It is not clear why Irani brought in the reference of 'desecration' by citing an example of someone carrying used sanitary napkins to a place of worship. It is also not clear if Irani's references differentiated between menstruating women wanting to enter a temple or the act of carrying an used sanitary pad to a place of worship. Clearly, the second case can only be attributed to an act of defiance or rebellion to prove a point.
While Irani's clarification has not made any direct references, several handles claimed on Twitter that her quote was linked to a Kerala based activist planning to carry a sanitary napkin to the temple.
That is not what @smritiirani said. She was clearly talking about an activist who wanted to smuggle a sanitary napkin into the temple only to provoke. Nothing dirty or cheap about sanitary napkin but does it belong in a temple or a dining table or living rooms of our homes? https://t.co/zQazSmcg49

— Sunanda Vashisht (@sunandavashisht) October 23, 2018
In the past one week, right-wing websites have published unverified reports claiming that activists trying to enter the Sabarimala temple had carried sanitary napkins along with them. IndusScrolls had claimed in their story by attributing it to media reports that "Fathima had told her friends that she wanted to throw sanitary napkins at Ayyappa idol and told her friends to remain glued on to their TV sets."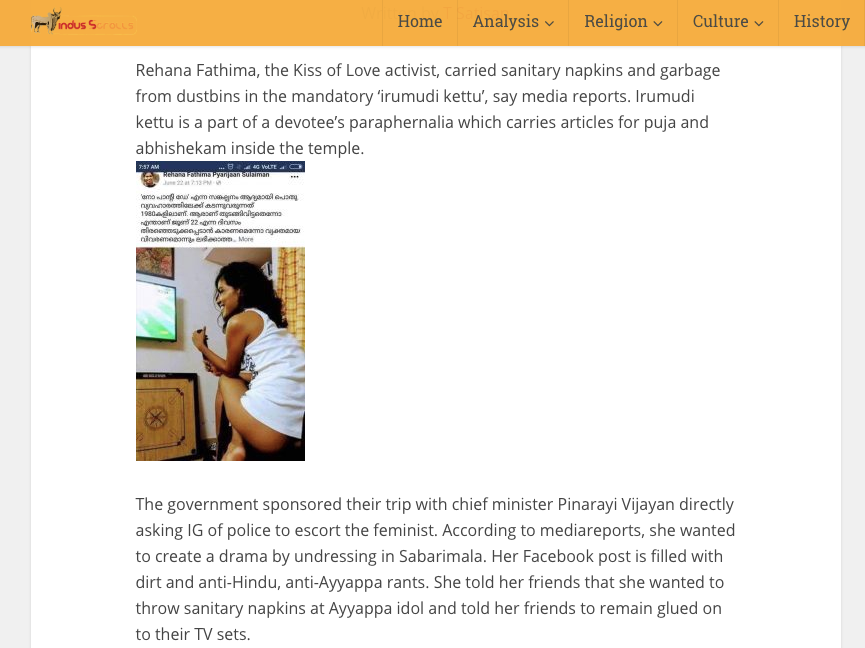 Screenshot of story published by IndusScrolls
Similarly, a TV channel in Kerala, Janam TV known for its pro-right wing views also published a story on October 19, claiming that they had information about Rehana informing her friends on her plans to carry a soiled sanitary napkin in her 'irrumudi kettu', the package carried by devotees on their pilgrimage to Sabarimala. Janam TV claimed that they had questioned Rehana about the same but did not get a satisfactory reply.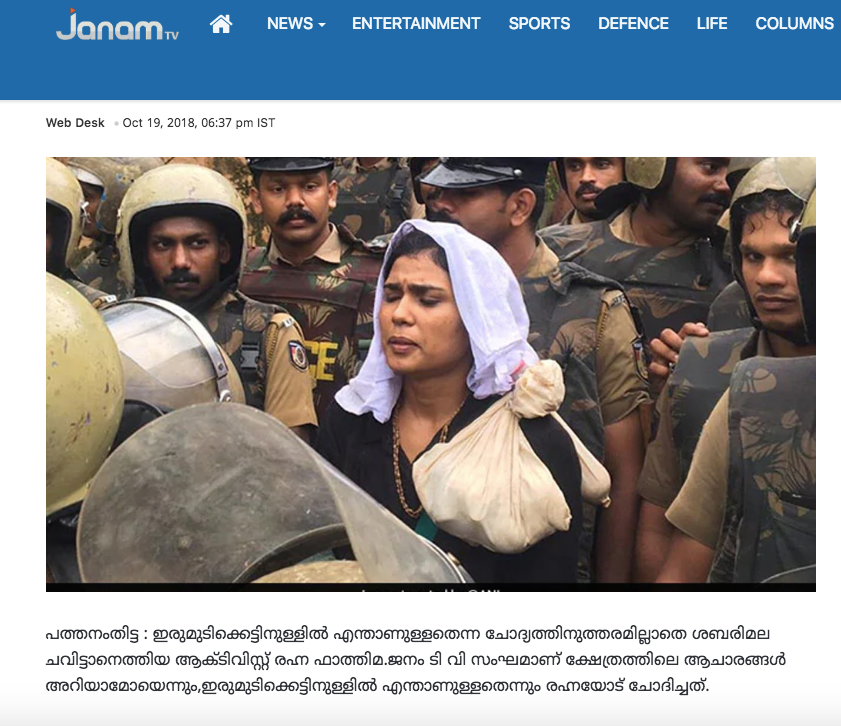 Postcard news, known for its rabid right-wing agenda and caught several times in the past for circulating fake news also carried similar unverified reports in an article published on October 20.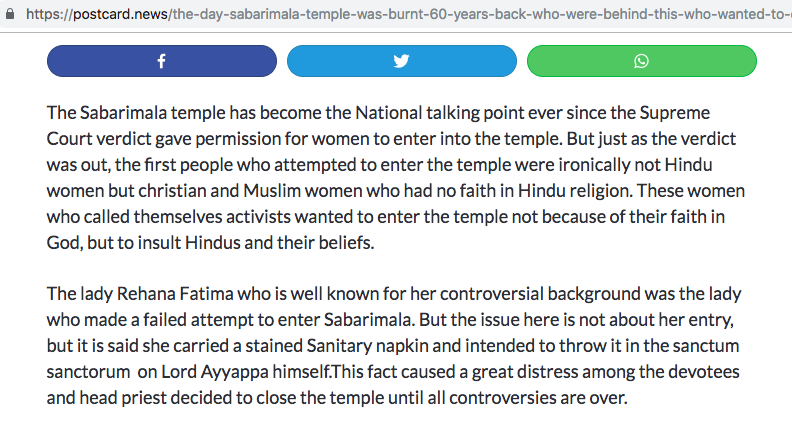 Postcard News
However, we found no video references or quotes that could corroborate the reports. We spoke to Rehana who rubbished the allegations against her and said that she did not carry sanitary napkins nor did that thought even occur to her. She said, "I have never said that because all temples have the concept of not letting menstruating women inside temples. I did not think of breaking that belief."
Rehana Fathima also revealed that she will be filing a case against Janam TV who she claims began these unsubstantiated rumours.
Speaking to BOOM Rehana Fathima said, "Once I reached Pamba after the descent, I decided to leave the irumudikettu there itself in protest against not letting me complete the offering." She gave it to the police who had surrounded her for protection. She said, the police had checked her and her partner's offering bag and also took photos of it as the rumours of the napkin spread. Rehana said she bought the offering bag from a shop near her home and it included pooja items such as bhasmam, saffron, camphor, coconut, rice, banana, sandalwood, ghee, oil, apples, grapes, honey and turmeric.
BOOM contacted KS Vijayan, Inspector, Pampa police who dismissed reports stating Fathima had carried a sanitary napkin in her irumudikettu as rumours.
"I was the one who checked her bag following the allegations that she was carrying a sanitary napkin. We only found normal things like some oranges, apples etc. Nothing even similar to a sanitary napkin was found in her bag,"Vijayan said.
He added that the Pampa police took the bag into custody to examine its contents. "We even took photos of the contents of the bag for evidence. Plus she submitted a list of things she was carrying in her irumudikettu and the contents of her bag matched the things in the list,"he said. Vijayan refused to share photos of the bag with BOOM citing police evidentiary rules.
Editor's Note: This story has been edited to include the quote of Inspector KS Vijayan.
If you value our work, we have an ask:
Our journalists work with TruthSeekers like you to publish fact-checks, explainers, ground reports and media literacy content. Much of this work involves using investigative methods and forensic tools. Our work is resource-intensive, and we rely on our readers to fund our work. Support us so we can continue our work of decluttering the information landscape.
BECOME A MEMBER