Did Ramnath Kovind Say 'Islam, Christianity Are Alien To The Nation'?
BJP's followers on Twitter claims Kovind is victim of 'fake news'. BOOM finds out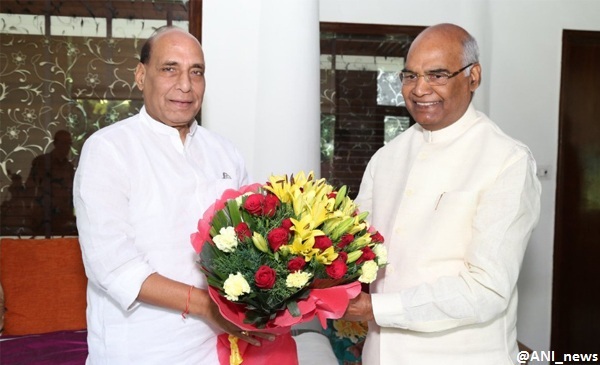 Rajnath Singh & Ramnath Kovind
The Bharatiya Janata Party's presidential nominee Ramnath Kovind's comments in 2010 about reservations for minorities have come back to haunt him. Addressing a press conference in 2010, Kovind in his role as a BJP spokesperson said that Islam and Christianity are alien to India. This was in response to a question on whether Dalit Muslims and Christians should be included in the scheduled castes category.
Given below is an extract from the story reported by IANS and published by Hindustan Times on March 26, 2010.
[blockquote width='100']
The National Commission on Religious and Linguistic Minorities, headed by Justice Ranganath Misra, former chief justice of India, has in its report also recommended inclusion of Muslim and Christian converts as Scheduled Castes and given a quota to that category.
"No, that is not possible," said Kovind. "Including Muslims and Christians in the Scheduled Castes category will be unconstitutional."
Asked how Sikh Dalits were enjoying the quota privilege in the same category, Kovind said: "Islam and Christianity are alien to the nation." - Indo Asian News Service (IANS)
[/blockquote]
While the relatively low-profile Kovind's comments did not create any controversy at that time, they were resurrected on Monday evening post his nomination for the post of president by the BJP. Several websites reported his views linking to the Hindustan Times article.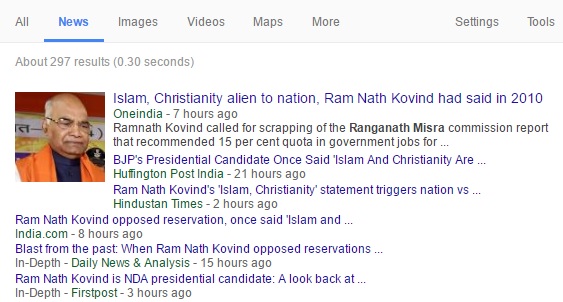 Screenshot of Google News page
Even though, neither Kovind nor the BJP distanced themselves from the remark, the party's followers took to Twitter to claim that the media deliberately misquoted Kovind and used the word 'nation' instead of 'notion'.
We lie in such a style that even Sanghis think we're yelling the truth #RamNathKovind pic.twitter.com/ytDlURk3nl

— Eminent Intellectual (@padhalikha) June 19, 2017
Aren't you big liar to convintly changing the word Notion to nation. pic.twitter.com/vcyo4pTRRy

— Commander Saini (R) (@commandersaini) June 20, 2017
Sunanda Vashisht, Houston based political commentator and co-founder of myind.net was quick to share the tweet attacking the mainstream media for allegedly twisting Kovind's words.
This is how they spread Fake news! But guess what - they will scream 'Modi is killing Freedom of speech' https://t.co/sJrWovZ46m

— Sunanda Vashisht (@sunandavashisht) June 20, 2017
We asked both the Twitter users to provide proof that the quote included the word 'notion' and not 'nation' but did not receive a response till the time of writing this story.
Kovind's remark was not from a standalone interview but were part of a press conference called by the BJP to give their views on the Ranganath Misra commission report.
We tracked down the reporter Sarwar Kashani from Indo Asian News Service (IANS) who wrote the story in 2010. Kashani says he had reported Kovind's statements factually and stands by his story.
[blockquote width='100']
"I absolutely stand by what I have reported from that press conference. I am sure of having heard him correctly that he mentioned 'nation'. Back in 2010, very few reporters covered any press conference by Kovind because he was not a well-known BJP spokesperson. I am not aware why other reporters who covered the presser did not report about it. The story was filed immediately after the press conference and there is no reason to doubt it now."- Sarwar Kashani, chief of bureau, IANS
[/blockquote]
Interestingly, Kashani says that while there were many reporters from other publications present at the press conference, no one reported the story.
We looked on YouTube, combing through the BJP's official channel and its website and also looked for any other news outlet that might have reported Kovind's comments in 2010, but found none. In the absence of any audio or video recording, BOOM cannot independently verify the quotes. However, Kashani wrote a follow-up to his 2010 story, defending it. Read - 'When RSS loyalist Ram Nath Kovind said Islam, Christianity are alien to India'.
The Ranganath Mishra commission had recommended 10 per cent reservation for Muslims and 5 per cent for other minorities in government jobs way back in 2009. The commission had also recommended Scheduled Caste status for Dalits in all religions.
But Kovind representing BJP had opposed these recommendations. We traced BJP's press release issued on March 26, 2010 where they explained why they were opposed to giving Dalit Muslims and Christians Scheduled Caste status.
[blockquote width='100']
"At present convert Christians and Muslims are getting reservation in government jobs under Backward Class categories. The Question is when they are already getting reservation in backward class category why do they want reservation in Scheduled Castes category. The answer is clear. Their special interest is not in getting reservation in government jobs, they want Scheduled Caste category reservation for contesting elections from village Panchayats to the Lok Sabha." - BJP press release
[/blockquote]