Did NASA Astronaut Sunita Williams Convert to Islam After A Glimpse Of Mecca From Space?
In a 2010 interview, Sunita Williams rubbished the claims of her converting to Islam, that has been doing the rounds for over a decade now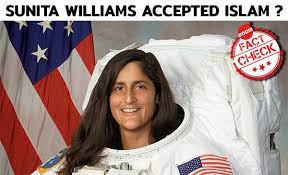 A viral video claiming American astronaut Sunita Williams has converted to Islam, is false. The video, which has been shared more than 1.5 lakh times on a Facebook page, narrates in Bengali how Williams embraced Islam after she saw Mecca and Medina from space.
BOOM found that the fake message has been circulating since 2008 in multiple languages. American born Williams, an astronaut with National Aeronautics and Space Administration (NASA) has ties with Gujarat, India from her father – Deepak Pandya.
The video has been captioned, "why did Sunita Williams embrace Islam immediately after returning from the space…" (Original text: মহা আকাশ থেকে ফিরেই কেন' সুনিতা উইলিয়াম ইসলাম ধর্ম গ্রহণ করেছিলেন- )
The video falsely quotes Williams as saying, "When I went 240 miles above the earth in space, I saw two bright stars on the earth. Immediately, I tried to see the lights through a telescope and I located them. One was situated in Mecca and the other was in Medina. I was overwhelmed after seeing this. And it is then that I decided to embrace Islam religion. Later, I embraced it after returning to earth."
It then goes on to narrate a fabricated story about how during a space journey, Williams was moved by the holy places of Mecca and Medina and its prominent presence that could be felt even from above the Earth. "Baffled by the lights, she consulted her colleagues to know what those lights could be. On closer examination, they realized it was Mecca and Medina, Islam's holy place of worship," it further narrates.
"Ending all speculation, Sunita Williams announced about her conversion to Islam in the last Ramzan month," the video falsely mentions, attributing the following fabricated quote to her. "I am now a Mussalman and I feel good to even think that."
The video also builds an entire fake story about how Williams met the press in Jeddah and shared her exciting journey of converting. Interestingly, there is no video footage or photographs to document the same, as the narration is mostly supported by representative images of Mecca.
BOOM found multiple websites which have peddled this misinformation since more than a decade.
BOOM found that a similar video was viral in Indonesia last year.
A Pakistani blog mentioned about Williams' conversion in 2008. You can view the archived version here.
BOOM searched online using the keywords 'Sunita Williams Converting To Islam' and was directed to a 2010 interview of Williams published in the Condé Nast. In the interview, when asked if she converted to Islam after seeing the lights of Mecca and Medina from space, Williams rubbishes it as a rumour.
I don't know where that started. It's not like I mind and I don't have favoritism for any religion. But my dad is Hindu and I grew up trying to understand, what Krishna, Ram and Sita means? My mother is Christian, so then, what does Jesus mean? Me personally—not something to do with NASA—I do think there is a God and it's somebody looking out for us and trying to guide us to live a very happy, productive life. There is further meaning. That's just my thought.
While in interviews Williams has discouraged personal favouritism in religion, she also mentions that she carries an idol of Hindu god Ganesha with her during missions in space. "Ganesha is always in my house, everywhere I have lived, I have had Ganesh. So he had to come with me to space of course," she says in the interaction.
Claim :
Sunita Williams embrace Islam immediately after returning from the space
Claimed By :
FACEBOOK POSTS