UPDATE: Did Lok Sabha Website Censor BJD MP's Speech On Beef Lynchings?
The National Herald claims Lok Sabha's website censored MP Satpathy's beech lynching speech. BOOM does a fact check.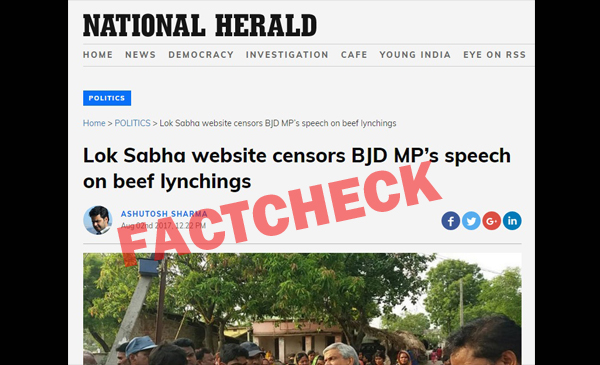 On August 2 National Herald published an article , 'Lok Sabha website censors BJD MP's speech on beef lynchings'.
CLAIM:
[blockquote width='100']
'Several parts of a firebrand speech defending Indian citizens' food habits in face of growing instances of cow vigilantism, delivered in Lok Sabha by Odisha MP Tathagata Satpathy on Monday, have been taken off the website of Lok Sabha.' - National Herald
[/blockquote]
Biju Janata Dal's Tathagata Satpathy had delivered a speech on July 31 in the Lok Sabha raising the issue of rising cow vigilantism in the country. The Herald article alleged that while Satpathy's entire speech from that day was uploaded on Lok Sabha TV on YouTube, only a synopsis was available on Lok Sabha's website.
FACT: Lok Sabha's website has the entire speech in its 'uncorrected' debate section.
Lok Sabha has published a synopsis as well as a verbatim record of the speech (available under Uncorrected debate) on its website. Click here for the verbatim transcript and here for the synopsis of the speech.
A comparison of the video shared by MP Satpathy on his official You Tube channel shows that Lok Sabha's website has a verbatim transcript of the entire speech. This was first reported by NewsLaundry on August 3.
In an email response, Satpathy told BOOM that his speech was not censored.
[blockquote width='100']
No. I have not noticed any deletion or alteration to my LS speech whatsoever, till now. - Satpathy
[/blockquote]
Speeches of members like Congress MP Mallikarjun Kharge and NDA MP Ram Vilas Paswan were presented in the same manner.
The drop down 'Debates' menu on the Lok Sabha website leads us to both synopsis and uncorrected debate.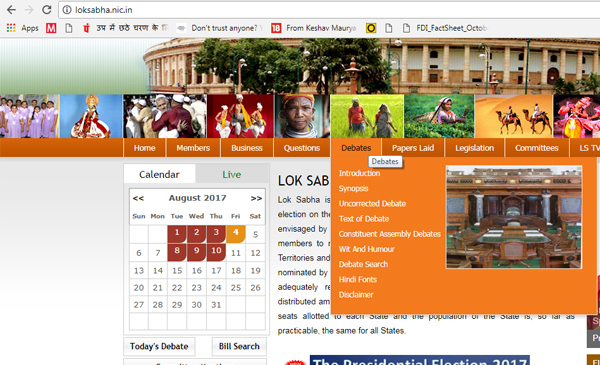 BOOM spoke to Mr K Srinivasan, Head of the Verbatim Reporting Service, Lok Sabha Secretariat who dismissed National Herald's claim.
He said the entire speech is available in the uncorrected debate section which has everything other than the parts expunged (if any) by the Speaker. "You cannot rely on the synopsis as it only gives a brief of what transpired in the House," Srinivasan told BOOM.
Expunction refers to, 'deletion of words, phrases or expressions from the proceedings or records of the House by an order of the Speaker'.
According to a handbook for members of Lok Sabha, efforts are made to make the synopsis adequate and accurate. However, the verbatim debates alone are authoritative.
Satpathy put up a scathing attack against the centre for the rising cow vigilantism which he claims has in fact hampered the economic cycle of the farmers.
Key points from Satpathy's speech:
1) Attacking the Gaurakshaks he said, ' The Gaurakshak running around in the country are probably not aware that most of the cows in India today are actually Jersey cows'.
2) Farmers who still rely on bullocks for farming are scared to sell of the older ones due to fear of being attacked. This denies the rural farmer the loan money to get new bullocks.
3) 'Our love for cow is being misconstrued and twisted to unleash terror on unsuspecting Indians. This is an organized attempt at disruption and distraction from real problem that India faces today'.
4) At the same time, he also praised Kiren Rijiju ( Minister of State in Ministry of Home Affairs) and Chief Minister Manohar Parrikar, both from the ruling party BJP, for speaking out in support of the citizen's right to eat what they prefer.
(The story has been updated to include Satpathy's response to BOOM.)