Did Haryana Government Fly Dera Chief In An Adani Helicopter?: A FactCheck
Was social media quick to jump the gun based on two images that showed the AW 139 helicopter? BOOM does a fact check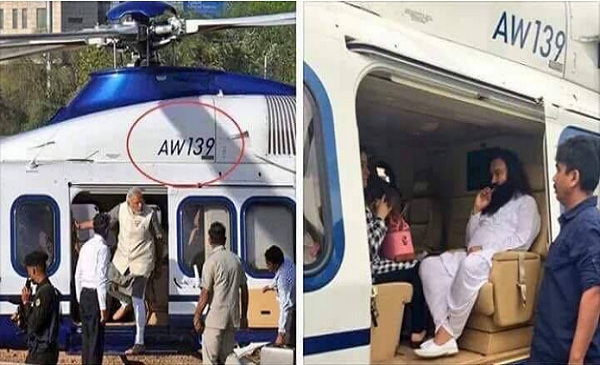 The Adani Group on Sunday said it "has never ever owned or leased any helicopter" in a strongly worded denial that the conglomerate's helicopter was used to transport Gurmeet Ram Rahim Singh, who was found guilty of rape by a court in Harayana on Friday.
Adani's statement was in response to a story published on August 27th by the website Janta Ka Reporter - 'Questions raised on rapist Gurmeet Singh allegedly using 'Adani's' helicopter, also used by PM Modi'
[blockquote width='100']
This is to clarify that Adani Group has never ever owned or leased any Helicopter. Therefore, this news coverage stating that Adani Group leased AW139 Helicopter support to any political party or airlifting of Mr Gurmeet Singh, is an absolute lie and a figment of motivated imagination. This news article seems to have been made purely to sensationalise and malign the public image of one of the most respected corporate Group of India namely the Adani Group, " a spokesperson for the group told BOOM in an email.
[/blockquote]
The spokesperson also said that although the group had placed an order for a helicopter in the past, it was subsequently cancelled. A 2011 Times of India article and a press release from AugustaWestland state Adani Group had purchased an AW 139 helicopter in February 2011.
[blockquote width='100']
"We had placed an order for an helicopter a few years go to be part of the fleet but later cancelled the same. We did not own any helicopter then and none now," the spokesperson said.
[/blockquote]
Janta Ka Reporter's story said several questions emerged after an image of Gurmeet Ram Rahim Singh seated in a AW 139 helicopter being flown away to Rohtak jail spread on social media along with a 2014 picture of Prime Minister Narendra Modi travelling in a helicopter of the same make.
Congress party's Salman Nizami tweeted the following.
So Rapist Baba was airlifted in Modi's favourite AW139 helicopter owned by Gautam Adani. Thanks! pic.twitter.com/ufq8I9KAMj

— Salman Nizami (@SalmanNizami_) August 26, 2017
Many Twitter users failed to recognise that 'AW 139' (AugustaWestland) is the model number of the helicopter and not a registration number. The AW139 is a 15-seat medium-sized twin-engined helicopter manufactured by Italy's AgustaWestland S.p.A. It uses range from VIP and corporate transport, offshore transport, fire fighting, law enforcement, search and rescue among others.
The company, a subsidiary of Italy's state backed defence company Finmeccanica, has a controversial history with India and is embroiled in a bribery scandal that dates back to a 2010 order where several politicians belonging to the Congress-led UPA regime and military officials were accused of taking bribes from the company. (Source: The Indian Express)
DEBUNKING THE CLAIM THAT THE PM AND GURMEET RAM RAHIM SINGH USED THE SAME HELICOPTER
DGCA's List of Air Operator Permit does not show any AW 139 helicopter registered to Adani's name
According to the Directorate General of Civil Aviation's document 'LIST OF AIR OPERATOR PERMIT' dated July 20th, 2017 available online, Adani's Karnavati Aviation Private Ltd features on the list and has three aircraft HAWKER 850XP, CL 600-2B16 and EMB-135BJ LEGACY 650 registered against its name but no AW 139s.
In 2014, Narendra Modi flew in Adani's aircraft and DLF's AW 139 helicopter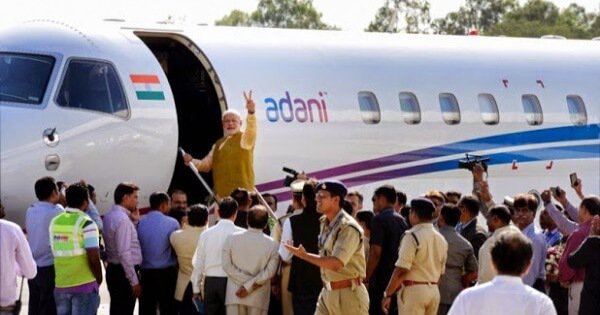 In 2014, then prime ministerial candidate Narendra Modi had used a fleet of three Adani-owned aircraft during his election campaign. (Source: The Telegraph's 'Modi flies into brand cloud')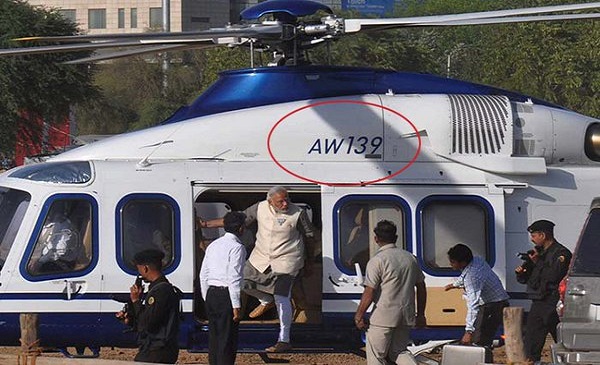 The AW 139 helicopter Modi used to arrive at an election campaign rally in 2014 belonged to DLF.
This is supported by a April 2014 Times of India article -Fleet of 3 aircraft ensures Modi is home every night after day's campaigning
[blockquote width='100']
"Over the past few days, Modi flew in an Augusta AW-139 chopper, owned by the DLF Group, for his rallies in north India, especially in Uttar Pradesh and Bihar."
[/blockquote]
Haryana Additional Chief Secretary Ram Niwas said the helicopter was leased by the state from a private company.
In an interview to Hindi newspaper Dainik Bhaskar, Additional Chief Secretary, Ram Nivas said the AW 139 was leased from a private charter company and not from Adani.
Haryana's Manohar Lal Khattar government is under fire for its shoddy handling of the large scale violence that claimed 35 lives and injured 250 on Friday following the conviction of Dera Sacha Sauda chief Gurmeet Ram Rahim Singh.