Did BJP, Shiv Sena, RSS Stop Muslim Voters From Voting? A FactCheck
Gujarat police confirmed to BOOM that the video is from an incident after two groups clashed causing police to lathi charge and arrest people.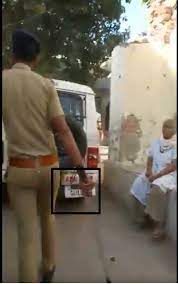 A video of a clash between Gujarat's Viramgam police and Muslim women over the arrest of protesters is viral on social media with false claims that it shows members of the Bharatiya Janata Party, Shiv Sena and Rashtriya Swayamsevak Sangh not allowing Muslims to vote.
The 1 minute 24 second long video documents people majorly Muslim women protesting and police officials wielding lathis on the protestors. BOOM spoke to Gujarat police who informed that it was a clash between the police and Muslims of the area after the police arrested some people fighting over a local issue and no political parties were involved.
The video has been captioned, "Breaking news. Muslims are being stopped from voting by the Modi Government, BJP, RSS and Shiv Sena. Children, women and senior citizens are being attacked. This video will not be shared by the media because, brothers, democracy is being murdered in our country. Jay Bhim, Jay Bharat."

(Original Caption: ताजा खबर मुसलमानों को वोट देने से रोक रहे है मोदी सरकार बीजेपी आरएसएस शिवसेना वाले बुड्ढे बच्चे और महिलाओं पर मारपीट कर रहे हैं इस वीडियो को मीडिया वाले शेयर नहीं करेगा इसलिए भाइयों देश में सरेआम लोकतन्त्र की हत्या की जारही है ।।जय भीम जय भारत )
The video is viral on Facebook with a similar caption.

Fact-Check
BOOM analysed the video and found that it is from an incident in Gujarat.
The number plate of the police vehicle mentions 'GJ' as can be seen in the screenshot below.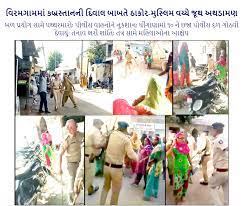 BOOM further found that the shops seen in the background in the video have boards written in Gujarati.
BOOM then ran a keyword search on Twitter with the terms 'Muslim Clash' and 'Gujarat' on Twitter and was directed to a video by the handle Documenting Oppression Against Muslims (DOAM), captioned, "On Sunday, an extremist mob rioted and attacked Muslims in Viramgam town in #Ahmedabad after Muslims politely objected to a Hindu woman using the wall of burial ground. #Gujarat police intervened and attacked Muslims including women."
According to media reports, an incident happened in Viramgam area of the state when members of the Muslim community protested a Hindu woman "drying" clothes on the wall of the burial ground.
Gujarati news portal Akila News, in a story published on April 1, reported the incident with the headline, "A group clash between Thakor-Muslim in connection with the wall of the cemetery in Viramgam". The story also carried photos from the same which matched scenes from the viral video.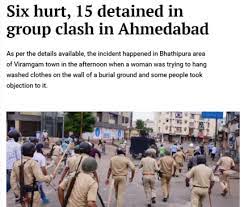 An article by the Indian Express further mentioned that six were hurt and 15 detained in the clash.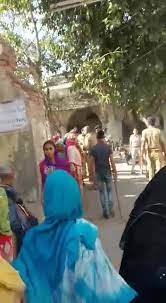 BOOM also contacted the Viramgam Police Station, who confirmed that the video is from an incident that occurred on March 31, this year. ASP Praveen Kumar, who was aware about the video, said, "The context around the video is entirely fake. The incident happened on March 31, in Viramgam town when two communities clashed. Then it escalated further, when we had to make some arrests."
He added, "Members from a certain community also gheraoed the Viramgam Town Police station area demanding the release of the lawbreakers. We could not do that because it was an ongoing case and thus resorted to mild action by the police on ground."
Claim Review :
BJP stops Muslim from Voting in Elections
Claimed By :
FACEBOOK POSTS