Did Birthday Bumps Claim A Boy's Life? No, The 'Victim' Is Alive And Kicking
A video showing a group of youngsters thrashing a youth in the name of birthday bumps has gone viral with a claim that the blows claimed the youth's life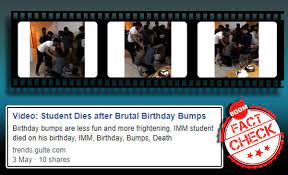 The claim that a youth died after his friends rained blows and kicks on him in the name of 'birthday bumps', is fake.
The viral video has been tweeted by the likes of former cricketer Virender Sehwag, who later deleted his tweet.
A caption along with the video reads, "A student of IMM died last 2 months ago Reason was, on his B-Day, b'day bumps were given by friends.. Next day he had stomach ache, pancreas was damaged, operated Finally died Pls ask children, not to give B-Day bumps."
The video is also viral on Facebook and Whatsapp.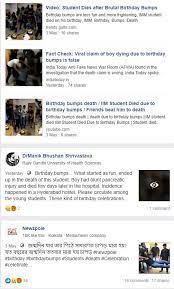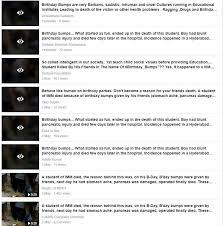 The videos shows a group of boy mercilessly hitting a youth lying on the floor. Two cakes can be seen on a nearby table. Towards the ends of the video, the group picks up the boy and bring him towards the table. Although the video does not show him cutting a cake, the caption insinuates that it was his birthday. The post claims that the boy died the next day as his pancreas was damaged because of the beating.
Fact Check
BOOM looked for more information on the incident but all we could find were reports claiming that the youth had died after receiving the fatal blows.
However, a fact check by India Today said the boy as alive.
The fact checkers had come across a reply on Virender Sehwag's Twitter handle wherein he had posted the same video. The reply is by one Raghuraj, who claims to be a friend of the 'birthday bumps' victim. While Sehwag has deleted the tweet, we have Raghuraj's reply where he says the news is '100% fake'.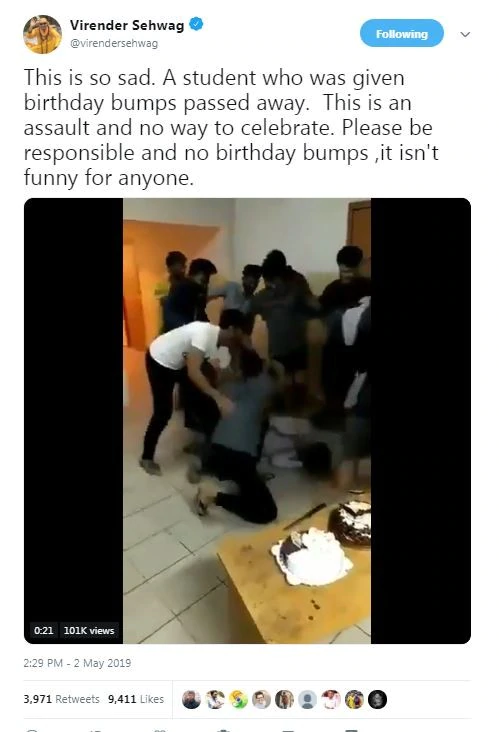 Truth behind the claim
BOOM was able to independently establish that the group in the video was that of medical students and that the video is Kyrgyzstan and not India.
BOOM got in touch with Raghuraj through WhatsApp. He told us that the incident took place on December 28, 2018. On the condition that we do not disclose the name of the youngster who was subjected to the blows, he told us that birthday bumps is a normal thing at such parties and it was the same that night too. "However, in the video it looks like things had gone out of hand but it was nothing like that. He is completely fine," Raghuraj told BOOM.
Raghuraj also told us that the youngster, a student of first year medicine, is his junior.
BOOM also got in touch with two others who were privy to the incident. Deepak Aanjana and his flatmate Amit Singh Parihar too confirmed that the youngster in the viral video was completely fine.
Claim Review :
Video shows youth loses his life to fatal birthday bumps
Claimed By :
Facebook pages and Twitter handles