Did Bengaluru Airport Say No To Celebrating Hindu Festivals? A FactCheck
BOOM reached out to Kempegowda International Airport Limited (KIAL) who manage the Bengaluru airport. KIAL refuted the misleading claim.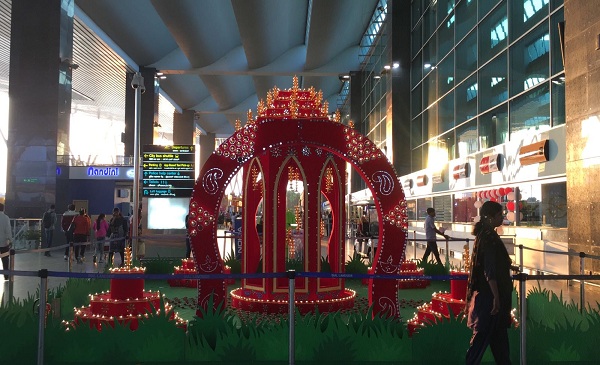 A Diwali display at Kempegowda International Airport, Bangalore
A viral tweet claiming Bengaluru international airport or Kempegowda International Airport Limited (KIAL) celebrates only Christmas and not Hindu festivals like Diwali and Ram Navami, is misleading. In addition to celebrating Christmas, KIAL celebrates many Hindu festivals including Diwali, Dasara and even follows days such as Yoga Day.
The Twitter handle called @noconversion on July 28, 2018 tweeted an article about KIAL's annual festival called the 'Season of Smiles'. The year-end 15-day festival includes installations of life size Christmas tree and Santa Claus in addition to other activities. The article was tweeted by the anti-Christian account with a message that read, "Why Public money is being used to promote Christianity ? Bangalore Airport celebrated Christmas ... but said no to Janmashtami , Ravnavmi and Diwali .... India is not a Christian Country." The tweet received 537 retweets and more than 600 likes with many tagging Bangalore Airport for a comment.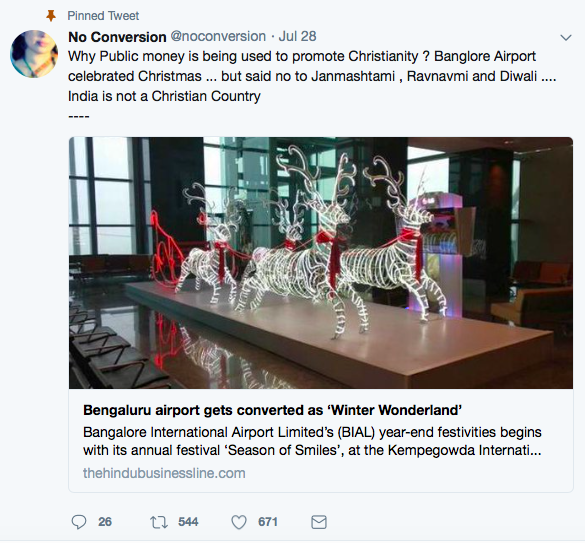 Screenshot of @noconversion Twitter handle
The Twitter handle @noconversion, which was set up on September 21st, 2014, has garnered a following of over 96,000 followers by tweeting anti-Christian content in India.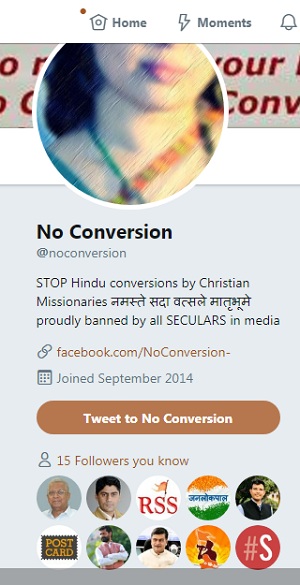 BOOM reached out to KIAL who quickly refuted the claim and replied saying, "Bangalore Airport has been delighting it's passengers through the year with multiple seasonal and cultural events which are a part of this city's cultural roots and has nothing to do with the faith of anyone or community." In addition, the response said the airport celebrated other festivals like Dasara and Diwali and also organised special programs on important days.
"We are the first step in to the state and country for a lot of our passengers and the last out of the state and country for some.. we are always focused on showing the culture of the city which proudly calls the Bangalore airport as their own," KIAL told BOOM.
Dasara being the state festival of Karnataka, the state sees massive celebrations including the famous ten-day festivities held at the Mysore Palace. The KIAL too holds events for the same and in 2017 organised the "Gombe Habba" or the installations of dolls showing nine incarnations of the goddess Durga - a tradition followed in the state. Additionally in 2016, KIAL organised a nine day art and dance event for Dussera and had installed a 13.5 foot replica of the Dasara Jumbo Savaari procession held in Mysore.
"We have even had Bengalureans drive to our premises just to watch some of the best names in Kannada music and performing arts during Dasara," KIAL said. Talking about the Season of Smiles festival, which was included in the said tweet, KIAL said, "Please note the that the "Season of Smiles" is an annual event conceptualised as a shopping festival during the holiday season when most people prefer to take their families on holiday. The holiday season, which is usually the last 10 days of the year also happens to coincide with Christmas."
The airport also sent us pictures of various festivals organised by the airport.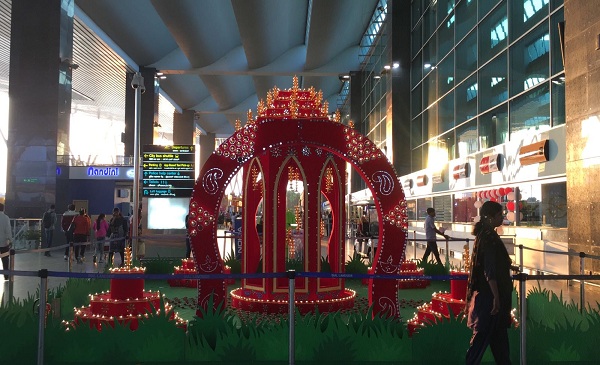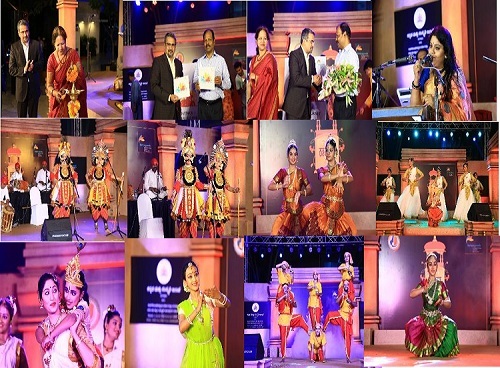 A program organised by KIAL for Dasara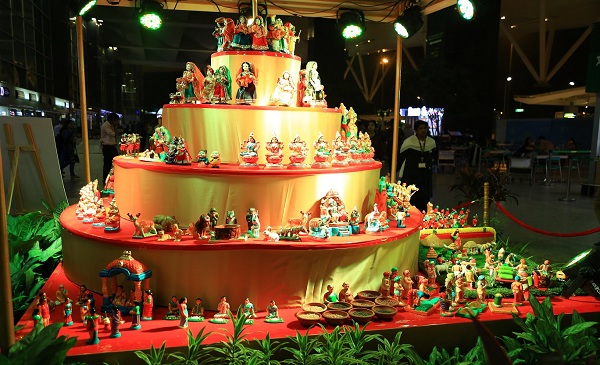 Installations of dolls showing nine incarnations of the goddess Durga
BOOM was able to corroborate the same with Twitter users who had tweeted photos of festivals such as Diwali and Golu being celebrated at the airport.
Bangalore airport wishes Happy #Diwali :) pic.twitter.com/RyNzpp8Pyg

— Mahua (@AOLMahuaDS) October 25, 2017
#Dussera #Golu of dolls in Bangalore airport @BLRAirport . Good show pic.twitter.com/jw4DeKxXmL

— Venkatesan (@Venkatesan68) September 26, 2017
The tweet from @noconversion also claimed that KIAL did not celebrate Ram Navami and Janmashtami - both festivals are not celebrated widely in the state but restricted to certain pockets. A government official speaking on condition of anonymity said that like every state government Karnataka gets to choose which days will be a holiday depending on the cultural significance barring national holidays.
"Ram Navami and Janmashtami are celebrated in fewer regions of the state and the festivities too are different from how others states celebrate them and hence aren't state holidays. We have our own days like Basava Jayanti and Kanakadasa Jayanti which you won't see celebrated elsewhere and hence are state holidays," the source added.
District administrations can always add certain holiday dates depending on the cultural significance of the festival in the region, the official said.
https://www.sharethefacts.co/share/9f648c58-05fd-4967-ade6-fddb5bb27dd7