Did Arvind Kejriwal Order Power Supply To Temples Be Cut? A FactCheck
Viral post on social media claims that power is being discontinued in all temples in Delhi at behest of AAP government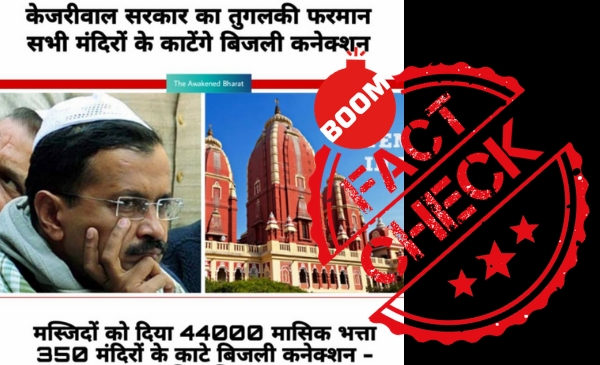 A recent tweet by Delhi MLA Kapil Mishra alleging Delhi Chief Minister Arvind Kejriwal ordered the power supply to 350 temples within Delhi be discontinued, is going viral on social media.
Mishra's post, written in Hindi, translates to, "After Kejriwal's announcement of Rs 44,000 a month for mosques, now an order has been passed to disconnect power supply to all the temples in Delhi. BSES disconnects electricity to more than 350 temples in Delhi. Kejriwal government's order - power supply to all temples will be disconnected."
The archived versions of Mishra's Facebook post and tweet can be accessed here and here.
While Mishra's post claims that electricity to around 350 temples has been already disconnected, there are other social media posts claiming that power connections of all the temples will be disconnected on the order of Arvind Kejriwal.
Fact Check
BSES Delhi, the utility responsible for supplying electricity to several parts of the national capital, denied the claim through its official Twitter handle on February 6, 2019.
"Power supply of no bonafide & paying consumer, including temples,has been disconnected," the handle tweeted.
BOOM also contacted the officials of BSES Yamuna Power Ltd, office bearers of the Aam Aadmi Party, and two temples in Delhi to verify Kapil Mishra's claim.
When we called the Laxmi Nagar's division head (operations & maintenance) office in BSES Yamuna Power Ltd, an official Ekansh Srivastav told us that the news was fake. "We have installed meters in all the temples and mosques. There's nothing like a power cut in the temples."
We also called BSES Yamuna Power Ltd Circle Head, (O&M), North East. "There has not been any such instance of disconnecting power supply in our circle," he said.
The same was confirmed by AAP's social media strategist Ankit Lal.
"I know it's viral but any person with an iota of common sense would understand that it's not possible," Lal told BOOM. "Of course it's not true."
We also randomly contacted two temples located in different areas of the national capital to verify whether they were facing any power disruption.
A priest from Kalkaji temple, located in New Delhi's Kalkaji area, Lokesh Bhardwaj told us that the power connection to their temple was not disrupted. "How can someone disconnect the electricity to a temple? Which MLA has tweeted this? It must have been his temple that's facing a power outage. Perhaps they have not paid the bill," Bhardwaj said.
Another priest, Sandeep, from Jhandewala Mata mandir in Jhandewala area of Delhi said, "We pay our bills on time so we have not faced any such disruption as of now. In case there is a disruption in some temples, they would not have paid their electricity bills."
BOOM also tried to contact MLA Kapil Mishra to find out the sources of the claim. While the MLA was busy, one of his team members spoke to us. When we asked him about Mishra's claim, he said: Officials are disconnecting power supply to temples saying it will be restored later. But this(restoration) hasn't happened yet. Officials are saying that connections will have to be taken on an individual's name."
When we told the person that BSES Delhi has tweeted that power is being discontinued only for those who haven't paid the bills, he took a brief pause before saying, "No, it's not like this. Bhaiyyaji is in a meeting, I will connect you to him in a while."
Kapil Mishra did not respond to further attempts to reach him.
Claim Review :
Power supply to 350 temples in Delhi disconnected on order of AAP government
Claimed By :
MLA Kapil Mishra