Did Anna Hazare Draw Huge Crowds In Karnataka?: A FactCheck
Did crowds throng to hear Anna Hazare in Koppal, Karnataka? While the photo may not be fake, the devil is in the detail.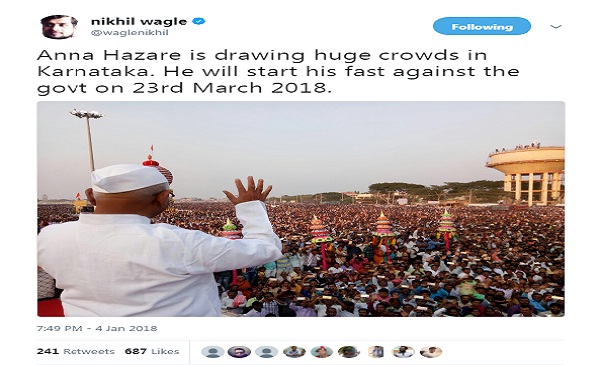 A tweet by journalist Nikhil Wagle claiming Anna Hazare was drawing huge crowds in Karnataka created a brouhaha on Friday after many pointed out that the crowds were actually gathered for a Hindu festival and not for a rally called for by the anti-corruption activist.
Wagle, a well known editor in Maharashtra, tweeted a picture showing Hazare waving to a large crowd.
However, he seemed to have missed cues in the photo (seen below) that the crowd had not gathered for a political rally in the state.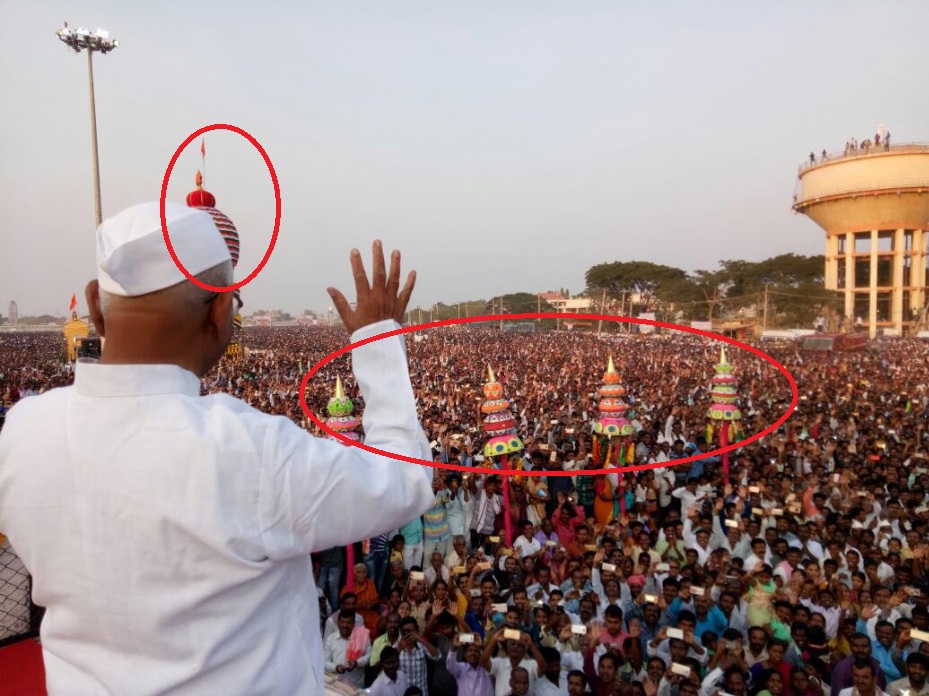 While it is not clear how many people were in attendance, the Hindu reported 'tens of thousands' of devotees participated in the annual car festival of Gavimutt in Koppal. The Hindu reported that Anna Hazare was a special invitee at the event. The Gavimutt Jatra is attended by devotees not just from Karnataka but from surrounding states as well. (click here to read the Hindu's story)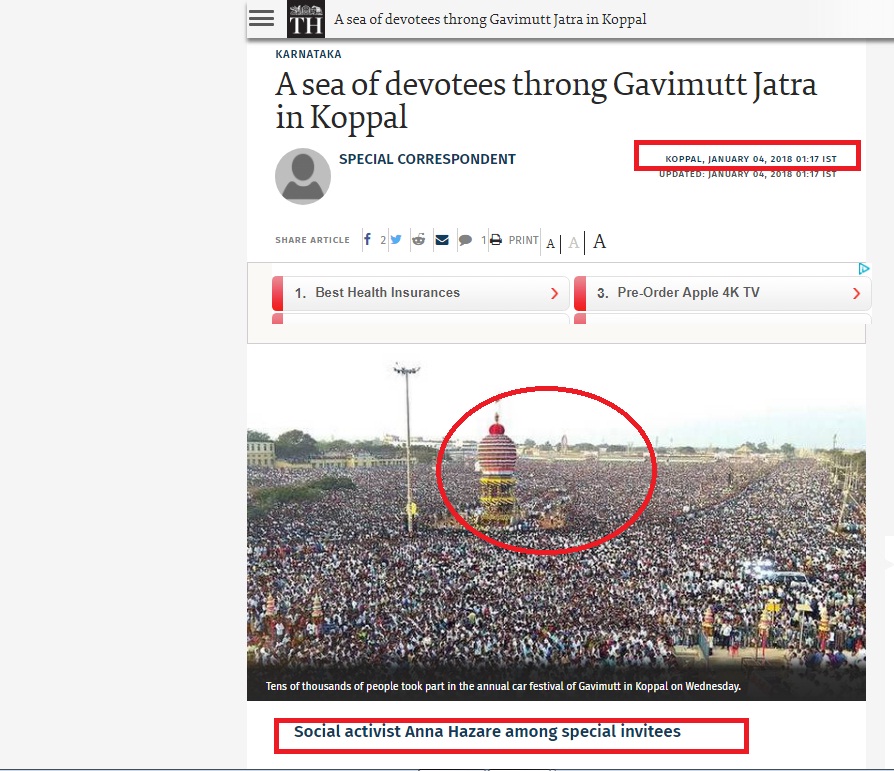 On Facebook, Anna Hazare's verified page which seems to be operated by his office also posted the same image but did not make it clear that the crowds had gathered to attend the Jatra.
Nikhil Wagle initially apologised when BOOM tweeted to him that his post was misleading. He said that Anna Hazare's secretary had sent him the image.
Thanks. My mistake. Sorry. This was sent to me by Anna Hazare's secretary. I trusted him. My fault. Sorry again. https://t.co/o005vzTtys

— nikhil wagle (@waglenikhil) January 5, 2018
.@waglenikhil your tweet is misleading. The crowd did not gather there for Anna Hazare. He was attending the Gavimutt Jatra where lakhs of devotees had gathered. Please see this https://t.co/8oRSCNb7yf https://t.co/ZjMcFTUiUq

— BOOM FactCheck (@boomlive_in) January 5, 2018
However, Wagle tweeted again saying he had received more photos from Hazare's secretary and asked if BOOM would verify the authenticity of those images.
Anna 's secretary has sent me more photos of his meetings. I will post them. Let @boomlive_in tell whether they are fake or true. I don't understand why Cong/ BJP are afraid of him. One may have differences with him, but he his a force to reckon with.

— nikhil wagle (@waglenikhil) January 5, 2018
BOOM has never called the picture in question as 'fake'. We referred to the tweet as 'misleading' and 'incorrect' as the text accompanied with the photo seemed to suggest that large crowds had turned up to hear Hazare, which was factually incorrect.
BOOM also spoke to two local journalists who confirmed that the gathering was not a political rally organised by/for Anna Hazare and that he was one of the invitees at the festival.
Anna Hazare has reiterated his intention on several occasions to launch an agitation to protest against the NDA government's failure to appoint a Lokpal even three years after Prime Minister Narendra Modi took office.
On December 24, 2017 Hazare announced he would be starting a peaceful protest from March 23, 2018 demanding an improvement in the condition of farmers in the country.