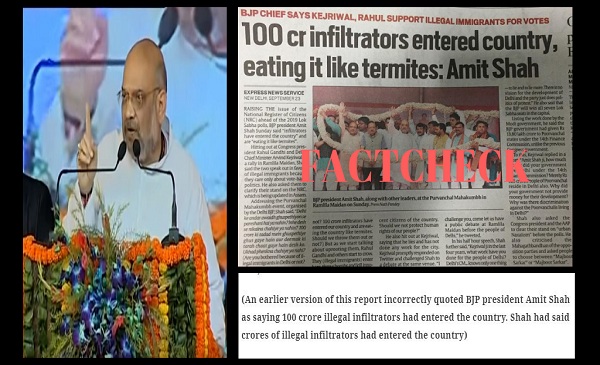 Bharatiya Janata Party National President Amit Shah, has been lampooned on social media this week for supposedly saying 100 crore infiltrators have entered India, however, a fact-check of his speech in Delhi shows Shah was misquoted by the Indian Express. The newspaper corrected its story later on.
On September 23, Amit Shah gave a speech as part of the Purvanchal Mahakumbh event in Delhi's Ramlila Maidan. Shah's anti migrant speech also drew sharp critique online for referring to migrants as "infiltrators" and "termites".
An article published on September 24 in the Indian Express misquoted Shah as having said '100 crore infiltrators entered the country'. The newspaper published an extract of Shah's speech in Hindi, "Delhi ke andar awaidh ghuspethiyon se pareshani hai ya nahi? Inhe desh se nikalna chahiye ya nahin?100 crore ke tadad mein ghuspethiye ghus gaye hai aur deemag ki tarah chaat gaye hai desh ko. (Isn't there a problem of illegal immigrants in Delhi? Should they be removed from the country or no? 100 crore infiltrators have entered and like termites are eating up the country)"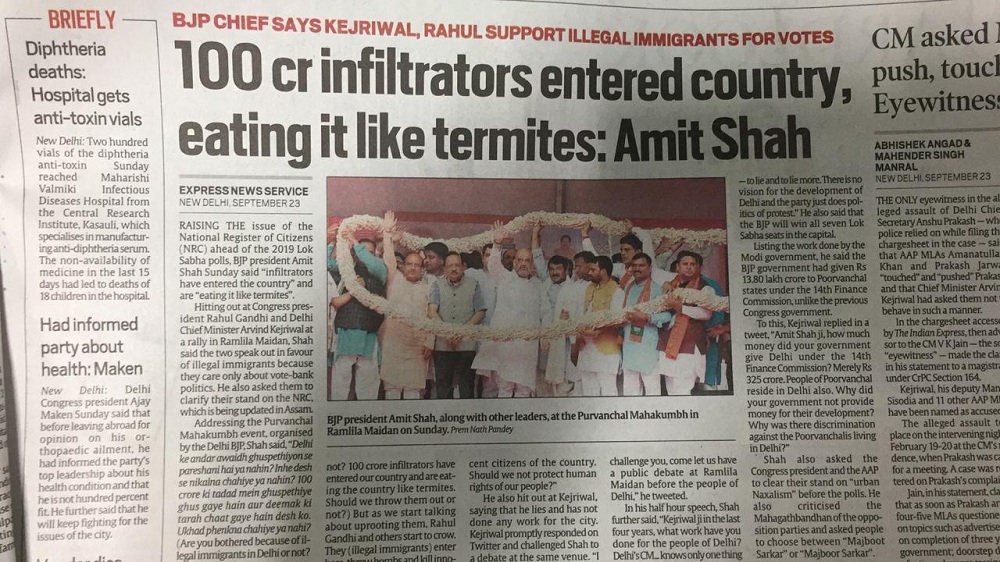 Image of The Indian Express's September 24, 2018 edition
BOOM accessed Shah's speech from the BJP's official YouTube account and found that Shah never used the number 100 crores but only said 'crores'.
At 24 minutes (YouTube counter) onward Amit Shah says, 'Delhi ke andar awaidh ghuspethiye hain. Isse pareshaniyan hai ya nahin hai batao? ....Yeh ghuspethiyon ko nikalna chahiye ya nahin nikalna chahiye? Desh mein karodon ki sankhya mein ghushpethiye ghusse hue hain. Deemak ki tarah chaat gaye hain desh ke bhavishya ko. Unko ukhaad phenkna chahiye ya nahi?
(There are illegal infiltrators in Delhi. Is this a problem or not, tell me? Shouldn't we remove these illegal infiltrators? Illegal infiltrators have entered the country in crores. Like termites, they have eaten the future of the country.)
https://youtu.be/J1Fff8RKNBI
The Indian Express corrected its story and included a note at the bottom explaining the error though the URL of the story is still the previous headline.
"(An earlier version of this report incorrectly quoted BJP president Amit Shah as saying 100 crore illegal infiltrators had entered the country. Shah had said crores of illegal infiltrators had entered the country)" - The Indian Express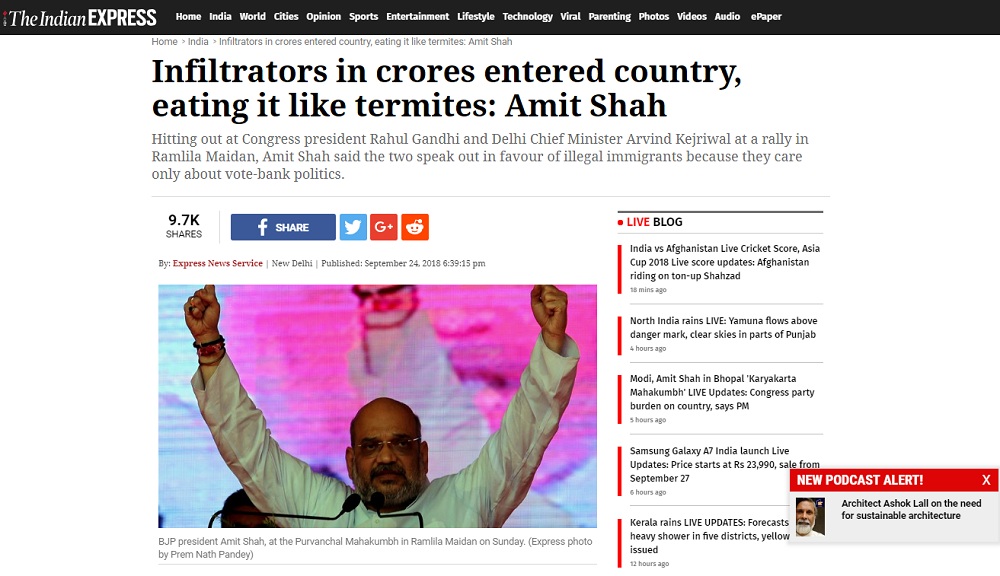 Screenshot of the correction published by The Indian Express
Several Congress functionaries tweeted the incorrect article while targeting Shah.
RS Surjewala,Communications-in charge of the All Indian Congress Committee,shared the incorrect story on September 24.
Gem of Knowledge-

India's Population - 121 Cr

(As per 2011 Census)

Infiltrators as per Amit Shah- 100 Cr

Hence, as per BJP, India's Genuine Population is only - 21 Cr!

गुरू चेला दोनों जुटे, दिनभर झूठ फैलाएँ !

सच्चाई से मतलब नहीं, कोरी अफ़वाह उड़ाएँ!!https://t.co/WVA58k4klw

— Randeep Singh Surjewala (@rssurjewala) September 24, 2018
Like Surjewala, the official handle of the All India Mahila Congress and Karnataka Congress also tweeted the same article.
अमित शाह जी कुछ तो सोच समझ के बोले 135 करोड़ भारतीयों में 100 करोड़ घुसपैठिए हैं?? आप का मतलब कही यह तो नहीं कि केवल भाजपा को वोट देने वाले भारतीय बाकी सब घुसपैठिए हैं..?https://t.co/TAIospQJqu

— All India Mahila Congress (@MahilaCongress) September 24, 2018
The tweet by Karnataka Congress was like by Congress President Rahul Gandhi, Karnataka Congress President Dinesh Gundu Rao and other party bigwigs.
Population of India is 130Cr. Modiji says 600Cr Ppl voted for him, Amit Shah says 100Cr Infiltrators came from Bangladesh. From where they are getting these ridiculous numbers?Are they getting confused with the money being looted by their friends everyday & the population number? pic.twitter.com/nNP4FsUMuL

— Karnataka Congress (@INCKarnataka) September 25, 2018
In addition to Congress members, the incorrect statement was tweeted by Rajya Sabha member Manoj K Jha.
Dear @PMOIndia @rajnathsingh ji..Please find out d source of this HUGE data coming from d 'largest' leader of d 'biggest' political party.

Amit Shah: 100 crore infiltrators entered country, eating it like termites | The Indian Express https://t.co/588KSQvkIB

— Manoj K Jha (@manojkjhadu) September 24, 2018
Filmmaker Rakesh Sharma also tweeted the story.
India's population: 135 crores

BJP families (10 Cr x 3.5): 35 crores

Balance: 100 crores

So, unless a BJP member, you're an infiltrator/ traitor/ antinational?!

What if we still critique diving ₹, rising petrol prices, #DemonetisationDisaster #GSTmess?https://t.co/eUCTcJULBA

— Rakesh Sharma (@rakeshfilm) September 24, 2018
Do you always want to share the authentic news with your friends?
Subscribed Successfully...
Enter Valid Email Id