Dera Chief Ram Rahim Convicted Of Rape: What The 2002 Anonymous Letter Alleged
It was a 2002 anonymous letter written by an unidentified sadhvi addressed to then Prime Minister Atal Bihari Vajpayee that brought the legal focus on the Dera chief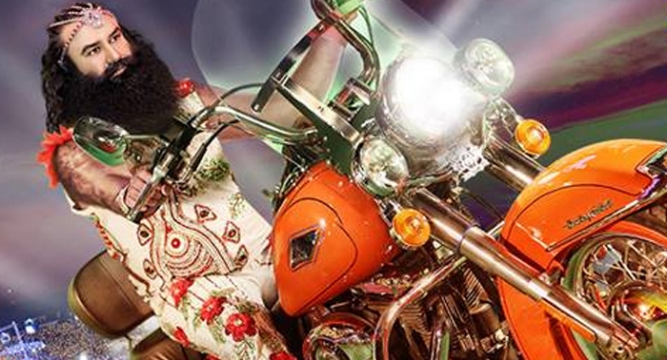 The CBI court has found Gurmeet Ram Rahim Singh, head of the Dera Sacha Sauda sect guilty of rape and the quantum of sentence will now be announced on August 28. The godman who traveled in a convoy of over 100 cars from his headquarters in Sirsa with more than a lakh of his followers camping in Panchkula, has been taken into custody by the Haryana police. The state administration worried about large scale violence has already mobilised over 10,000 police personnel, army personnel and para-military forces to keep the followers in check. The army is also conducting a flag march in Panchkula.
31 people died and over 250 injured after violent Dera supporters clashed with police, para military and the army. The supporters set vehicles on fire, pelted stones on security forces, set train bogies on fire and broke glass panes of government and private buildings across Haryana, Punjab and Delhi. Outdoor broadcasting vans of various media organisations and their support crew bore the brunt of the attacks as violent mobs went beserk.
The court read out its verdict in the presence of the Dera chief, a few lawyers and police personnel.
But what are the origins of this case and how did the CBI start investigation against this politically powerful self-styled godman.
It all started in 2002 with an anonmyous letter sent to then Prime Minister Atal Bihari Vajpayee. A Dera sadhvi who refused to identify herself out of fear alleged that the Dera chief had raped her over a period of 3 years. The sadhvi alleged that she was not the only victim but Gurmeet Ram Rahim had raped several other followers in a cave shaped personal chamber inside the sprawling campus on the outskirts of Sirsa in Haryana.
The CBI were then directed by the Punjab and Haryana high court to investigate the charges of sexual exploitation against the Dera chief. The CBI registered a case based on the sadhvi's letter and questioned 18 sadhvis. Two of them confirmed the charges of rape. The Times of India reports that one of the sadhvis told the CBI that "the rape was justified on the grounds that it would purify her". Several other reports have also pointed out that the sadhvi mentioned that the accused was watching a pornographic film on a big screen with a revolver lying next to him when she entered his chamber- a form of intimidation that was used to scare Singh's victims before proceeding to sexually exploit them.
Following are the details that came out of the anonymous letter sent to Prime Minister Vajpayee that set the course to bring the Dera chief face charges in the case. BOOM has not been able to independently verify the contents of the letter and have translated the letter from Hindi news channel ABP's show.
1) "I am a resident of Punjab and since the last 5 years I am serving as a sadhvi at the Dera Sacha Sauda in Sirsa (Haryana). There are hundreds of young girls serving with me for 16-18 hours everyday. We are being physically exploited by the Maharaj of Dera Gurmeet Singh."
2) "I am a B.A graduate and my family are disciples of Maharaj, on whose inspiration I became a sadhvi. 2-3 years later, one day Maharaj Gurmeet Ram Rahim's closest disciple Gurjot came to me at 10 pm in the night and told me that Maharaj has called me to his cave (place where Maharaj lives). I was going there for the first time and I was very happy. I felt that the Lord himself has called me. When I went to the cave I saw Maharaj was sitting on his bed."
3) "Holding me in his arms, Maharaj said that he loves me with all his heart. I want to love you as you had said after becoming a sadhvi that you are offering yourself entirely to Satguru. So this body and mind is all mine. Maharaj started forcing himself on me. When I opposed, he said that there is no doubt that he is God. When I asked him if God does these things, he said, "Shree Krishna was Lord. He had 360 gopiyas with him with whom he used to practice prem leela everyday. Still people think of him as God. This is not a new thing. If I want, I can take your life and conduct your last rites. Your family have full trust in me and are my slaves. They can never go against me, this you also know very well.""
4) "Maharaj then said that he has good influence over the goverment. Haryana and Punjab chief ministers and Punjab ministers at the centre fall at my feet. Politicians need my support, take money and will never go against me. I will get all your relatives sacked from their jobs, get them killed and no evidence will be left behind. You know very well that I had got goons to kill the manager of Dera and to date no one has come to know about it. With the help of money, I will buy all politicians, police and justice. After this Maharaj raped me and since the last 3 years, he has raped me several times."
5) "Today I know that the girls who lived before me at the Dera were also raped. The 35-40 women who live in the Dera are aged more than 35-40 years old and they have crossed the age of marriage. They have compromised with their situation in life. Most of these women are B.A., M.A., B.Ed. qualified. But because of their superstitious families, they are forced to live a life of hell here. We have to wear white clothes, cover our head, no eye contact with men, walk 5 to 10 feet behind men - according to the orders of Maharaj. We are Devis for the world but our condition is like prostitutes."
The unidentified sadhvi goes on to recount how she once got an opportunity to visit her family. Despite telling her family about it, they paid no attention and blamed her for accusing their Satguru. She also accused the Dera of keeping them imprisoned and not allowing them to either contact their families or take any calls from the outside world.