Delhi University Professors Divided On PM Modi's 'Bhrastachari No.1' Jibe About Rajiv Gandhi
While 207 professors from Delhi University have condemned the controversial remark by signing a public statement, as many as 121 professors have expressed their support for PM Modi.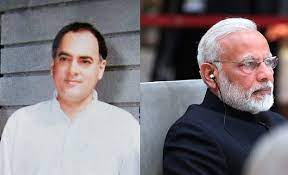 Professors at Delhi University stand divided on Prime Minister Narendra Modi's recent remark on former Prime Minister Rajiv Gandhi, with one camp condemning the statement while others extend their support.
Speaking at a rally at Pratapgarh on May 4, 2019, Modi said, "Your father may have been declared Mr. Clean by his courtiers. But he died as Bhrashtachari No.1 (Corrupt No. 1)," addressing the sentence to Congress President Rahul Gandhi.
Accusation or Slander?
The statement has drawn severe flak from opposition leaders, with the Congress filing a complaint with the ECI. Modi was, nevertheless, given a clean chit.
Meanwhile, professors at the Delhi University came together to express their discontentment at Modi's statement by signing a public statement.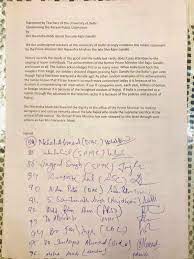 The letter, signed by as many as 207 DU professors, stated that Modi had "lowered the dignity of the office of the Prime Minister by making derogatory and untrue remarks about the late Rajivji (sic) who made the supreme sacrifice in the service of the nation".
A copy of the letter along with the list of signatures was tweeted by Sam Pitroda, Chairman of Indian Overseas Congress
A Twist or Fake News?
Meanwhile, Times Now reported that two of the names mentioned in the list of signatures - namely, Vijjika Pandey Singh and Manoj Sharma - did not sign the letter, nor were they aware of it.
However, Manoj Sharma gave a conflicting statement to ANI, where he claimed that he did in fact sign the letter.
"I got a call asking me if I have written a letter against the prime minister. I have not written such a letter personally. But I am a signatory to the what has been stated in the letter where the statement has been condemned. But I was not asked this question… Maybe because I was not able to understand their question properly, that's why I denied it."

- Manoj Sharma to ANI
BOOM reached out to Professor Vijjika Pandey Singh but was unable to get a response. The article will be updated if and when she does responds.
The Other Camp
The saga continued on Tuesday, as 121 professors came out to support the current prime minister on his controversial statement, indicating a strong polarisation among professors at the Delhi University.
BOOM reached out to Dr. Abha Dev Habib, a former Executive Council member and the Secretary of Democratic Teacher's Front, who confirmed that there was indeed a split in the camps with regards to DU professors.
"Of course, if there are those who will condemn it (such statements), there will be others to support it. This is what is happening in the country and it is ubiquitous," said Dr. Dev Habib.