#Banking
'Cow Offering', 'Hidden In Saree': 7 Reasons Given At RBI By Latecomers
Most late depositors feel cheated as they say Prime Minister Narendra Modi had promised a window post December 30 to exchange notes for those with genuine reasons.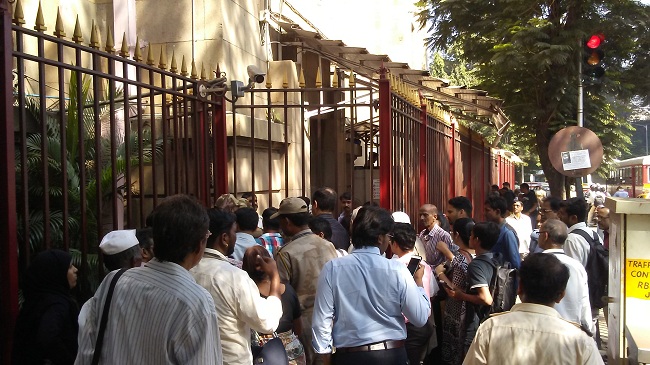 People gathered outside RBI headquarters in Mumbai on January 05, 2017
It is the first week of January, 2017 and the deadline to deposit old notes of Rs 500 and Rs 1000 has gone long past. But the queues outside RBI offices across the country show no sign of clearing up. Towards the end of December, the Narendra Modi government also came out with an ordinance that made possession or transaction of old currency illegal. The 50-day period from November 8 to December 30 saw frequent changes in rules and regulations, withdrawal and deposit limits. Even the relaxation to exchange invalid notes given to Non Resident Indians (NRIs) and Indians who were abroad came at the last minute after a lot of confusion.
Initially, Prime Minister Modi in his November 8 speech had promised the citizens that they will be given adequate options even post December 30.
[video type='youtube' id='vUR1p2yDKic' height='365']
This explains why many say they feel cheated as they relied on the Prime Minister's assurances that genuine cases will be considered even after the deadline. But why they chose to not use the 50-day period remains often unanswered.
A lady who got frustrated after failed attempts to exchange Rs 5,000 at RBI's Delhi office for the past three days, protested by stripping in front of the bank.
Our rounds at the RBI headquarters in Mumbai showed the situation was not any different as people were tensed and frustrated. Around 50 – 60 people had gathered near the entrance. Most were not aware of the change in rule that only NRIs could exchange the invalid currency at RBI branches post December 30th. They were also angry over not being able to communicate with the RBI officials for proper information.
[video type='youtube' id='e3xhr7IKLjA' height='365']
The officials appeared once in a while on the other side of the entrance and let the NRIs in while the rest were barred by the security personnel. Some were also under the impression that people with a passport can exchange currencies and not aware of the clause of 'NRIs' and 'Indians who were abroad during the 50 days'. One shouted in anger, "Khali foreigner logon keliye, Indian keheke fayada kya hain?"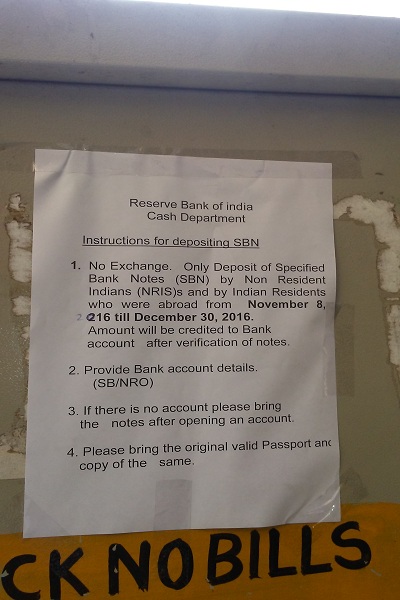 Notice outside RBI Mumbai
But as much as one feels empathy for those who are left with invalid notes, some of the reasons given for not exchanging the notes are quite strange. However, the fact that they came to exchange small amounts does show that most of them are genuine cases.
Cow offering: A person from Powai came with Rs. 2,500 with the money he collected from 'gaay ka dabba' or the offerings given to cows which are considered sacred.
Money found inside a folded saree: A beautician from Bandra found Rs. 20,000 kept inside a folded saree in her cupboard while cleaning her house on New Year.
Piggy bank treasure: An architecture student from Saboo Siddik College, Byculla said she found Rs 2,500 from her piggy bank when she opened it to gather money for her college picnic. When she approached Punjab National bank, they asked her to go to RBI.
Saved it from alcoholic son: Vijaya a housewife from Thane had come to deposit the pension amount of her mother –in – law. The latter had hid an amount of Rs. 7,000 in the demonetised notes from her alcoholic son, but could not find it until recently.
Forgotten wedding gift: A couple from Marine Lines found an envelope with Rs. 3,000 which was a blessing cover they received on their wedding in December 2015.
Senior citizen's memory failed her: A 78 year old lady from Vapi came with her daughter to RBI Mumbai. Her daughter said that she was losing memory and had forgotten about Rs. 5,000 pension amount kept in the cupboard. Upon finding it, she travelled all the way from Vapi, Gujarat to her daughter's place in central Mumbai.
Money found under the bed: A senior citizen from Kurla had brought an amount of Rs 5,500 which he found from under the bed of his wife who is bedridden. He said he did not know that only NRIs can deposit money after December 30.
There were also people like two sisters who had come to exchange Rs 1,000 which they found recently, but were relaxed even if it could not be exchanged. However, the majority of the people we met were those who could not bear the loss of their hard earned money.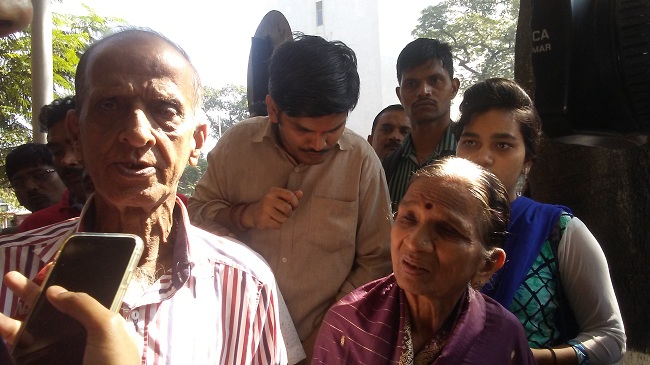 Senior citizens who stood in front of RBI Mumbai to deposit old currency notes
Demonetising 86% of the notes in circulation was never going to be an easy job. And, in a country of 1.2 bn people, there will always be late comers. But considering that such a massive exercise was pushed to be completed within 50-days, maybe the government should consider some leniency and a fresh window with exchange limits for those who were left out in the process. After all, this was an exercise to flush out black money hoarders and not the economically deprived.
Do you always want to share the authentic news with your friends?
Subscribed Successfully...
Enter Valid Email Id