Computer Generated Video Clip Viral As A-380-Oil Tanker Near Collision
BOOM found that the viral clip was picked up from a Pakistani gamer's YouTube channel.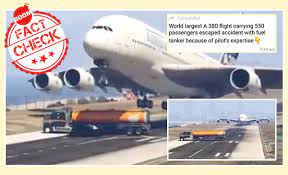 A portion of a computer-generated video is being shared on WhatsApp and social media with a false claim that it purports to show a near collision between an Airbus A-380 aircraft carrying 550 passengers and an oil tanker.
The 51-seconds clip shows an oil tanker cross the runway with an A-380 descending perpendicular to it. The aircraft manoeuvres to miss the oil tanker by a whisker.
BOOM received the clip on its WhatsApp helpline number (7700906111) asking about its authenticity.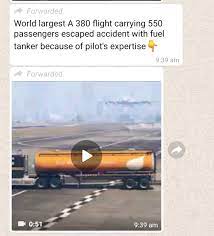 The caption of the message reads, "World largest A 380 flight carrying 550 passengers escaped accident with fuel tanker because of pilot's expertise"
Viral on Facebook
The video is also viral on Facebook.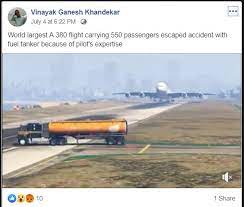 Click here to view post, and here for an archive.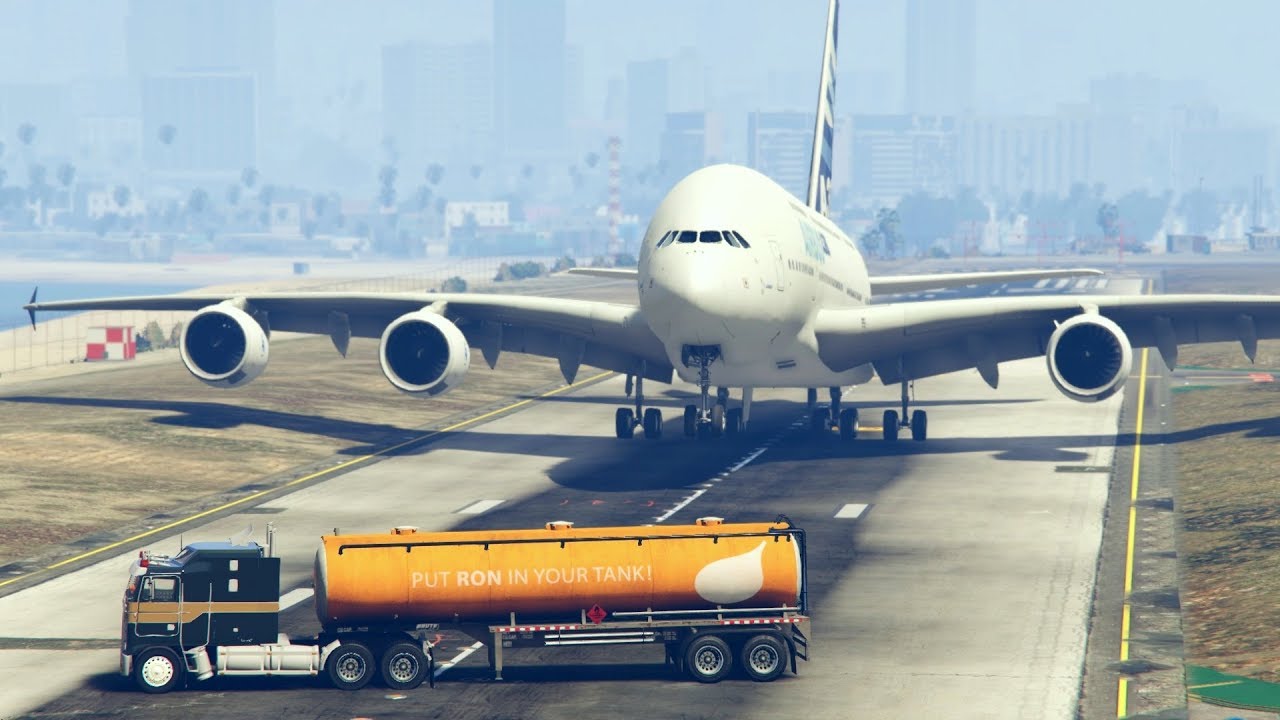 FACT-CHECK
On viewing the video we found that it was a computer-generated imagery (CGI). As it looked like a video game clip, we searched with the keywords
'A 380 flight accident with fuel tanker' on YouTube.
BOOM found the same clip on a YouTube video uploaded by a YouTube channel named 'The UiGamer' with the title - 'GTA5 -- An "Oil Tanker" Accidentally Came in the Runway during landing of A380' on June 20, 2019.
At the 1.34 mark one can spot the same sequence of events in the viral clip.
The video has been culled from this point and shared with the misleading claim that it is a real incident.
Grand Theft Auto V (GTA5) is a action adventure video game that released in 2013. The game is played from either a third-person or first-person perspective and its world is navigated on foot or by vehicle.
The story of the game is centered on the heist sequences, and many missions involve shooting and driving gameplay.
In the description of the video, the Pakistani YouTuber Umer Imran states that it is a simulation.
"Hello guys welcome to another video... In this video i make a situation in which an oil tanker comes in the runway during the landing of airbus A380," the description states.
BOOM has reached out to Imran who said that, "I am just shocked that someone used a part of my video in a very wrong way."
The edited video had gone viral initially on social media after Pakistani politician Khurram Nawaz Gandapur mistook the video to be true and tweeted it.
In the now deleted tweet he had said, "Narrow escape of an aircraft which could have ended in a great disaster. Miraculous save by the pilot's presence of mind."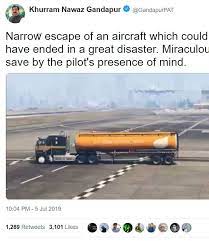 Click here to view an archive.
Clip viral in Pakistan
Claim Review :
World Largest A 380 Flight Carrying 550 Passengers Escaped Accident With Fuel Tanker Because Of Pilots Expertise
Claimed By :
Facebook Posts