Elections
CMS Report: BJP Spent Rs. 27,000 cr On The Most Expensive Indian Election Till Date
Most of the spending was borne by candidates themselves, which accounts for 40% of the overall expenditure.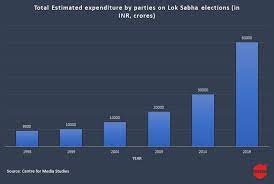 An estimated sum of Rs. 60,000 crore was spent on the 2019 Lok Sabha elections, of which the BJP alone spent nearly Rs. 27,000 crore - 45% of the overall amount
The figures were revealed in a report by the Centre of Media Studies (CMS), which had dubbed the recently concluded election as the "most expensive election ever, anywhere".
The overall expenditure figure surpasses the amount spent during the 2016 United States Presidential elections, where the total expenditure was at $6.5 billion or Rs. 45,000 crore, as per campaign finance watchdog OpenSecrets.org.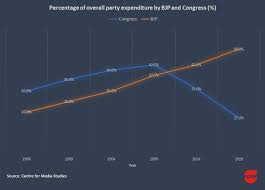 Since the 1998 Lok Sabha elections, where the estimated amount spent was Rs. 9,000 crore, there has been an increase of 566% in the amount being spent on campaigns and other methods to lure voters.
The rise in poll expenditure has been steady until 2014, after which the amount spent saw a growth of 100% (from Rs. 30,000 - 60,000 crore).
The BJP - Congress Tango
Until the 2009 general elections, Congress had been ahead of the BJP in terms of poll expenditure. However, the 2014 elections saw BJP overtake the Congress for the first time in history by spending 42.5 % of the overall poll expenditure, while the Congress' spending accounted for 31%.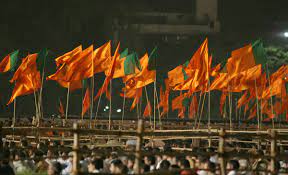 The recent Lok Sabha elections widened the gap ever further, as Congress' share of poll expenditure dropped to 17.2%, while BJP's share was estimated to be between 45% - 55%.
While most of the money was spent on campaign and publicity, the report also claimed that a staggering amount of Rs. 12,000 - 15,000 crore was spent on providing money directly to voters. This estimate was arrived at after surveying voters across the country and taking into account their observations.
"Ten to twelve percent of voters acknowledged receiving cash 'directly'. But two-third had acknowledged that voters around them also received cash for their vote," said the report.
Most of the money was spent by candidates directly, which accounted for 40% of the overall expenditure, while political parties spent 35% and ECI spent 15%.
That the candidates spent most of the money is not surprising, given that this election saw the highest number of crorepati candidates contest for and win seats.
According to Business Standard, N. Bhaskara Rao, the chairman of CMS, expects the poll expenditure in the next 2024 general election to cross Rs. 1 trillion.
"Mother of all corruption lies in the spiraling election expenditure. If we are not able to address this, we can't check corruption in India."

- N. Bhaskara Rao to Business Standard
Do you always want to share the authentic news with your friends?
Subscribed Successfully...
Enter Valid Email Id