Climate Strike Protests Shared As Global Outrage Against Babul Supriyo-Jadavpur Incident
BOOM found that the photographs are from the ongoing global Climate Strike held in major cities in the world.
Photographs of a huge turnout at the global climate strikes are viral on Facebook with false claims that it shows a protest held internationally against Babul Supriyo after the recent incident at Jadavpur University in West Bengal.
The set of three photographs from Berlin, Sydney and Hamburg respectively, shows a massive crowd that took to the streets to protest against the lack of concern against climate change.
The post has been captioned, "The news that the agent media will not run. The South American united left party protested against the attack on Jadavpur University campus by BJP goons and the leader of goons Babul Supriyo. BJP is being unmasked not only in the country but also in foreign shores."
(Original text in Bengali: যেই খবর দালাল মিডিয়া আপনাকে দেখায় না। যাদবপুরের ক্যাম্পাসে বিজেপির গুন্ডা এবং গুণ্ডার সরদার বাবুল সুপ্রিয়র হামলার প্রতিবাদে দক্ষিণ আমেরিকায় বামাদের সংগঠিত প্রতিবাদি মিছিল। রাজ্য ছেড়ে দেশ, এবার বিদেশেও খুলে যাচ্ছে বিজেপির মুখোশ।)
Click here for the archive of the post.
Jadavpur University turned into a battlefield on September 19 when students clashed with Union Minister Babul Supriyo who had come to attend a welcome programme for new joinees, organised by Akhil Bharatiya Vidyarthi Parishad. Supriyo was reportedly attacked in the showdown, following which Governor Jagdeep Dhankhar is said to have come to his rescue.
Fact Check
BOOM could ascertain that the images were from protests held as part of the global climate strike.
A reverse image search led us to a post by Greta Thunberg, a 16-year-old Swedish climate change activist, spearheading the Climate Strike movement across the world.

The first image is from Sydney, where the Climate Strike took place on September 20. The same image was uploaded on Yahoo News Australia.
The second image of the crowd was taken in Hamburg, where people had turned up in scores to be part of the global climate strikes on the same day.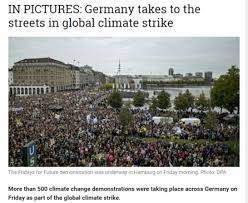 The third image was taken in Berlin with the Siegessäule in the background. Messages in German against the climate strikes could also be seen in the photograph. The same has been reported here.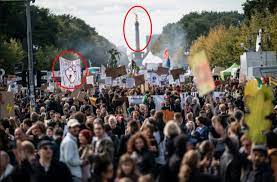 Millions of people have in the past week taken to the streets to protest against the lack of action against climate change. People turned up in huge numbers in major cities of the world including New York City, Stockholm, Melbourne and Berlin, among others.
Claim Review :
Protests across the world against Babul Supriyos attack on Jadavpur University students
Claimed By :
FACEBOOK POSTS