Bridge Collapses At Mumbai's Andheri Station: 6 Injured, Thousands Stranded
A total of 6 injuries have been reported and rescue operations are going on. Thousands stranded during peak hour traffic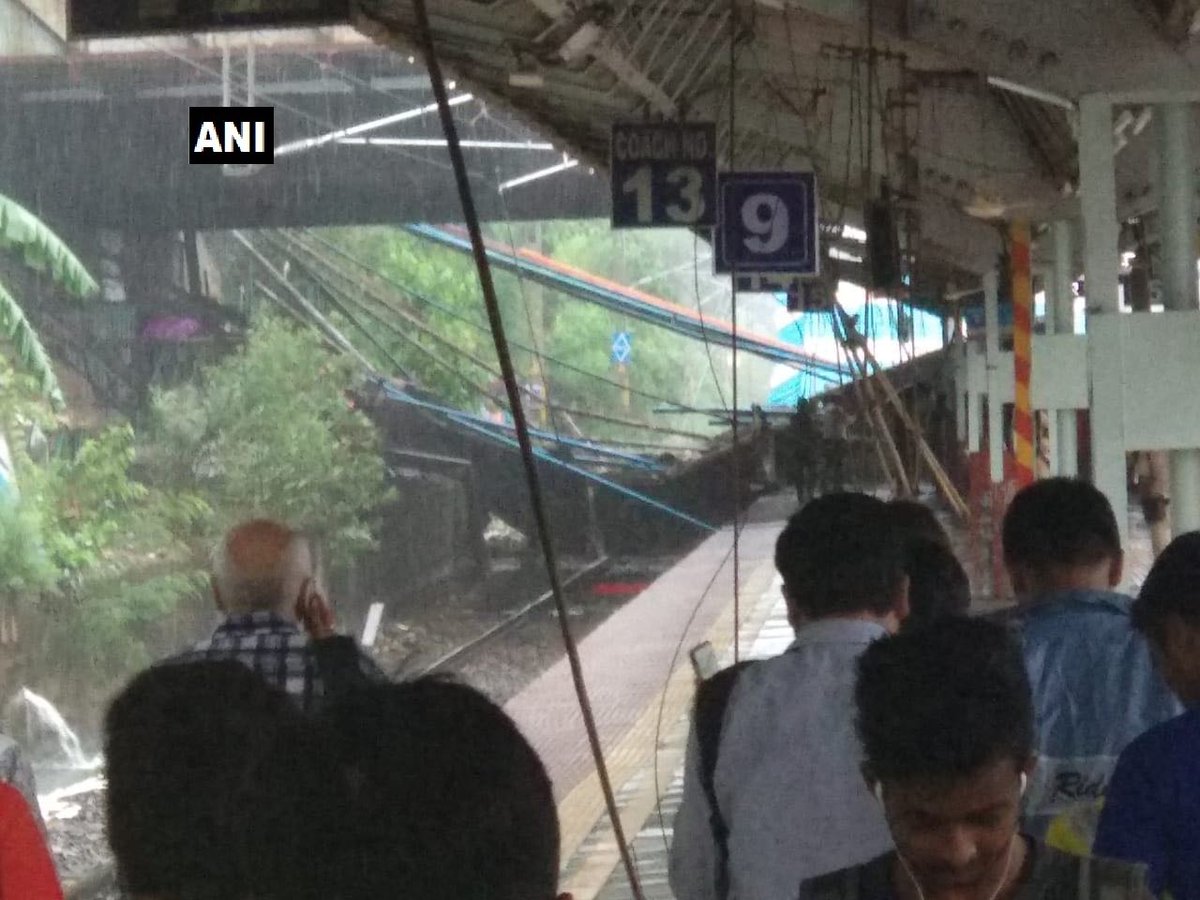 In Mumbai's continuing woes during monsoon, local train services on the Western railway line were suspended Tuesday, as a bridge caved in at Andheri station, due to incessant rains in the morning. Gokhale Bridge that connects Andheri West and East sections collapsed at around 7:30 am taking down with it the overhead wires which were left hanging on the tracks.
The municipal corporation or the BMC, RPF and Fire Brigade officials soon rushed to the spot to handle rescue operations.
Part of Gokhale Bridge, connecting Andheri East to West has collapsed affecting the overhead wires too.Trains on the western line are affected.BMC,Fire Brigade as well as RPF Staff & Officers are deputed on spot for support.Traffic above & below the bridge is stopped for now pic.twitter.com/LMcKmwyDCh

— Mumbai Police (@MumbaiPolice) July 3, 2018
Train services were suspended on the line towards the Churchgate station. While services were resumed between Churchgate to Bandra and Goregaon and Virar, commuters were left stranded as peak South bound traffic were stalled due to shutdown of services between Goregaon to Bandra.
Services between #Churchgate To Bandra and from Goregaon to Virar have resumed. However Services between #Bandra and #Goregaon have been suspended until further information. Still awaiting details if anyone injured in the bridge collapse. pic.twitter.com/FK28QPXuKh

— BOOM FactCheck (@boomlive_in) July 3, 2018
Earlier, it was reported that five people were injured with two said to be in a critical situation and that no casualties have been reported. ANI later tweeted that the NDRF team is present on the Andheri West station and has rescued two people from under the debris. A total of 6 injuries have been reported and rescue operations are going on. All the injured have been admitted in the Cooper Hospital and a special team of Railway doctors is taking care of them.
Part of Road Over Bridge collapsed in #Mumbai's Andheri West: NDRF team, with dog squad, is present at the spot. 2 people have been rescued from under the debris so far. Total 6 injures have been reported. Rescue operation underway. pic.twitter.com/6aI3x0c2bf

— ANI (@ANI) July 3, 2018
Restoration work is being carried out at the moment to clear out the tracks at the Andheri station. The Western Railway tweeted, giving out the details on its deadline to resume operations.
Restoration of OHE/tracks near Andheri under taken extensively. Harbour lines in Andheri-Vile Parle section expected to be open by 14.00 hrs. Dn/UP fast lines & STA lines expected to be open by 19.00 hrs. UP & Dn slow lines in this section expected to be clear by midnight today. pic.twitter.com/LJSrmKJp5g

— Western Railway (@WesternRly) July 3, 2018
The lack of train services meant that office goers took to the roads to reach their destination, putting further pressure on the transportation system and traffic snarls across Western express highway. Chief Minister Devendra Fadnavis tweeted that he has asked the BMC to increase frequency of buses. Around 39 extra buses have been arranged on the western line route from Bandra to Andheri.
Mumbai Division of WR & BEST have arranged extra buses for local rail commuters between Borivali – Bandra, Bandra – Andheri/Goregaon & Dadar-Goregaon #WRUpdates pic.twitter.com/HxDCJPXLKb

— Western Railway (@WesternRly) July 3, 2018
Union Railway Minister Piyush Goyal, who also hails from the city has ordered an inquiry into the bridge collapse and said that they are hoping to resume operations by 2 pm.
Part of Road Over Bridge has fallen on tracks near Andheri Station impacting rail traffic. Directed officials to speed up repair work and rapidly restore traffic in close coordination with other departments. I have also ordered an enquiry by Commissioner of Rail Safety.

— Piyush Goyal (@PiyushGoyal) July 3, 2018
Food packets & water bottles were also arranged for stranded long-distance passengers.
For constant updates, @drmbct the Official Twitter handle of the Divisional Railway Manager – Mumbai (Division Of Western Railway) has been tweeting all the updates regarding the schedules of the trains, buses available for the commuters, the situation at the spot, etc.
Western Railway HelpLine numbers in view of affected traffic In Mumbai are as under :-
Andheri – 022676 30054
Churchgate – 02267622540
Borivali- 02267634053
Mumbai Central- 02267644257