BOOM Verified
The rules introduced earlier imposed a fine of up to Rs 20,000 for taking part in hunger strikes, dharnas, and other forms of protest.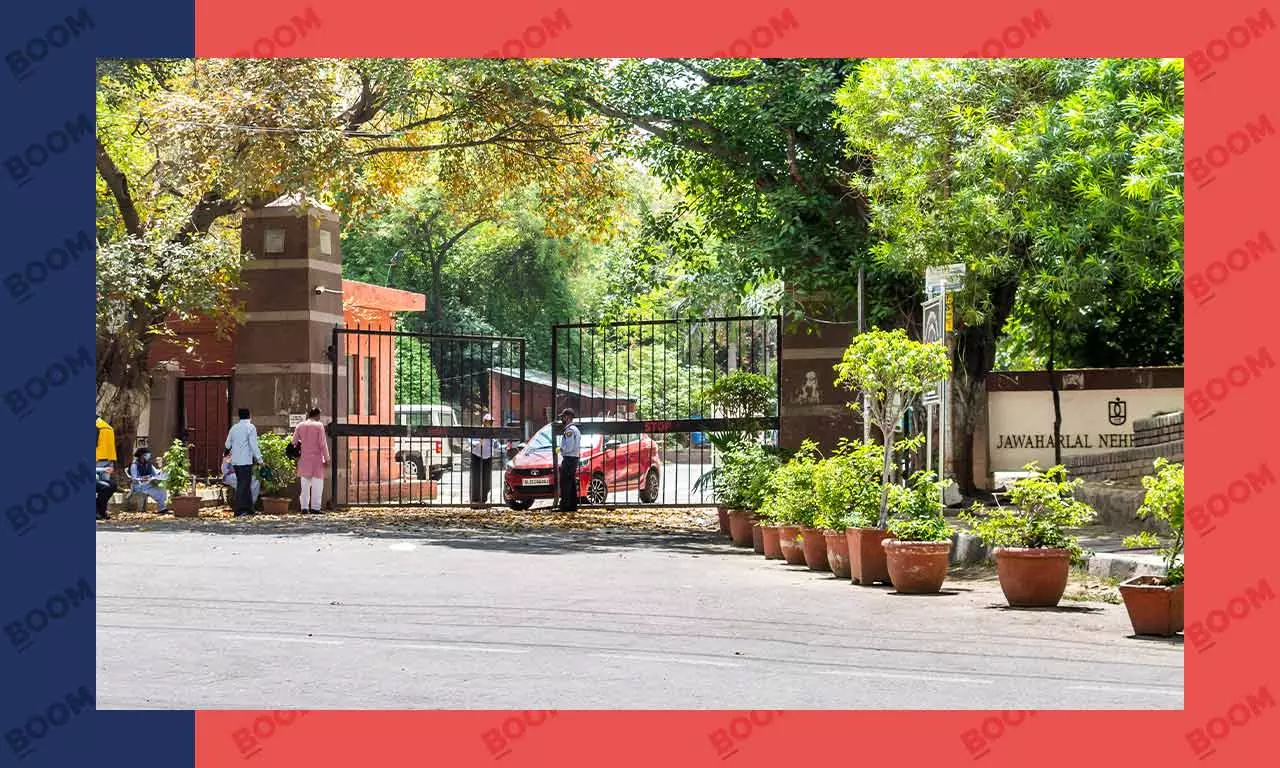 Jawaharlal Nehru University (JNU) administration on Thursday evening withdrew an earlier notice that imposed a fine of up to Rs 20,000 and several other punishments on students for taking part in hunger strikes, dharnas or protests. The notification issued by JNU chief proctor Rajnish Kumar Mishra stated, "In view of administrative reasons, the notification dated 28.2.2023 in respect of rules of discipline and proper conduct of students of JNU is hereby withdrawn. This has been issued on directions of the Hon'ble Vice-Chancellor."
Speaking to BOOM, JNU Vice Chancellor Santishree D Pandit said, "It was issued by Chief Proctor. I have withdrawn it."
The 10-page document titled 'Rules of Discipline and proper conduct of students of JNU' introduced modified rules that proposed punishment for several acts. What did it say? What were the stipulated punishments? Who did it apply to? We explain.

What did the notice say?
The notice listed several activities that could lead to imposition of hefty fines, rustication, suspension or expulsion among other punishments.
According to the earlier notification that has now been withdrawn, hunger strikes, dharnas, group bargaining and any other form of protest by blocking the entrance or exit of any of the academic and/or administrative complexes or disrupting the movements of any member of the University community would lead to an imposition of fine upto Rs 20,000.
In the first category, all acts of violence and all forms of coercion such as gheraos, sit-ins or any variation of the same and or any act which incites or leads to violence would invite expulsion, cancellation of admission or withdrawal of degree or denial of registration for a specified period. Other punishments included rustication for upto four semesters, eviction from the hostel or a fine of upto Rs. 30,000.
Also Read: SEBI Names Arshad Warsi, Others In Share Price Rigging Scheme Using YouTube

In total, the document listed punishment for 17 activities including improper behaviour, Use of abusive, defamatory, derogatory or intimidatory language against any member of the University Community, consumption or possession of dangerous drugs, etc. The maximum fine levied was upto Rs 50,000 on anyone engaging in any attempt at wrongful confinement of any member of the faculty, staff, student or anyone camping inside the campus. Any intimidation of or insulting behaviour (Physical violence/abuse/manhandling) towards a student, staff, or faculty or any other person would also invite Rs 50,000 fine.

Who did the rules apply to?
According to the document, Rules apply to all students of the University (including part-time students) whether admitted prior to the commencement of these rules or after and came into effect from 3rd February 2023.
Who had the last word?
The complainant/defendant may appeal against the order to JNU Vice-Chancellor. In case any dispute arises with regard to the interpretation of any of these Rules, their decision thereon shall be final.
What was the reaction to the notice?
"An all-org meeting was to be conducted at 8.30 pm on Thursday in the JNUSU office, along with JNUSU to decide the further course of action on the notice. Earlier, JNUSU had also given a call for the burning of this so-called "disciplinary circular" that they wanted to impose but then we saw the tweet regarding its withdrawal. So, it was a victory without doing much," CRJD General Secretary and PhD student, Priyanka Bharti told BOOM.
Speaking to BOOM, Satish Chandra Yadav, General Secretary of Jawaharlal Nehru Student Union (JNUSU) said, "We welcome the withdrawal but as a sign of protest against the previous notice, we held an all-org meeting and burned down the circular at Sabarmati hostel at 5.30 pm today."
After the withdrawal notice on March 2, the document has been taken down from the website.
Do you always want to share the authentic news with your friends?
Subscribed Successfully...
Enter Valid Email Id