Bollywood's Selfie With PM Modi: Photoshopped Pic Goes Viral
The original image was photoshopped by a Twitter user and shared with caption 'how Modi haters see it'.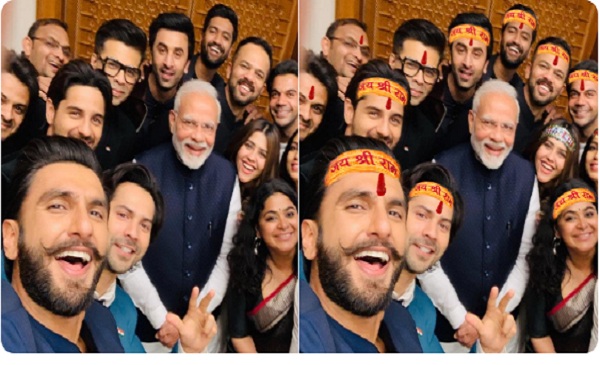 A selfie of Prime Minister Narendra Modi along with members of the Hindi film fraternity has been photoshopped showing the actors wearing 'Jai Shree Ram' bandannas and is being shared with misleading context online.
The prime minister met the delegation in New Delhi on January 10, 2019 and a selfie uploaded by filmmaker Karan Johar on his Instagram handle soon went viral.
Actors such as Alia Bhat, Ranbir Kapoor, Ranveer Singh and Ayushmann Khurrana among others were present at the meeting.
A similar image was also shared by the official Twitter handles of several others including the official Facebook page of Narendra Modi.
However, the meeting was criticised by a few online who called it a public relations exercise.
Within hours a photoshopped version tweeted by Photoshop expert @Atheist_Krishna, surfaced online. The handle has a large following among Bharatiya Janata Party supporters on Twitter.
The photoshopped image, which has been shared with a caption 'how Modi haters see it', has already gone viral.
But the image which was intended to troll detractors is being shared by a few Facebook pages and Twitter handles with an entirely different narrative.
The Twitter handle @lights_asc shared the picture with a caption: mandir toh banega (the temple will be made).
You can access the archived versions of the Facebook posts here and here.
Even a website named Daily Post, which calls itself a news portal, in its article shared both the images without once mentioning that the image with actors sporting a tilak and and Jai Shri Ram bandannas is photoshopped. Read the archived version of the report here.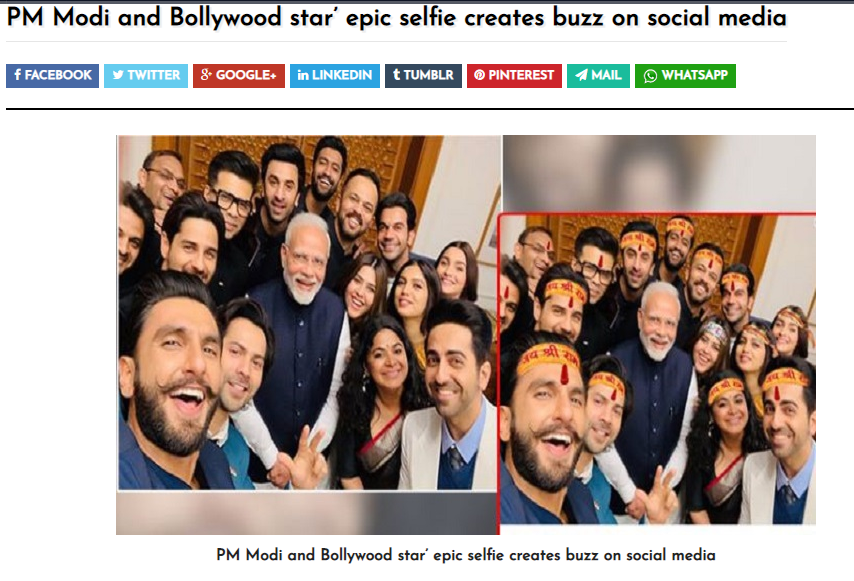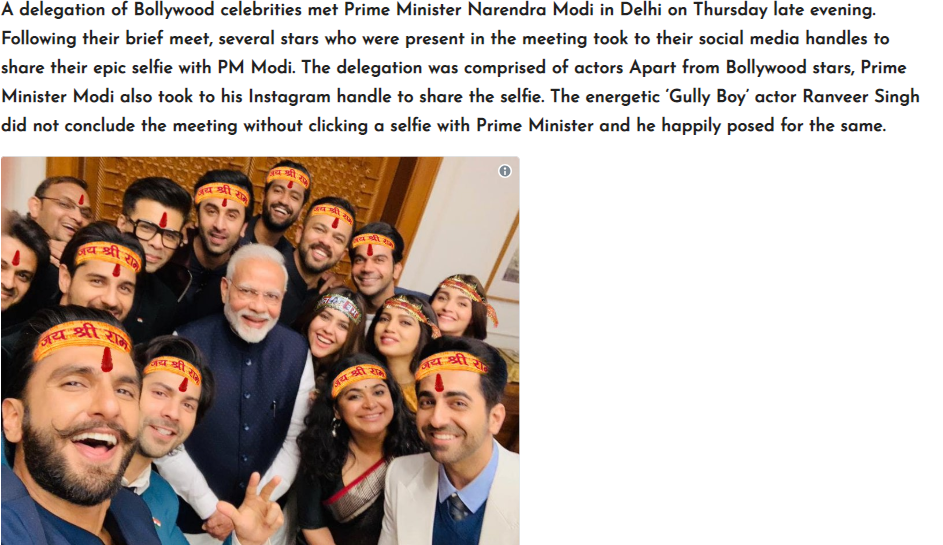 While some Facebook users are putting the original image in the comments section of the posts, there are several others who have commented with a Jai Shri Ram.
Claim Review :
Bollywood's Selfie With PM Modi: Photoshopped Pic Goes Viral
Claimed By :
Social Media