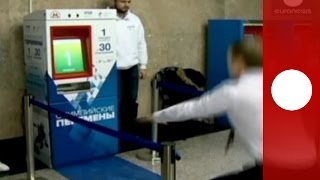 A 2013 video of a man doing squats in front of a ticket vending machine at an underground station in Moscow as part of a one time promotional campaign for the 2014 winter Olympics in Russia, has resurfaced online without any context.
The video has been shared on the website and Facebook page of theTimes of India with a headline 'Moscow: Get a free ticket after 30 sit-ups at this metro station'.
The news portal, however, fails to mention that the video is from November 2013, and was a part of promotion for the Sochi Olympics that was hosted by Russia in 2014.
The unique idea that was meant to promote fitness among commuters has since been discontinued.
You can watch the video posted on TOI's Facebook page here and access the archived versions of the post here and here.
The video shows a man performing squats in front of a ticket vending machine. Once he is done with the exercise he walks to the machine, collects a ticket and walks off.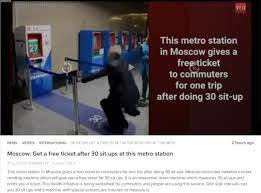 The video appears to have resurfaced earlier in July with several netizens appealing to Delhi Chief Minister Arvind Kejriwal to introduce similar ticket machines that accept exercise as payment, on the Delhi Metro.
Fact Check
BOOM looked for the video on YouTube and found several links from 2013 sharing longer versions of the same video.
The ticket machine with special squat sensor installed at Vystavochnaya station would dispense free tickets if a passenger could perform 30 squats within two minutes in front of it.
You can watch the video below.
The promotional campaign was well received by locals who were gearing up for the winter Olympics that was held in February 2014. Read more about the free-ticket machine here.
While the video and the text accompanying it is not fake, the news is from 2013 and the machine, installed at only Vystavochnaya station, remained operational only till December 2013. Read more about it here.