Black Money Recovery: Rs 79 Cr In New Currency Notes; Total Haul Rs 300 Cr
Nation wide IT raids post demonetisation has unearthed black money worth Rs. 284 crore of which Rs. 71 crore was in new 2000 rupee notes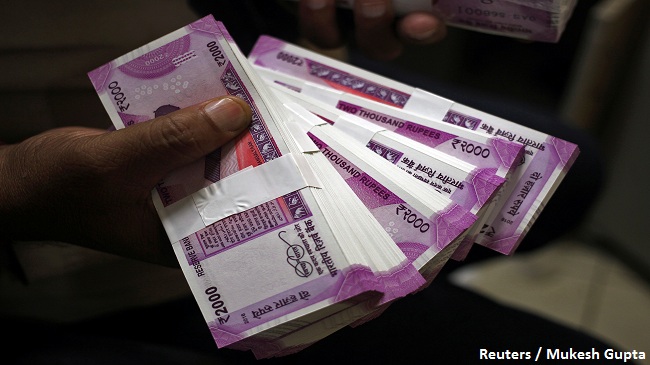 A cashier displays the new 2000 Indian rupee banknotes inside a bank in Jammu, November 15, 2016. REUTERS
Editor's Note: On Friday, the Income Tax Department has revealed that their raids have yielded more than Rs 300 crore in cash seizures, Rs 79 crore in new currency notes of Rs 2,000, and unaccounted income of Rs 2,600 crore. Our report filed on Thursday showed marginally lower figures and were collated from news articles across publications and releases issued by the tax department.
Prime Minister Narendra Modi's audacious move to demonetise 86% of the currency in circulation has brought back the issue of black money on the national stage. So even as the country debates the benefits of this huge economic disruption with more than 82% (Rs 12 lakh cr) back in the banking system, the Income Tax department along with CBI, ED and state police agencies have gone on an overdrive to corner black money hoarders.
BOOM's analysis of 46 cases across 26 cities and 14 states reveal that the IT Department has managed to uncover Rs 284 crore in cash with Rs 71 cr in the new 2000 rupee notes. These raids also led to seizures of 250 kg of gold from Bengaluru and Chennai.
While search and seizures were slow in the first 20 days after demonetisation was announced with about 11 cases, the first fortnight of December has seen 35 cases across the country.
The largest amount seized till date is Rs 106.52 crore from a group of sand mine contractors in Chennai on December 9. Of the amount seized, around Rs 10 crore was in new 2000 rupee notes and the remaining Rs 96.89 crore in demonetised notes. 127 kg of gold worth Rs. 36.29 crore was also found in the raid.
The next big seizure was again from Chennai unearthing Rs 90 crore – Rs 10 crore in 2000 notes and the rest in old currency – and 100 kg of gold worth Rs 30 crore. These were unaccounted assets belonging to businessmen Shekhar Reddy, Srinavasa Reddy and Prem recovered from 8 different places in Chennai and Vellore.
Though there have been reports of seizures from all over India - Chennai, Delhi and Bengaluru stand out in the news. Rs. 197 crore, around 69% of the total amount seized was from Chennai and Vellore, followed by the National capital region (Rs 29 crore) and Bengaluru (Rs 21 crore). Other cities pale in comparison and have seen much smaller seizures.
10 Largest Black Money Seizures In The Country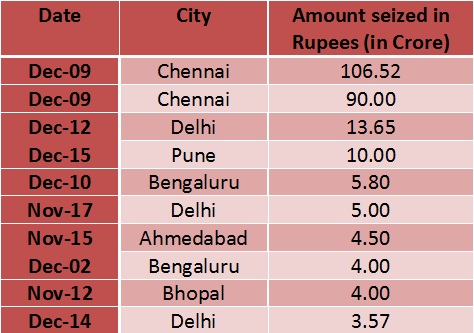 Sourced from various news sources
Surprisingly, reports of seizures from the financial capital, Mumbai, were few in number than we expected. We could trace only 3 cases (Mumbai, Navi Mumbai & Thane) in which the seizure was Rs 1.5 crore. But as a Mumbai Mirror article points out, this is not because of the absence of money laundering in Mumbai and the surrounding areas, but a lack of coordination between the Mumbai Police and the IT Department. The IT Department has sent a desperate plea to the Mumbai cops to share tips with them on possible cases of money laundering.
Black Money Seizures From Different States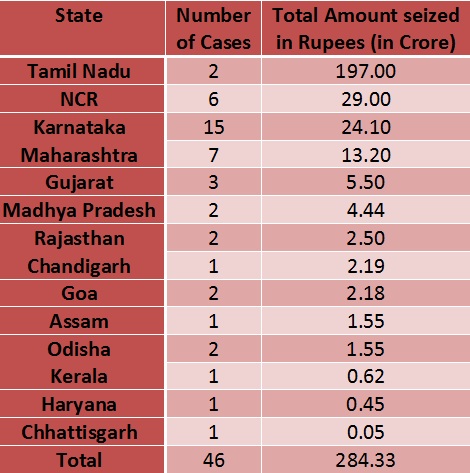 Sourced from various news sources
The data also raises another important question. Even as the common man is struggling to withdraw cash from ATMs and bank branches with the RBI having released only Rs. 5 lakh crore of the new currency (out of the demonetised value of Rs 15 lakh crore), how are black money hoarders getting their hand on such large quantities of 2000 rupee notes. This report from The Times of India explains how large number of new 2000 rupee notes that should have gone to the public were diverted by corrupt bank officials, ATM operators through various means. This is despite the fact that RBI had put strict limits of Rs 2500 per account through ATMs and Rs 24,000 per account per week.
Axis Bank, India's third-biggest private sector bank, faced yet another raid at one of its branches at Noida today. The IT dept found 20 fake accounts with deposits of over Rs 60 cr after the notes ban were imposed. 24 officials are under the scanner over these fake transactions. The bank had said last week it had suspended 19 employees over alleged breaches at one of its branches. Income tax raids at Chandni Chowk branch of Axis Bank reportedly led to the discovery of over Rs 100 crore in 44 suspect accounts. Earlier, the Enforcement Directorate arrested two Axis Bank managers from the bank's Kashmere Gate branch for alleged money laundering, reports The Economic Times.
So while the average bank account holder is standing in serpentine queues to withdraw his hard earned money, black money hoarders had figured out long back along with pliable bank officials on how to launder their money. Senior journalist Sucheta Dalal had taken to Twitter a few days back asking for more transparent data from RBI on new currency supplied to bank branches.
Deposits into Jandhan ac.s are collated & put up on govt website. why not data on new currency supplied 2 bank branches? #DeMonetisation 2/2

— Sucheta Dalal (@suchetadalal) December 11, 2016
#mobile_coauthor_id > a:nth-child(1)
{
margin-right: 10px;
}
#mobile_coauthor_id > a:nth-child(2)
{
margin-left: 10px;
}