Fact-check: Did A BJP MP Say, "Soldiers Meant To Die" After The Recent Pulwama Attack
BJP MP Nepal Singh made the comment in 2018 and not after this year's attack in Pulwama.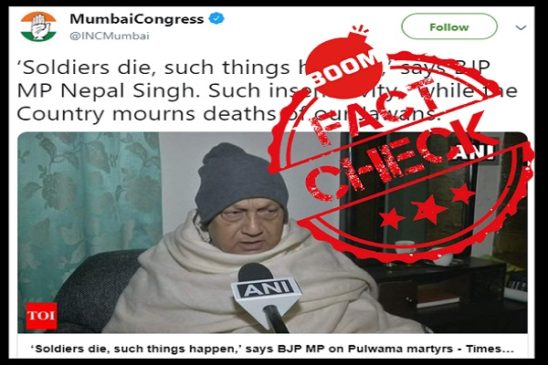 A 2018 comment by BJP MP Nepal Singh of Rampur, Uttar Pradesh, dismissing the death of soldiers has been used to falsely claim that Singh was referring to the soldiers killed in the recent Pulwama terror attack.
The video where Singh is speaking to mediapersons, he can be heard saying, "Soldiers die, such things happen." The Mumbai wing of the Indian National Congress tweeted a video quoting and attached a Times Of India article to the same.
The official handle of INC Mumbai tweeted the video with the caption, 'Soldiers die, such things happen,' says BJP MP Nepal Singh. Such insensitivity, while the Country mourns deaths of our Jawans,'
In the video, Singh can be heard saying - "Army Jawans are bound to die. They are paid for doing so." Singh can also be heard comparing terror attacks with village brawls.
The comment was also shared by social media pages of the All India Trinamool Congress Supporters and Narendra Modi Fans, which condemned Nepal Singh for making such a statement about the soldiers killed in the Pulwama attacks.
BOOM searched for news reports looked up news reports and found out that the comment attributed to Nepal Singh was actually made in January, 2018, after another terror attack in Pulwama.
In fact, the TOI article tweeted by the official page of Mumbai INC is also from 2018.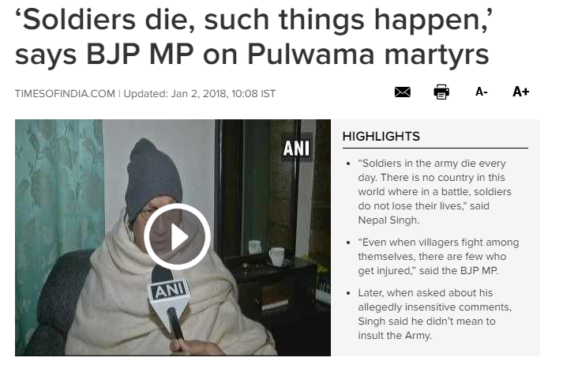 Singh sparked a controversy on social media with his comment back then as well. The attacks claimed four CRPF jawans' lives in Pulwama, on December 31, 2017. He later apologized after Twitterati pulled him up for insulting the Indian Army.
Claim Review :
Nepal Singh says soldiers must die