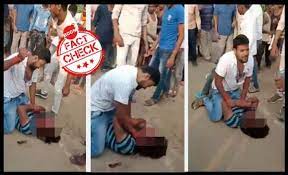 A disturbing video from Bihar of a violent attack on a murder accused is viral with a false claim that a Kashmiri boy was beaten to death by a member of Rashtriya Swayamsevak Sangh (RSS)
The video is from Bhabhua in Kaimur district, Bihar and shows a person beating an unconscious man while chanting 'Jai Shri Ram.'
Suhaib Saqib, a British born activist had tweeted the video with the misleading caption while using the hashtag '100DaysOfKashmirSiege' in the backdrop of 100 days since the Union government abrogated Article 370 in Jammu and Kashmir and placed the region in a state of physical and information lockdown.
Given the disturbing nature of the video, BOOM is not including it in the story.
Clickhere for an archive.
Independent journalist CJ Werleman in a now deleted tweet had quote tweeted Saqib.
BOOM is not including the video on account of its graphic nature.

FACT-CHECK
BOOM had previously fact checked the video when it was shared with a false claim that a Bharatiya Janata Party (BJP) leader lynched a man for refusing to say 'Jai Shri Ram'.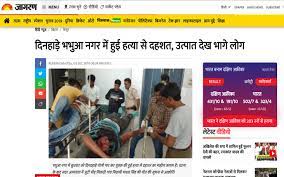 We found that the incident is from October 2, 2019 when two criminals – Madhav Singh and Shahid Rayin, got into a fight that led to Rayin shooting dead Singh in broad daylight.
Dilnawaz Ahmed, Superitendent of Police, Bhabhua had said, that the video shows Uttam Patel, a friend of Singh, beating Rayin for the murder. He further explained that all three were history sheeters and Rayin had been rushed to the hospital and then arrested for the murder after his injuries were treated.
"While Singh succumbed to his injuries, Rayin is undergoing treatment. We have booked a case against him for murder. Meanwhile, our teams are also trying to trace Patel, who is absconding and has been charged with assaulting Rayin," Ahmed had told BOOM on October 7, 2019.
READ HERE: Brutal Assault Video From Bihar Goes Viral With False Claims