Belgaum Police Arrest Two For Spreading False Communal Messages About Teen's Death
Belgaum Police tell BOOM that the teenager committed suicide following a fight with his father.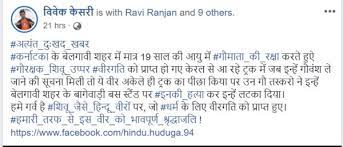 Was Shivu Uppar, a 19-year old resident of Belgaum murdered by people smuggling cows in a truck? While viral social media posts have claimed that Uppar was murdered, the district police have clarified to BOOM that the teenager committed suicide and rubbished the posts as "fake and harmful rumours".
Belgaum district police have also arrested two people for spreading false messages about Uppar's death with an "aim to spread with communal hatred". Belgaum city police commissioner told BOOM that the post mortem report has also ruled out foul play and confirmed it as a case of suicide.
Posts claiming Uppar was "hacked to death by cow smugglers" who are trying to pass it off as suicide are being shared on Facebook and Twitter. The posts are being shared with three photos of Uppar including two disturbing photos which show Uppar hanging from the ceiling in a toilet.
BOOM looked at Uppar's Facebook profile and found that he routinely shared posts about protecting cows. One of his cover photos has him posing with a photo of a cow and in his Facebook bio he also mentions, "Jai Gaumata". Uppar had on May 21, shared a video from a News18 Kannada special broadcast of reporters following trucks in the middle of the night alleging that these trucks smuggled cows.
The photos are being shared with various captions claiming Uppar was murdered. BOOM is not including the photos in the posts as they are of a disturbing nature.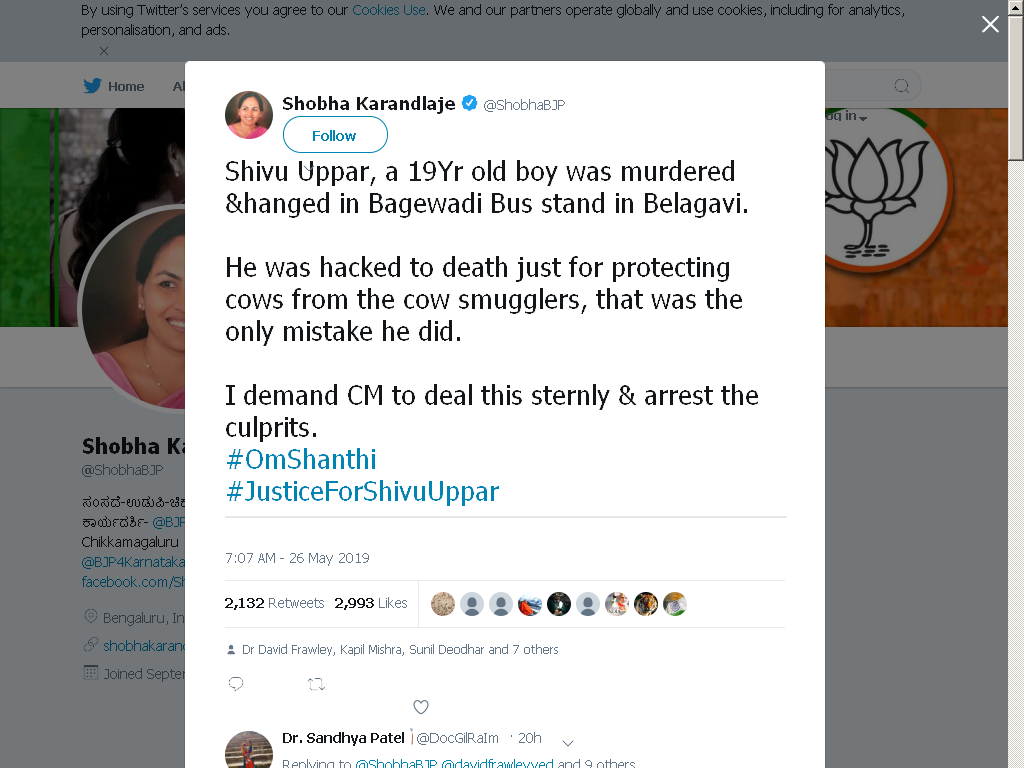 The teenager's death has become a rallying point on Twitter with several politicians of the Bharatiya Janata Party tagging Karnataka Chief Minister HD Kumaraswamy to order an inquiry. Many of them are tweeting the claim with the hashtag #JusticeForShivuUppar which is now trending on Twitter.
Shobha Karandlaje, BJP's MP- elect from Udupi-Chikkmangaluru also tweeted about the incident with the caption, "Shivu Uppar, a 19Yr old boy was murdered &hanged in Bagewadi Bus stand in Belagavi. He was hacked to death just for protecting cows from the cow smugglers, that was the only mistake he did. I demand CM to deal this sternly & arrest the culprits."
Click here to see the post and here for the archive.
The post has been shared with captions in Hindi that loosely translates to, "At a tender age of 19, cow vigilante Shivu Uppar of Karnataka's Belagavi sacrificed his life saving cows. When he got news of a truckload of cows coming from Kerala, this brave heart went after the truck all alone. However, the cow smugglers killed him in Belagavis Bagewadi bus stand and hung him. We are proud of Hindu brave hearts like Shivu who lay down their lives for dharma. Heartfelt condolences."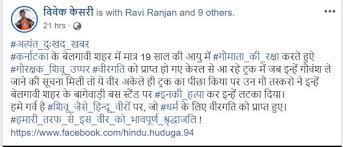 FACT-CHECK
BOOM contacted the Belgaum police commissioner, BS Lokesh Kumar who said that Uppar had not been murdered but had committed suicide.
He said Uppar was a resident of Gokak district in Karnataka and his body was found in Belgaum's APMC premises.
"The teenager was pursuing a course from an ITI college but had in the past few months stopped going to college. His father would constantly scold him for not studying and aimlessly wasting time. After one such fight, he left his house and came to Belgaum to stay with his friend. On Saturday night, he again had a fight with his father and he went to the APMC market premises and hung himself in the public toilet," Kumar said. He said that the suicide was due to personal reasons and explained that the family also informed the same to the police.
He added that there were no injury marks found on the body and the post mortem report received by the Belgaum police also confirmed it was a case of suicide. "The post mortem report says and I quote, "It is a clear case of suicide. No injury marks on body indicating assault or murder," Kumar said to BOOM.
Meanwhile, Gokak police under the jurisdiction of Belgaum district police have arrested two people for spreading false messages on Facebook regarding Uppar's death.
Prabhu DT, District Superitendent of Police, Gokak told BOOM that the police found posts on Facebook and WhatsApp claiming Uppar had not committed suicide but had been killed by alleged cow smugglers. "The post was filled with communal hatred messages and also claimed that Uppar was killed while trying to stop a truck smuggling cows. We investigated and also spoke to the family of Uppar who denied any such claim,"Prabhu said. He added, "We then traced the posts to two individuals -- Arjun Basaragi and Fakkirappa Talawar -- residents of Gokak who were sharing the posts on Facebook and WhatsApp.
Basaragi and Talawar have been arrested and booked under relevant sections of the Indian Penal Code.
Recently the Madhya Pradesh police arrested five people for assaulting three people including a woman for allegedly carrying beef. The Seoni police first arrested three victims on suspicions of carrying beef, but after the video of the incident went viral, they arrested the five self proclaimed 'gau-rakshaks' for the assault.
Claim Review :
19-year-old Shivu Uppar was murdered by cow smugglers
Claimed By :
Facebook posts