Battling Allegations Of 'Fake' Protests: How Soura's Residents Responded
Not wanting to leave anything to chance and to counter adverse reactions from the media and the govt, Soura's residents came prepared for their next protest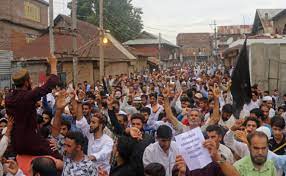 A week after protests in Soura, a village situated half an hour from Srinagar became national headlines, it now resembles a makeshift fortress.
While the main streets of Srinagar has seen heavy traffic movement, post the easing of curfew and restrictions on Saturday (August 17, 2019) the villagers in Soura are not willing to budge.
The villagers have placed barricades – from fallen trees guarding the width of the road, handmade steel meshes running along narrow streets, bricks blocking lanes and trenches dug up at critical points in the village.
"These are not just for the forces, it is for the Indian media too," declares a resident.
The resentment against journalists, especially those working for Indian news organisations, runs deep.
The most recent trigger being the denial of any protest in Soura on August 9 by a section of the mainstream media.
Several news channels alleged that the footage of the protests being broadcasted by the British Broadcasting Corporation and Al Jazeera were in fact old and that paramilitary forces did not fire at the protesters.
The Union government too denied that the protestors had been fired with bullets from the forces or that there were injuries.
Initially, the government had also accused foreign news organisations of running "fabricated" and "fake news" of the protests in Soura but later did a u-turn by admitting the protests.
BOOM with the help of open source data showed that the protests did take place in Soura as reported by the international agencies. Read here.
Not wanting to leave anything to chance and to counter any adverse reactions from the media and the government, the people of Soura came prepared for their next protest on August 12, on the festival of Bakri Eid.

The protesters leading the protests, held up placards with dates written on them. As visible in the below photo, a protestor is carrying a placard "We want freedom. Go India, Go back" with the date 12-08-2019, handwritten on it.
The same was done for protests held on August 16, 2019, with placards saying, 'Kashmir has only one solution' with the date typed on it.
BOOM spoke to residents of Soura who are leading the protests. Speaking on the condition of anonymity, one of the leaders said, "We were disappointed but not shocked by the way the 'Indian media' portrayed the protests. We saw channels claiming absurd things like protests happening in PoK and some said they were old and never happened after the recent decision to remove Article 37."

The residents, upset that their voices were getting drowned, held a small meeting and thought of ways to tackle the allegations.

"We came up with different ways but the one we selected was to write the date on placards. So at least 5-6 people in the protests were given placards with the date of the protest written on it," he said. "Those holding these placards were spread out in various places with most of them at the head of the protests so that if someone was shooting from a different angle, it would still be visible."

He further explained that the protesters even thought of writing the time on the placards. "We will do everything possible to ensure that the protests are not called fake, old or that it is not happening in Indian Kashmir," said another leader. "How long will the Indian media ignore us or lie about us?"