As Facebook Users Face Global Outage, Claims Go Viral About WhatsApp Shutdown
The false claims doing rounds on social media, however, Facebook has clarified the services are 100% back on track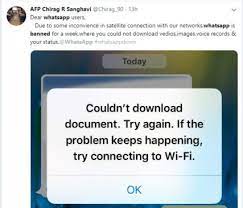 Several fake and misleading claims are doing the rounds on social media platforms — WhatsApp, Facebook, and Twitter — about the impending shutdown of WhatsApp. The messages went viral after several users complained about not being able to download images and videos on Facebook and WhatsApp since Wednesday evening.
The claims vary. While one of the messages claimed that WhatsApp will be shut from 11:30 pm to 6 am daily and also invoked Prime Minister Narendra Modi's name to ensure credibility, another message attributed to Google, claimed that WhatsApp has been banned for a week.
The message also claimed that WhatsApp will charge for usage and the only way to ensure it remains free will be to send the message to 10 people.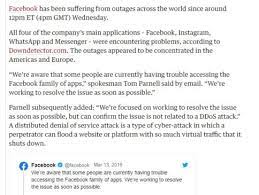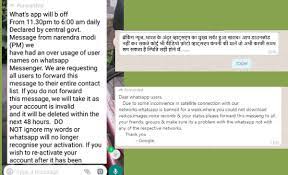 On searching across platforms, BOOM found the messages viral on Facebook and Twitter. Several messages were also found in Hindi where the posts read: *Breaking news... The main server of WhatsApp in India crashed. You cannot download any photo, video and as per the company, it will take a long time to fix the problems. (*ब्रेकिंग न्यूज..भारत के अंदर व्हाट्सएप का मुख्य सर्वर हुआ खराब। आप डाउनलोड नहीं कर सकते कोई भी वीडियो फ़ोटो व्हाट्सएप कंपनी की मानें तो अभी काफी समय लग सकता है स्थिति सही होने में*... }
Similar claims had gone viral recently in March 2019, when the platforms from the Facebook family including Messenger and Instagram faced outage.
Facebook, Twitter Clarifies
The viral claims of WhatsApp charging its users are also not true as there is no official communication from either the platform or its parent company, Facebook.
BOOM wrote to WhatsApp seeking an official clarification. We will update the article when we receive a response. However, Facebook has already clarified that the issue has been resolved and their users will be able to access all their services.
As users complained of facing issues with delivery of direct messages on Twitter, the platform also confirmed that there were issues and later tweeted about resolving the issue.
Meanwhile, as social media users debated the reasons for the global outage, premier intelligence agency CIA found the time for a bit of humour on its possible role in the shutdown.
Claim :
WhatsApp has been shut down for long. Services will be charged
Claimed By :
WhatsApp, Facebook pages and Twitter handles