(image 1)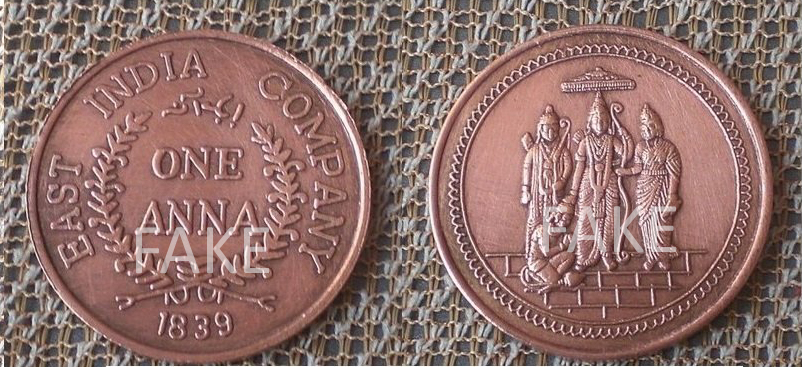 A coin that claims to be a rare coin minted by the East India Company in 1839 with a religious motif depicting Indian gods Ram, Sita, Lakshman and Hanuman on the reverse, is what numismatists call a "fantasy" coin. The above image has been shared widely on WhatsApp and Twitter with many people extrapolating that the early British recognised these deities by etching them on the currency in use. However, a BOOM investigation revealed that the coin is fake. Moreover, a few other coins with the East India Company emblem on the front and religious motifs of Buddha, Saraswati, Ganesh, Shiva and Hanuman on the reverse, are also fake. (image 2)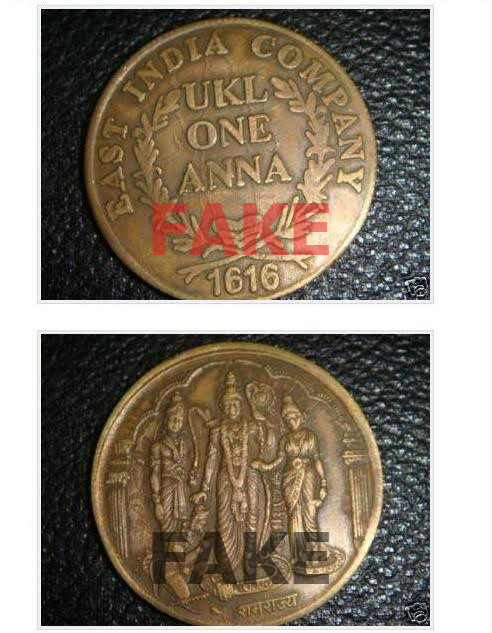 BOOM wishes to clarify that coins with religious motifs have existed in pre-colonial era and in the Princely States, but the claim that the East India Co. produced coins with Hindu gods is false.
Image 1, which shows Ram, Sita, Lakshman and Hanuman, has been plagiarized from a 2009 post on private
blog
that rightly identified such coins as fake. (image 3)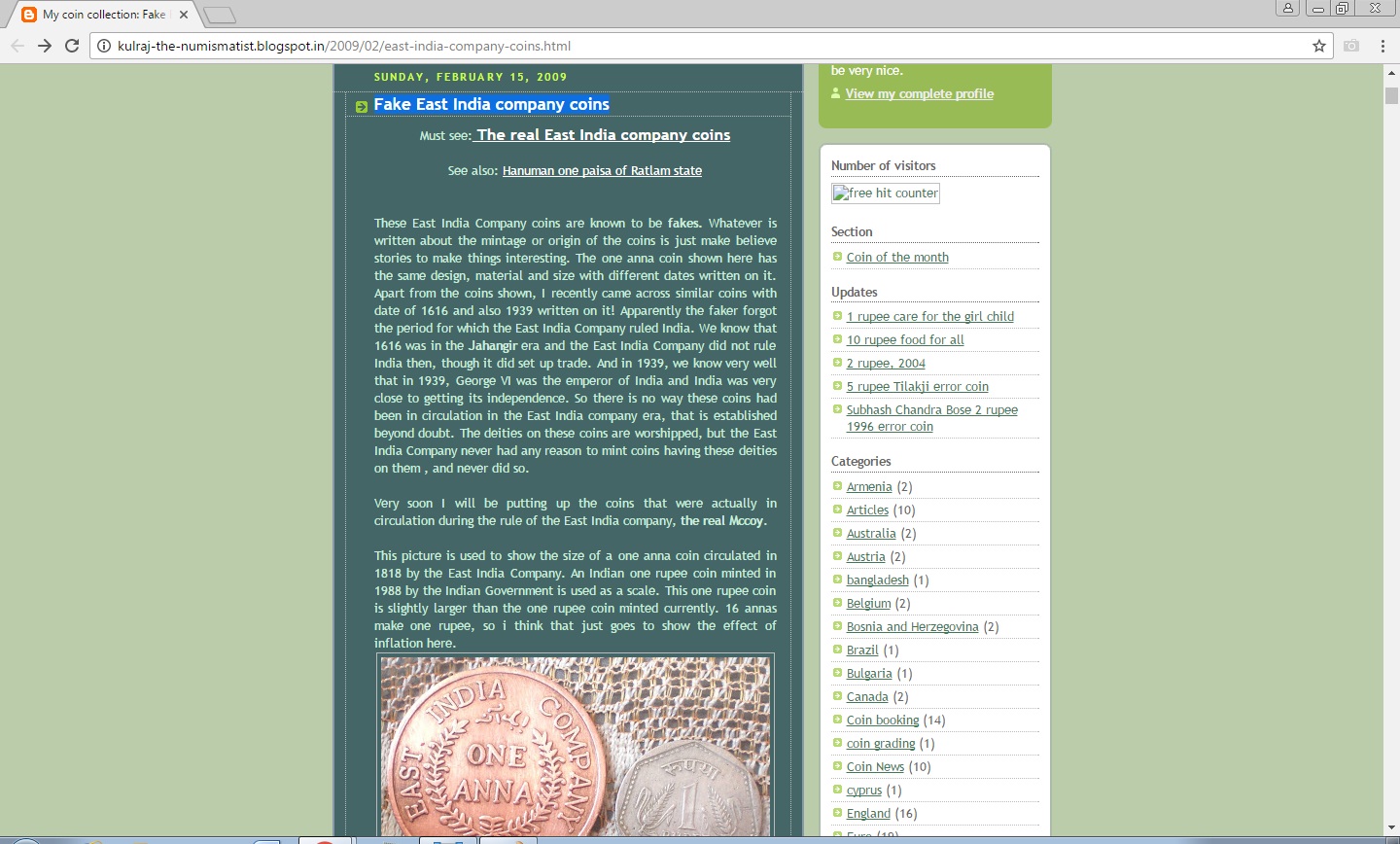 A source familiar with numismatics or the study of coins said these 'fantasy' coins combined features of Ramatanka(s) or 'temple tokens.' The source did not wish to be identified. Temple tokens with motifs or designs of Hindu gods and goddesses were symbolic and were never meant for commerce nor were they used as legal tender. Temple tokens did not have currency values engraved on them as they relied on the intrinsic value of the metal they were made of. Though rare and valuable it is difficult to correctly assess the value of Ramatanka(s) because many modern tankas have been produced with fake dates to pass them off as valuable antiques, according to numismatists. Fantasy temple tokens are sold anywhere between Rs. 200 to Rs. 2000 on online sites such as
eBay
. The Reserve Bank of India's (RBI) Monetary Museum provides an exhaustive history of coinage in India. India has been one of the earliest issuers of coins in the world. Few countries can rival India's diversity of scripts, motifs, sizes, shapes, metals, minting techniques and even monetary experiments. The below screenshot from RBI's
website
shows that early coins from early English settlers looked nothing like the one shown above. (image 4)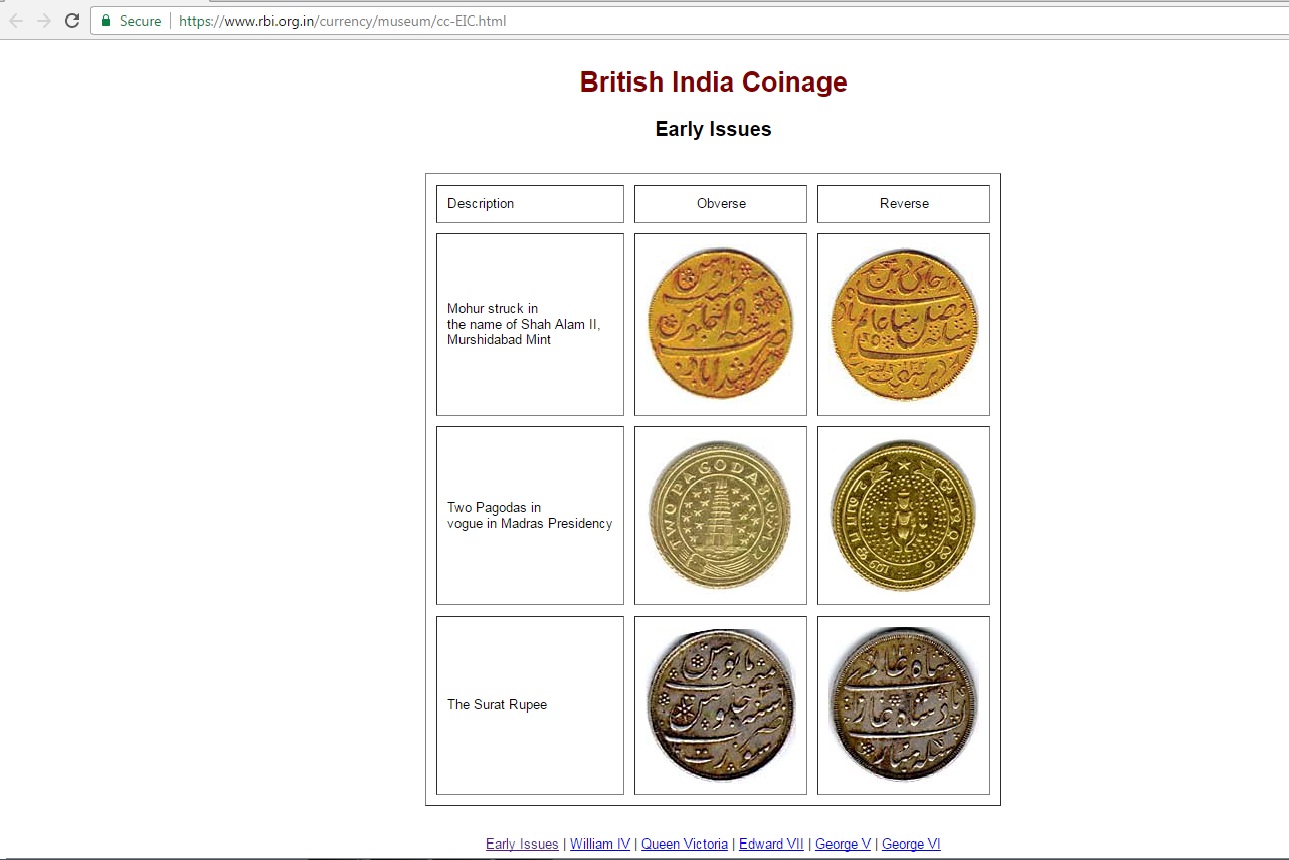 The below image also from the RBI's website also shows that coins minted by the English had distinctly English patterns. (image 5)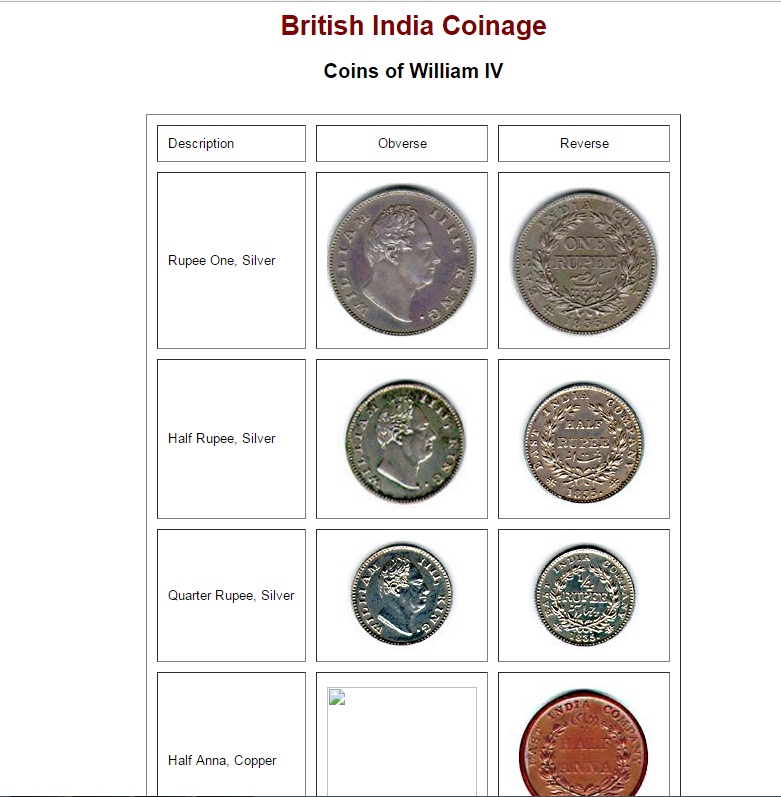 We list the following reasons from literature provided on RBI's website to prove that the coins which show the East India Company emblem and gods and goddesses, are fake.
The English initially issued coins mostly along Mughal patterns. Early English settlements in India had three broad groups: western India (Bombay & Surat), south India (Madras) and those in the Eastern Province of Bengal (Calcutta).
[blockquote width='100'] "The coins of Bengal were developed along the Mughal pattern, those of Madras were struck along South Indian lines both in design and metrology (Pagoda) as well as along Mughal designs. The English coins of Western India developed along Mughal as well as English patterns. " [/blockquote] 2. It was only in 1717 AD that the English obtained permission from the emperor Farrukhsiyar to coin Mughal money at the Bombay mint. English pattern coins were produced at the Bombay Mint. The gold coins were termed '
Carolina'
, the silver coins '
Anglina'
, the copper coins '
Cupperoon'
and tin coins '
Tinny'
. 3. Newly designed coins in 1835 bore the effigy of William IV (see image above) on the front and value on the reverse in English and Persian. The coins issued after 1840 had the portrait of Queen Victoria. The first coinage under the crown was issued in 1862 and in 1877 Queen Victoria assumed the title the Empress of India. Sources: Kulraj Singh's blog post about coins - https://kulraj-the-numismatist.blogspot.in/2009/02/east-india-company-coins.html Ebay link selling Fantasy Temple Tokens https://www.ebay.in/dsc/sis.html?_kw=1839+AD+Copper+Coin+Temple+Token+EAST+INDIA+COMPANY RBI's Monetary Museum website pages British India Coinage - https://www.rbi.org.in/currency/museum/c-brit.html British India Coinage Early Issue - https://www.rbi.org.in/currency/museum/cc-EIC.html Coins of William IV - https://www.rbi.org.in/currency/museum/cc-William.html