Alia Bhatt And Ranbir Kapoor's Fake Wedding Invite Goes Viral
The fake invite claims 'Mukesh Bhatt' and Soni Razdan's daughter 'Aliya' Bhatt is getting married.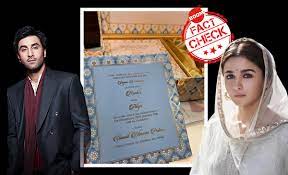 A fake invitation announcing the wedding dates of actors Alia Bhatt and Ranbir Kapoor is viral on social media. The invite, riddled with errors, claims the duo are set to get married on January 22, 2020.
BOOM contacted a family member of Ranbir Kapoor who refused to come on record but hinted at the absurdity of the error-riddled invite being sent out by the family. The invite claims Ranbir's parents actors Rishi and Neetu Kapoor are hosting the 'Sagan ceremony'. Sagan is a traditional ceremony held before the marriage where relatives from both the groom and bride's family get to know each other and exchange sweets.

The invite says the ceremony is to be held at Umaid Bhawan Palace but has spelling and grammatical errors. In the invite, Alia Bhatt has been introduced as the daughter of 'Mrs Soni and Mr Mukesh Bhatt'. Alia is the daughter of Soni Razdan and Mahesh Bhatt. Mukesh Bhatt named as her father in the invite is her uncle.

The card also misspells Alia as 'Aliya' and the date reads '22th January' instead of 22nd January.

The viral photo shows a Sagan ceremony card on top kept in a golden invitation box with wedding invitation also visible in the background.
BOOM also reached out to the reservation team of Umaid Bhawan Palace, Jodhpur, who denied any reservations being made for the above mentioned wedding date of Bhatt and Kapoor.
NewsX's digital wing published an article on the impending wedding of the couple on October 21. here. The media outlet later deleted the story and issued an apology.
Alia Bhatt and Ranbir Kapoor are rumoured to be in a relationship for over a year now. While Kapoor is not on social media, Bhatt often shares photographs of them together on her Instagram page. The two are pictured at family gatherings as well.
BOOM has reached out to Alia Bhatt's mother Soni Razdan. The article will be updated as and when she responds.