Fact Check
'Absolutely Rubbish': Pranab Mukherjee's Office On Fake Quote On Manmohan Singh
Pranab Mukherjee's office confirms to BOOM that quotes attributed to the former president speaking disrespectfully of former PM Manmohan Singh are fake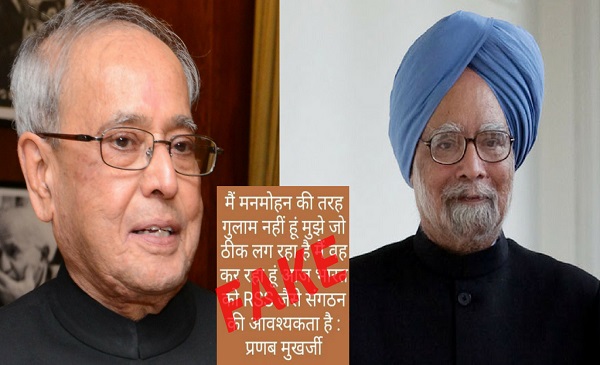 Pranab Mukherjee & Manmohan Singh
A quote by Former President Pranab Mukherjee in Hindi is going viral on social media.
The quote reads, "मैं मनमोहन की तरह गुलाम नहीं हूं मुझे जो ठीक लग रहा है मैं वह कर रहा हूं आज भारत को RSS जैसे संगठन की आवश्यकता है : प्रणब मुखर्जी" (I am not a slave like ManMohan Singh. I am doing what what I feel is correct. Today, India needs an organisation like the RSS.)
The tweets that began on June 4 has seen a number of Twitter handles post this fake quote.
मैं मनमोहन की तरह गुलाम नहीं हूं मुझे जो ठीक लग रहा है मैं वह कर रहा हूं आज भारत को RSS जैसे संगठन की आवश्यकता है : प्रणब मुखर्जी pic.twitter.com/8FpMp5f9ev

— Jeetendra Singh 🇮🇳 (@jeetensingh) June 4, 2018
मैं मनमोहन की तरह गुलाम नहीं हूं मुझे जो ठीक लग रहा है मैं वह कर रहा हूं आज भारत को RSS जैसे संगठन की आवश्यकता है : प्रणब मुखर्जी pic.twitter.com/dHdiZvhhkd

— neha kakkar (@nehakak5) June 4, 2018
But speaking to BOOM, Pranab Mukherjee's office has called the quote "Absolutely Rubbish". The team clarified that Mukherjee has not given any such quote at any event or to any journalist and it is clearly fake.
The fake quotes have also gone viral on Facebook pages, including several fan pages that support the BJP and its leaders. The posts have been shared by thousands of users.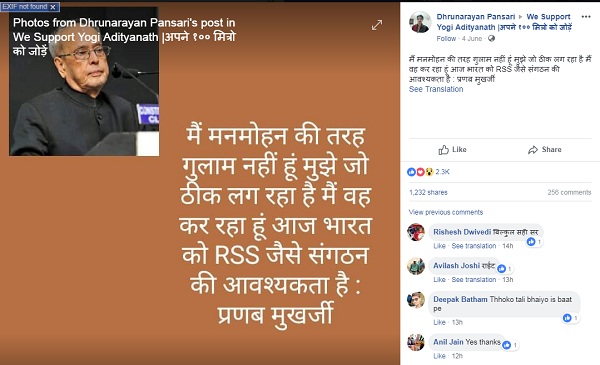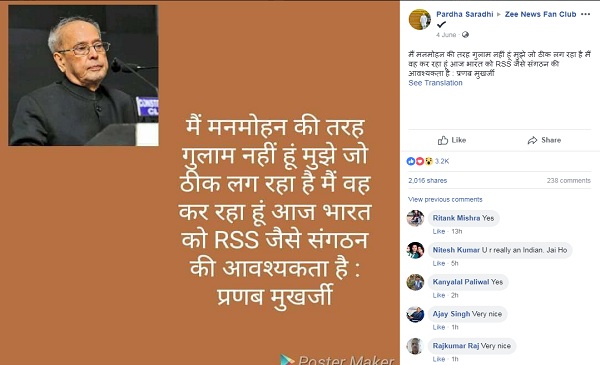 The spread of this fake quote comes at a time when Pranab Mukherjee accepted the invitation to attend an RSS event at its Nagpur headquarters, starting Wednesday. Mukherjee will participate in the concluding ceremony of the RSS training camp on June 7 and will deliver a speech that is expected to last for about 30 minutes, reports The Economic Times.
Mukherjee's acceptance of the invite had created quite a storm among his former Congress colleagues who expressed their reservations. His former cabinet colleague P Chidambaram had urged him, to take this as an opportunity to tell the RSS what is wrong with their ideology, "Now that he has accepted the invitation, there is no point in debating why he accepted it. The more important thing to say is, Sir you have accepted invitation, please go there and tell them what is wrong with their ideology," said Chidambaram.
Reacting to the criticism, Mukherjee had issued a firm response, saying that he will be attending the event. "Whatever I have to say, I will say in Nagpur. I have received several letters, requests and phone calls, but I haven't responded to anyone yet," Mr Mukherjee was quoted as saying by Bengali daily Anandabazar Patrika.
Fake quotes attributed to famous personalities has now become a regular feature. In the past, former RBI Governor Raghuram Rajan, Sundar Pichai, Bollywood actors Swara Bhasker and Farhan Akhtar and recently, Kairana RLD MP Tabassum Hasan have been targeted by those creating fake quotes to spread confusion and further their ideological agenda on social media.
Also Read:
'Will File FIR': Kairana MP Tabassum Hasan On Fake Quote, RLD Blames BJP
"Pure, Utter Rubbish," Says Raghuram Rajan About Fake Quote On PNB Scam
Bollywood Actors Bust Fake Quotes Attributed To Them
Do you always want to share the authentic news with your friends?
Subscribed Successfully...
Enter Valid Email Id