BOOM is an independent digital journalism initiative with a mission to fight misinformation and make the internet safer.
We are India's premier fact checking website, committed to bring to our readers verified facts rather than opinion. BOOM also writes pro-active fact files which serve to educate readers on key issues they might have questions about. Subjects that BOOM actively fact checks range from political, social, communal and health & medicine to products and services and even history.
Our approach involves a whole bunch of simple technology and tools but the foundation of our work is journalism, classic, old-school and robust. We speak to people, we check and verify and do not publish until and unless we have got formal clarifications on posts or stories where individuals and orgnisations are involved.
BOOM is presently available in three Indian languages, English, Hindi and Bengali with dedicated on ground teams working on all three. BOOM also broadcasts daily on Facebook and YouTube with live updates and checks on the latest news material being worked upon.
We can be found on Twitter (@boomlive_in) and on Facebook.
Starting March 2020, BOOM has expanded its fact checking network overseas, to Myanmar and Bangladesh, with experienced local teams leading the initiative.
https://www.boommyanmar.com/about-us/
We were the first fact checker to launch a WhatsApp helpline where you can send in your posts & forwards to be fact checked. Our WhatsApp helpline (+91 7700906588) receives thousands of serious queries every week.
BOOM has been in existence since 2014 as a broad investigative journalism effort and as a full-fledged fake news busting and fact checking initiative since November 2016. BOOM is a part of Outcue Media Pvt Ltd and is based in Mumbai, India.
Outcue Media Private Limited is a for-profit entity and gets its income from social platforms as well as contract work, media literacy, training as well as media content creation contracts in the non fact checking space.

Organisations that contributed more than 5 per cent of total BOOM revenues in the Financial Year 2019-2020 are listed here:
• Facebook
• NDTV
• UTI Mutual Fund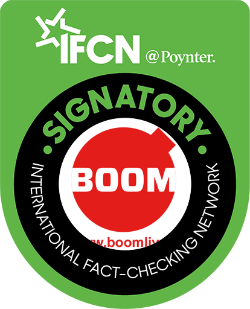 International Certification:
BOOM is among the first two fact checkers in India (www.factchecker.in also launched by the same founder) and South Asia to be certified by the International Fact Checking Network- Poynter Institute. This certification is a reflection of the early steps we took to build a editorially strong independent fact checking website that has strived to debunk fake news and prevent the spread of it.
Here is a link to our certification and the process. https://www.poynter.org/international-fact-checking-network-fact-checkers-code-principles