About Us - An Independent Digital Journalism Platform

We've come with a mission to
fight misinformation
, explain issues and make the internet safer.
BOOM is an independent digital journalism initiative with a mission to fight misinformation, explain issues and make the internet safer. BOOM is one of India's first and leading fact checking website and initiative, committed to provide readers journalistically verified facts.
Key Highlights of the BOOM
One of the first Indian fact checking newsrooms, certified by International Fact Checking Network (IFCN).
First newsroom from India to partner with Facebook on its Third Party Fact Checking Programme in 2018.
Available in three languages - English, Hindi and Bengali.
Present in three countries - India, Myanmar and Bangladesh.
Runs media literacy arm, Mediabuddhi
Our Journey
BOOM was the first Indian member of the International Fact Checking Network (IFCN) and also the first to partner with Facebook on its Third Party Fact Checking Programme from India.
BOOM's team comprises of several subject experts from health and law to data analytics and foreign policy. Our daily work includes tracking trending issues to proactively explain or contextualise, so as to pre-empt further spread of misinformation or provide explanations and backgrounders for those seeking them.
Subjects that BOOM actively fact checks range from political, business, social, health & medicine to brands, products and services.
BOOM is presently available in three Indian languages, English, Hindi and Bengali with dedicated on ground teams working on all three. Earlier this year, BOOM also expanded to Bangladesh and Myanmar with local websites and dedicated teams, taking the total number of languages to five. BOOM also works with a leading Indian social platform to fact check content in Kannada and Malayalam.
BOOM also broadcasts daily on Facebook and YouTube with explainers as well as fact check videos. You can find us on Twitter (@boomlive_in)
We were the first fact checker to launch a WhatsApp helpline where you can send in your posts & forwards to be fact checked. Our WhatsApp helpline (+91 7700906588) receives thousands of serious queries every week. 
BOOM has been in existence since 2014 as a broad investigative journalism effort and in its current avatar since November 2016.
BOOM is a part of Outcue Media Pvt Ltd and is headquartered in Mumbai, India.
Outcue Media Private Limited is a for-profit entity and gets its income from social platforms as well as contract work, media literacy, training as well as media content creation contracts in the non fact checking space.

Organisations that contributed more than 5 per cent of total BOOM revenues in the Financial Year 2022-2023 are listed here:

• Facebook

• Mohalla Tech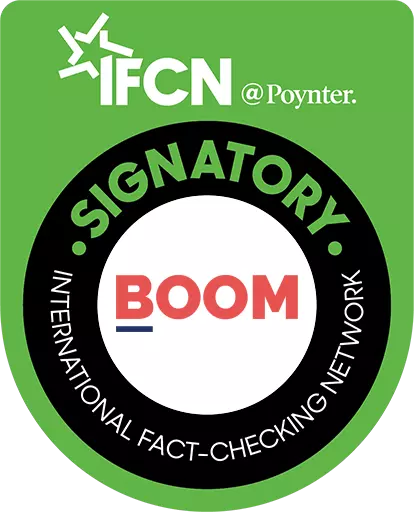 International Certification
BOOM is among the first two fact checkers in India (www.factchecker.in also launched by the same founder) and South Asia to be certified by the International Fact Checking Network- Poynter Institute. This certification is a reflection of the early steps we took to build a editorially strong independent fact checking website that has strived to debunk fake news and prevent the spread of it.
See our certification and the process