A Valentine to Gulzar
Each Valentine's day there's a ruckus on whether or not the public display of love is an Indian custom. While that debate rages here's a valentine to the man who's given Hindi cinema a very sensitive and yet sensuous and earthy sense of romance.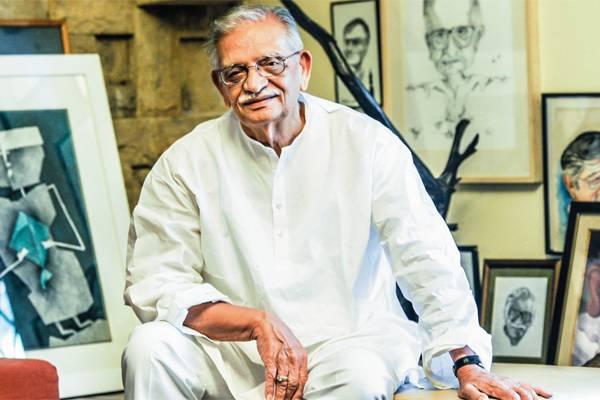 Movies have such a strong hold on us, generating impulses, sneaking in desires, colouring dreams, permeating our being almost. And yet when you try and look for cues to life's many mysteries, for answers to the questions it throws up, chances are you will find movies offer mostly, fragile, fleeting moments that although become meta themes, have little intrinsic value. In mainstream Hindi cinema barring the rare exception, cinematic narratives created by imagery and dialogues suggest, but rarely probe, the breadth and depth of the human condition.
That job is left entirely up to the songs. Even the most formulaic Hindi film can throw up a song that says what the scenes and dialogues shy away from, adding a layer of depth that the film itself may lack. The songs in our movies have not just saved our cinema from other forms of entertainment and the marauding appeal of Hollywood, but for many of us with basic or no education, the songs in our movies have saved our souls.
While it is music that makes songs memorable and sublime and is generally composed first, words that come later, infuse them with both meaning and purpose. Over the hundred years of cinema especially after the talkies, poets have used their fearless intellect and curiosity to pick every human emotion bare, nearly to the bone, in these songs. And no emotion has been scrutinized as much as romantic love has been. Shailendra, Shakil Badayuin, Majrooh Sultanpuri, Shahir Ludhianvi, Yogesh, Javed Akhtar have explored romantic love in all its glory and misery in film songs.
But the person I think stands tallest in his attempts to explore every nuance and complexity that comes with romance, love and desire is Gulzar. Where his songs on the subject are delicate, poetic and often playful his films are intrepid uncompromising explorations of relationships, intimacy and behaviour.
On Valentine's day let's stay with Gulzar's songs where lovers think nothing of stealing the moon; fragrant eyes hint at love so sublime that it transcends relationships; women talk of sexual longing and estranged couples dare to hope for second chances. Everyday life, mundane concerns and quixotic ideas are deftly almost impossibly woven into songs of romance and passion. In Gulzar's world romance is possible everywhere. Remember the engine driver (singer:RDBurman) in Kitaab, who yodels lustily `Dhanno ki aankhon mein hanh raat ka surma aur chand ka chumma' as his train chugs through the inky night.
Gulzar has written memorable love songs for men, the haunting 'Tumm Pukar Lo Tumhara Intezaar Hain', for Rajesh Khanna in Khamoshi; for Vinod Mehra (singer: Kishore Kumar) in Ghar 'Aap Ki Akhon Mein Kuch Meheke Hue Se Raaz Hain'; and for Shah Rukh Khan (singer: AR Rahman) the impassioned and impetuous `Ek Sooraj Nikla Tha Kuch Paara Pigla Tha Ek Aandhi Aayi Thi Jab Dil Se Aah Nikli thi' in Dil Se.
But it's the love songs that Gulzar has written for women that are really special. It's uncanny just how much they echo what women feel when they feel love and longing. Or maybe it's the other way round maybe we subconsciously echo the sentiments he and other lyricists have over the decades, attributed to us. Whichever way you want to see it, and given how female lyricists are between few and non-existent, Gulzar's songs have given women a unique voice.
It goes back to 1963 when a chance opportunity led Gulzar to write his very first song.
`Mora Gora Ang Lai Le' inspired by Bengali Vaishnav poetry shows a bashful Nutan asking to be dusky hoping to merge into the shadows to meet her lover under the cover of darkness. Written for Bimal Roy's film Bandini this song set off Gulzar's career in cinema. In those days Gulzar was working at a garage doing paint touch ups and odd jobs while hoping to make a literary career.
After the song he continued as an assistant director to Bimal Roy his mentor who he credits with changing the course of his life. In those early days Gulzar was a reluctant lyricist, an identity that is so integral to his oeuvre today.
But going back to the voice he gave women, take a listen to these:
Rekha (singer:Lata Mangeshkar) in Ghar croons longingly `Tere Bina Jiya Jaaye Na.....
Jab Bhi Khayalon Mein Tu Aaye Mere Badan se Khusboo Aaye, Meheke Badan Mein Rahan Na Jaaye Raaha Jaaye Na '. In Ijaazat, Anooradha Patel (voice:Asha Bhonsle) picks up the pieces after being dumped with her last love letter 'Mera Kuch Saaman tumhare paas padha hain' and seventeen years later in Mani Ratnam's Yuva, Rani Mukherjee (voice:Madhushree) cajoles and chides her rough and mercurial lover with 'Kabhi Neem Neem Kabhi Sahad Sahad'. Add 'Zabaan Pe Laaga Namak Ishk Ka' and 'Kajara Re Kajara Re' and Gulzar's songs have captured lust, hurt, anxiety, hope, excitement, loneliness, sorrow and all the many feelings spawned by love.
In what I have read and heard I haven't managed to quite pin down why Gulzar feels this innate empathy for women and why while he considers them different he automatically puts them on an equal footing with men. He has spoken of how women by virtue of the fact that they can give birth have a strength that men can never claim, but that doesn't explain his outlook really. Even when he writes songs for other filmmakers and he does that after reading their entire script he inevitably breathes vim into the women with his words.
Gulzar has written many deeply philosophical songs and equally as many songs full of mirth and the rhythm of life. As a filmmaker and writer he has studied politics, history, spirituality, urban alienation and even the supernatural. Steeped in Urdu, Hindi, Bengali and English literature Gulzar's enthusiasm for his craft is infectious and at 81 with over 50 years in the business he's still articulating that crazy little thing called love. His felicity with words, his unorthodox use of language, his unusual way of seeing and the deep honesty with which he articulates feelings has given Hindi cinema and us the marvelous gift of self expression.
Most songs written by Gulzar are on my playlist but I am going to leave you with this one he has written for the film Kinara. In 'Ek Hi Khwab' Dharmendra (singer:Bhupinder) is a poet pulling words out of thin air to make a love song of the best kind, one that's deeply personal.
Ek hi khwab kai baar dekha hai maine
Tune saari main uras li hai chabiyan ghar ki
Aur chali aayi hai, bus yoon hi mera haath pakad kar
Ek hi khwab kai baar dekha hai maine
Mej par phool sajate hue, dekha hai kai baar
Aur bistar se kai baar, jagaya hai tujhko
Chalte phirte tere kadmon ki woh, aahat bhi suni hai
Ek hi khwab kai baar dekha hai maine
Kyon Chhithi hai ya kavita
Abhi tak to kavita hain.
Gungunati hui nikli hai naha kar jab bhi
Aur apne bhige hue baalon se tapakta paani
Mere chahre pe chhitak deti hai tu tiku ki bachi.
Ek hi khwab kai baar dekha maine
Taash ke patton pe ladti hai, kabhi kabhi khel main mujhse
Aur ladti bhi hai aise ki bus, khel rahi hai mujhse