9 Family Members, 5 Votes? No, This Jalandhar Candidate Actually Got 856 Votes
BOOM checked the Election Commission of India's website and found that Neetu Shutteran Wala had in fact polled 856 votes and not just five.
Viral social media posts claiming an independent candidate from Jalandhar bagged only five votes despite having nine members in his family, are false.
News articles and videos showing Neetu Shutteran Wala storm out of the counting centre in tears because he believed he got only five votes, went viral on Thursday.

The videos show Shutteran Wala breaking down while being interviewed by local reporters.
The clip soon went viral on social media with the caption that said, "this independent candidate got a total of five votes and his in house there are nine people."
(Translated from Hindi – "Iss independent candidate ko total 5 votes padi hain aur iske ghar mein 9 log hain."
Viral on Facebook
Several social media users also shared a Times of India article whose headline said 'Nine people in my family, but I got just five votes'. The sentence in single quotes is actually a quote from Shutteran Wala.
"I have nine votes in my family but got only five votes and this is shocking for me. My entire street had vowed to vote for me but I just got five votes. I had remained away from my shop for a month and worked among people but they did not vote for me," said a sobbing Neetu who also vowed not to contest any election in future. Times of India quoted him as saying.
While the article mentioned Shutteran Wala won 856 votes – in the second last paragraph – screenshots of the headline went viral on social media.
FACT-CHECK
BOOM checked the Election Commission of India's website and found that Shutteran Wala had in fact polled 856 votes and not just five.
Meanwhile the seat was won by Santokh Singh Chaudhary from the Indian National Congress with 3,85,449 votes.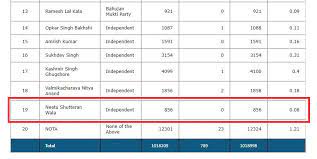 Shutteran Wala appears to have lost heart after just one round of counting.
"Only after one round, he got so shattered that he did not even think that there were many rounds left. He cried loudly and was inconsolable. He said that he would not contest the elections in the future," reported The Tribue.
(BOOM is now available across social media platforms. For quality fact check stories, subscribe to our Telegram and WhatsApp channels. You can also follow us on Twitter and Facebook.)
Claim Review :
A candidate in Jalandhar got 5 votes in spite of having 9 family members
Claimed By :
Facebook posts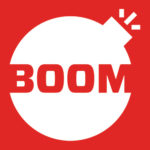 Anmol Alphonso
Anmol Alphonso is a fact-checker with BOOM. He has previously interned at IndiaSpend as a fact-checker and was a reporting intern at Times of India, Indian Express, and Mid-Day. He is a post-graduate diploma holder in journalism from St Paul's Institute of Communication Education, Mumbai.