5 Reasons Why 190 Riot Affected Families From Muzaffarnagar Were Denied Compensation
UP government denies compensation to 190 riot affected families of Muzaffarnagar for being unable to prove their independent family status, reports Amnesty.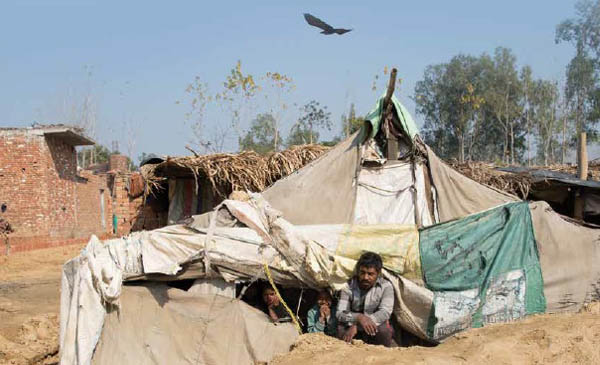 A makeshift tent home at a resettlement colony in Shahpur, Muzaffarnagar. Courtesy : Amnesty International
Human Rights Watchdog Amnesty International India has criticised the Uttar Pradesh government for failing to provide compensation to over 190 displaced families even after four years of the communal riots that disrupted normal life in Muzaffarnagar. Government records state that 1800 families from '9 worst affected villages' of Muzaffarnagar (980 families) and Shamli (820 families) districts have availed the one time settlement. However, these 190 families have been left out from the government's list of riot victims.
"These families were forced to leave their homes and everything they owned during the 2013 violence. But successive governments in Uttar Pradesh have failed them," said Asmita Basu, Programmes Director at Amnesty International India.
Muzaffarnagar riots in September 2013 which lasted for 3 days led to the death of around 60 people and forced thousands of Muslim families to flee from their homes in 140 villages.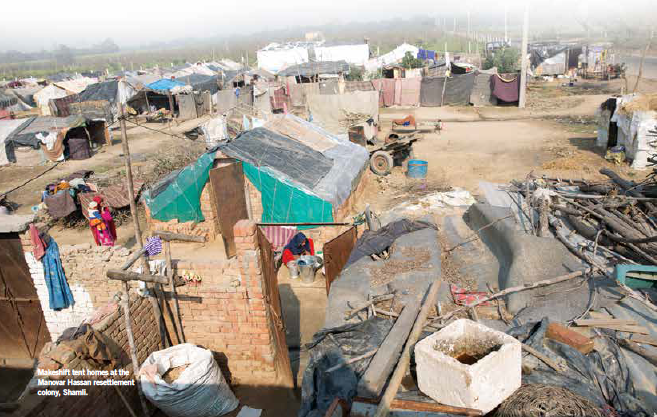 Courtesy : Amnesty International
The state government had declared various financial compensations for people affected by the riots. This includes Rs 20,000 for injured, Rs 50,000 for seriously injured, Rs 3,00,000 for the family of person killed and Rs 5,00,000 as one time compensation for resettlement and rehabilitation for 1,800 families identified from the 9 'worst affected' villages. Six villages from Muzaffarnagar and three from Shamli were selected as worst affected villages based on loss of life and property by the state government.
Amnesty points out several reasons that revolve around varied definitions of a 'family' that made many victims ineligible to receive their rightful share of compensation :
1) Belonging to a joint family that received compensation
Several families were denied compensation as the authorities claimed they belonged to joint families who received the compensation.
The state government had used the census definition of 'household' to operationalize the unit of 'family'. Accordingly, a family referred to 'a group of persons who normally live together and take their meals from a common kitchen'.
The report says that despite having separate kitchens and different addresses on ration cards, applications of several nuclear families for compensation were rejected as one member of the extended family received the settlement amount.
For example, Nawab Khan received a compensation of Rs 5.25 lakh, but his three sons who had their own families did not receive the compensation for 'belonging to the same family'.
2) Loss of identity documents
Momin from Lisar village with a family of 6 (wife and 5 children) could not avail the compensation as his identity documents were lost in the riots. Momin who used to stay next to his brother's house but shared the same gate could not prove his separate family status. Thus, Momin's application for compensation was rejected.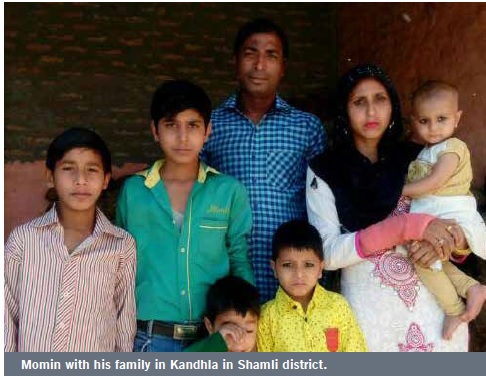 Courtesy : Amnesty International
3) Biased surveys
Surveys conducted to identify riot victims could have been biased. Government officials relied on statements of Hindu neighbours and the village Pradhan to confirm the household status of the Muslim family. In order to be eligible for the compensation the Village Pradhan had to certify that the family was living in the village and is an independent household. The report says that these neighbours could have been perpetrators of the riot.
4) Clerical Errors
Yamin Hamid was denied compensation stating that his father had received it, while his father had died in 1985. Despite producing the death certificate, his application was rejected by the officials.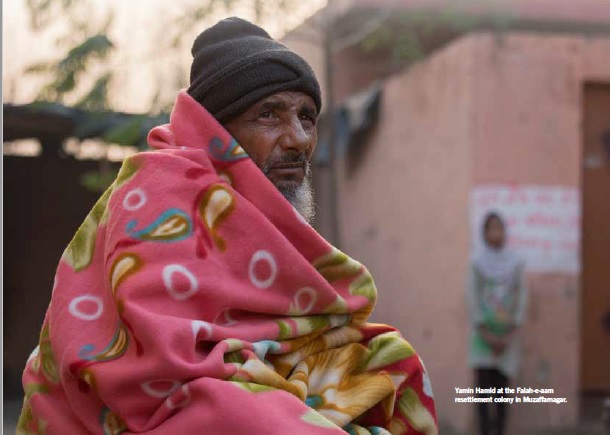 Courtesy : Amnesty International
5) Forced to pay bribe to avail compensation
Mohammade Ayub says that for compensation amount of Rs 5,00,000, a bribe of Rs 1,50,000 was to be paid to officials. Whoever disagreed to pay the bribe was denied the compensation.
Many of these families are forced to stay in the resettlement colonies in Muzzafarnagar and Shamli which lack basic amenities.
Source: Amnesty International