5 Lessons For Journalists From The Fake Google Job Offer Story
BOOM analyses what is going wrong in the line of reporting and steps journalists can follow to avoid such fake stories.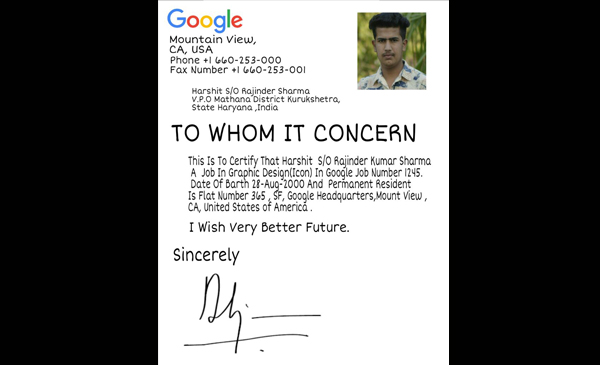 Fake Google Offer Letter
The recent viral story about a 16-year old Chandigarh boy landing a high-paying job at Google which turned out to be fake is sadly one more example of journalists falling for fabricated stories of awards, scholarships and jobs with well known institutions in the United States.
This is the third instance where national media was duped by a similar fictitious story of a local boy doing good. (Read BOOM's fact check) National Aeronautics Space Administration (NASA) seems to be a favourite target for such stories because it epitomizes these underdog fantasies. In most cases these stories first originate in regional news outlets and then make their way to mainstream English publications.
In 2005, Saurabh Singh from Uttar Pradesh made headlines claiming to be "the first Indian to top the prestigious examination of the International Scientist Discovery (ISD) conducted by NASA." Read Times of India's story from 2005 which strangely is still visible on the Internet. 'Shooting star: UP boy tops NASA'. It turned out that NASA does not conduct any exam called 'International Scientist Discovery'.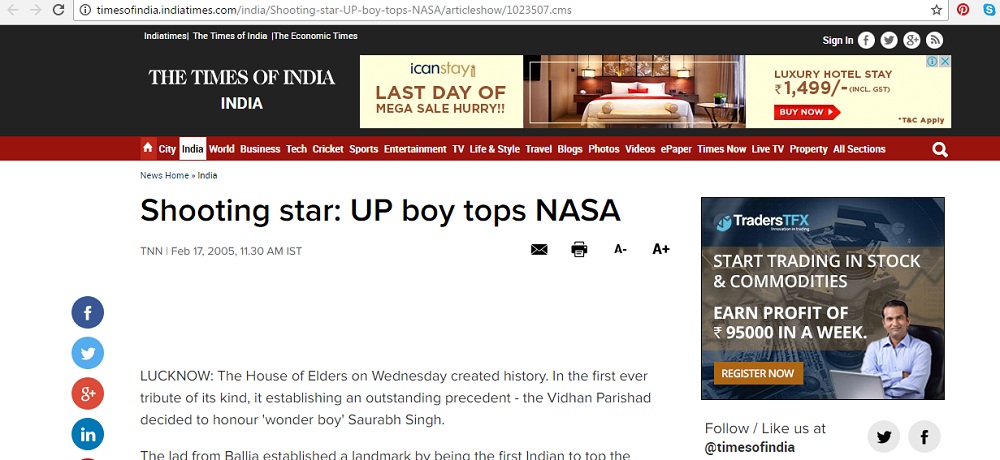 (Screenshot of Times Of India's story)
As recently as May this year, several news outlets reported about 17-year old Jaipur lad -Monark Sharma who allegedly landed a job with the US army's AH-64E combat fighter helicopter unit. It was reported that Monark began his career as a junior research scientist at NASA in the mass communication wing in 2013.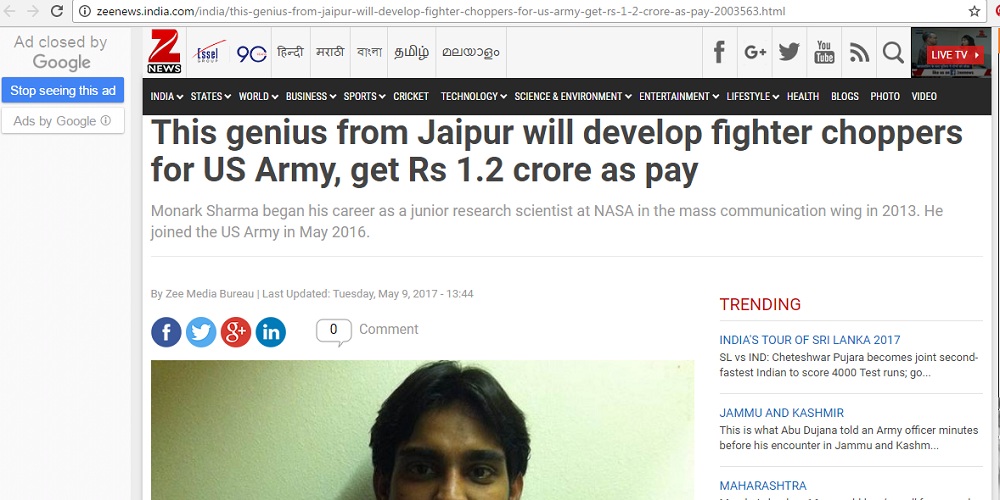 (Screenshot of Zee New's story )
How someone working in the communications department was chosen to work with a combat helicopter unit was never explained.
(Read FactChecks: Doubts over NASA boy exam triumph - BBC ( 2005 )
NASA Rubbishes Claims Of Jaipur Man Who Said He Worked There Before Joining US Army - HuffPost (2017)
In the recent case of Chandigarh's Harshit Sharma; follow-up stories from leading publications make it seem like a story about a boy and a school that got duped by a poorly photoshopped Google job offer letter but what these stories sorely lack is introspection and how journalists got it wrong in the first place.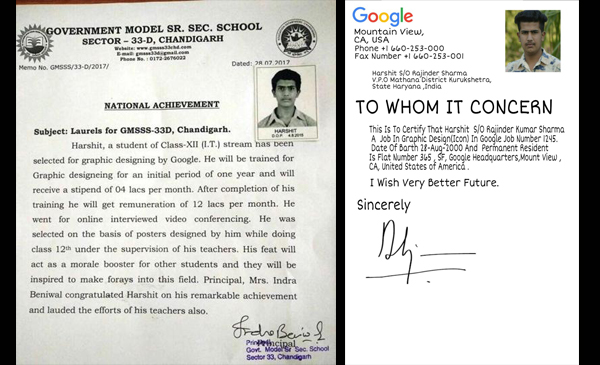 Sadly, these stories chip away at the already frayed credibility of mainstream news media in India. BOOM lists down the steps journalists and fact checkers should take to avoid falling for such stories.
1. Do your due diligence: At a very basic level, due diligence would involve contacting the source and speaking to all parties concerned. There were three parties to Harshit Sharma's story -Harshit himself, the school and Google. Of these, Google was the most important source that needed to be contacted. A few news organisations spoke to Harshit and his school's principal but seemed to have missed Google in the initial stage of reporting. The story could have been stopped in its tracks if the reporter had sought comment from Google corroborating the supposed appointment. If the reporter did reach out to Google then it should have been clearly stated in the story.
2. Be skeptical: The first red flag that fact checkers at BOOM spotted in Harshit's story was the argument that a 'graphic designing' job was unlikely fetch the fantastic salary that was being quoted. In Jaipur boy Monark Sharma's case, the leap from NASA to the U.S. army seemed too good to be true. The more outlandish the claim, the more robust the due diligence should be. If a reporter can't get hold of the offer letter, ask to see some correspondence between the company supposedly making the offer.
3. Tell your reader what you don't know (Disclaimers): As more newsrooms do away with field reporters and create "web desks" that track and 'curate' or rewrite viral stories reported by their competitors, adding disclaimers will become increasingly important. It is important to clearly spell out what you don't know at the time of writing the story. A good practice is to also detail the steps you have taken to verify details even if you cannot verify all of it.
4. Attribute the source: State the source of the claim in the headline too. Attribution helps news organisations defend themselves in case a story turns out to be false later on. In case of curated stories it also helps the reader understand where the story originated and who reported it first. Attribution is good practice in general even if a story does not turn out to be fake.
5. Wait: 'It is better to be second and right than to be first and wrong' is a saying among journalists at wires news agencies. The stories about Saurabh Singh, Monark Sharma and Harshit Sharma, were neither 'breaking' stories nor were they 'exclusive' stories. News outlets that curated the story from other websites should have waited until they had done their basic due diligence.
Fact checkers cannot replace journalists who in essence are the boots on the ground and the first responders to a story. Currently fact checkers get involved when it's too late and the damage has already been done. Hopefully a reminder of these fundamental steps will save everyone the blushes and draw a line under these fake stories.
(Updates headline, rewrites throughout)
If you value our work, we have an ask:
Our journalists work with TruthSeekers like you to publish fact-checks, explainers, ground reports and media literacy content. Much of this work involves using investigative methods and forensic tools. Our work is resource-intensive, and we rely on our readers to fund our work. Support us so we can continue our work of decluttering the information landscape.
BECOME A MEMBER