Fact Check
2013 Meerut Image Shared As That Of Farmer Protest In Delhi
Activist Kavita Krishnan and Facebook Page 'I am with Barkha Dutt' shared a 2013 image from Meerut as farmer's protest in Delhi.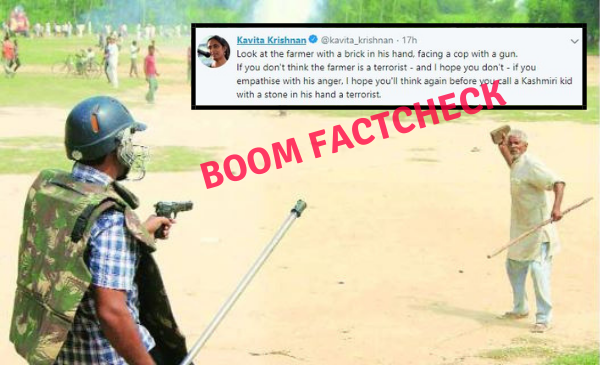 A 2013 image of a security officer pointing gun at a villager from Meerut is being widely shared as that of a farmer being attacked by police in the recent protests held in Delhi.
The image is being shared in the background of police using force to stop the farmer's protest march from entering Delhi on October 2. Thousands of farmers led by the Bharatiya Kisan Union held a 10 day long march from Haridwar to the national capital to reach Kisan Ghat, Delhi on Gandhi Jayanti. However, the police set barricades at the UP-Delhi border preventing them from entering Delhi. The police also used tear gas and water cannons on the farmers when they attempted to break the barricades. Around 14 people including policemen were injured in the clashes. The government and the police came under heavy criticism for using force against the farmers. Later they were allowed to enter Delhi only on Wednesday.
CLAIM: "Look at the farmer with a brick in his hand, facing a cop with a gun".
RATING: False
FACT: It is a 2013 image from Khera in Meerut, Uttar Pradesh during a clash between police force and villagers post the Muzaffarnagar riots.
Facebook page I am With Barkha Dutt with around 7.5 lakh followers shared the image with the caption एक बुजुर्ग अनदाता पर सीधे बंदूक तान देना कहां की शूरवीरता है साहेब ! क्या ये किसान अपराधी हैं या आतंकवादी ? डूब मरो तानाशाहों. The post has got around 3000 shares at the time of writing this story.
Activist Kavita Krishnan also tweeted the image saying "Look at the farmer with a brick in his hand, facing a cop with a gun". Her tweet has got around 2000 retweets. Krishnan later tweeted a clarification.
Look at the farmer with a brick in his hand, facing a cop with a gun.

If you don't think the farmer is a terrorist - and I hope you don't - if you empathise with his anger, I hope you'll think again before you call a Kashmiri kid with a stone in his hand a terrorist. pic.twitter.com/7Omxax3sWj

— Kavita Krishnan (@kavita_krishnan) October 2, 2018
BOOM did a reverse Google image search to find an Indian Express article from September 2013 - Tense Meerut Erupts, six hurt in clash with police at banned mahapanchayat. The image originally by PTI has been captioned as , " A security officer takes on a villager during the clash in Khera on Sunday "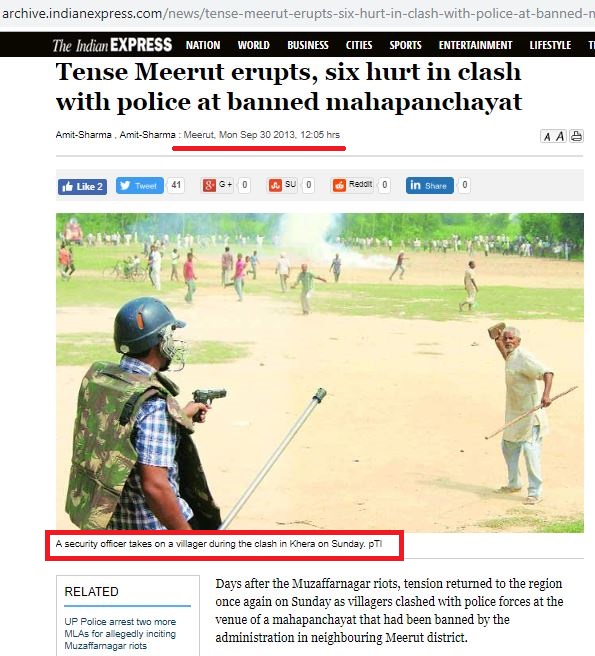 We also found an article by The Hindu - Jailed BJP MLA's supporters unleash violence in UP village - reporting the same incident and image.
Below is the image in PTI's gallery.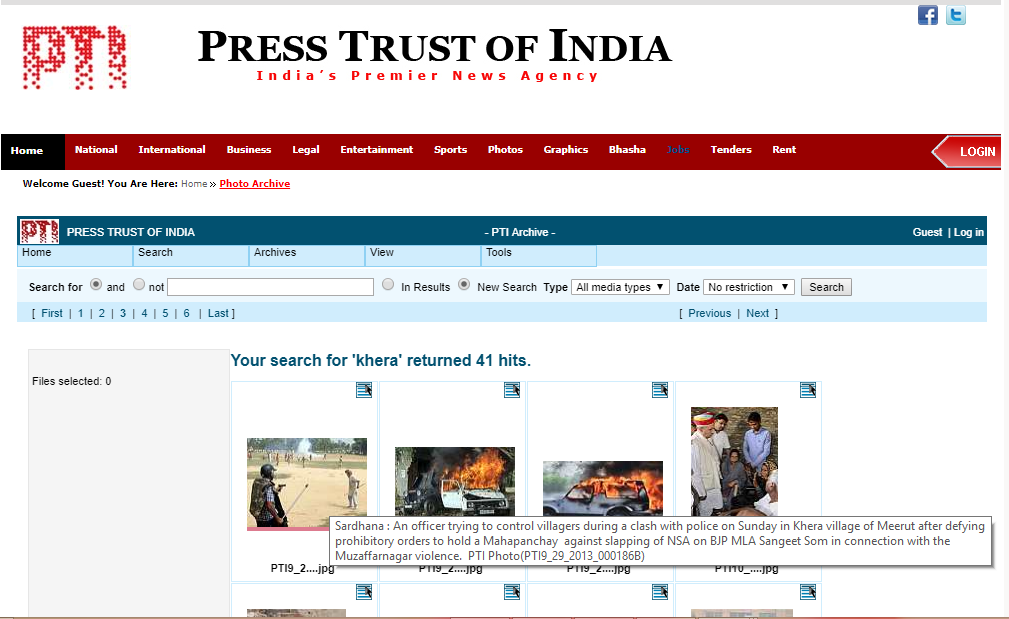 The incident had occurred at the location of a mahapanchayat that was banned by the administration post the Muzaffarnagar riots. Villagers had gathered at Khera village to protest the arrest of the local BJP MLA Sangeet Singh Som in connection with the riots. Police used tear gas and had opened fire on the villagers.
Claim :
A Farmer With A Brick In His Hand, Facing A Cop With A Gun
Claimed By :
Kavita Krishnan
Do you always want to share the authentic news with your friends?
Subscribed Successfully...
Enter Valid Email Id