12 Convicted, 213 Candidates With Criminal Charges To Contest Phase 1 LS Elections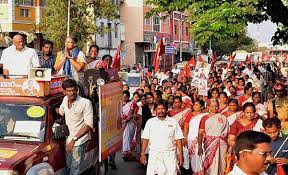 Data collated by the Association of Democratic Reforms (ADR) show that a total of 17% of candidates contesting in the first phase of the Lok Sabha polls on April 11 have criminal charges against them.
And among the various charges faced by them, almost 70% are serious.
This phase will also witness 12 candidates who have been convicted under various offences. These candidates have been convicted of offences including fraud, cheating and even bouncing of cheques.
Overview Of Crime: Phase 1
Going into phase one, a total of 17% of candidates of the 1,266 candidates being analysed have a criminal record against them.
A total of 12% of all candidates have serious criminal cases against them.
ADR defines a serious criminal case as:
Punishments of 5 years or more or it is non-bailable
Electoral offences (such as bribery)
Assault, murder, kidnap or rape
Offences mentioned under the Representation of People's Act, 1951
Offences of corruption, under the Prevention of Corruption Act
It is also worth noting that of the 213 offences committed, 146 - or 70% - of the offences committed are serious ones.
Specific Crime Records: Phase 1
Amongst the 1,266 candidates under observation, 12 candidates have been convicted for some offence under the law.
Crimes against women includes offences like rape, hurting the modesty of a woman and relatives subjecting women to harm.
Kidnapping charges include kidnapping and abducting and compelling for marriage or abducting for murder.
Here are some interesting conviction records:
Other convictions also include railway offences, which were cleared on the spot by levying fines ranging between ₹500 to ₹5,000.

Section 8 of the Representation of Peoples' Act lays down the grounds for convicts to contest elections.
Sub clause 3 of section 8 states that:
A person convicted of any offence and sentenced to imprisonment for not less than two years [other than any offence referred to in sub-section (1) or sub-section (2)] shall be disqualified from the date of such conviction and shall continue to be disqualified for a further period of six years since his release.
Sub-section 1 and 2. deals with specific Acts of Parliament and sections under the IPC that disqualifies one for six years if fined, and further six years if needed to serve a jail term.

Crime By Party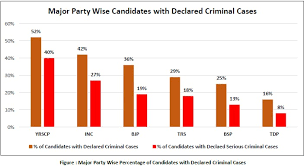 The data also shows that the YSRCP and the Indian National Congress are fielding the highest proportion of the criminal candidates in the first phase of the Lok Sabha elections.
40% of the YSRCP's candidates have serious criminal charges against them; the Congress having 27%.
Almost 40% of constituencies - 37 out of 91 of them - are fielding candidates with more than 3 criminal cases against them.
Also Read :Phase 1 Analysis: Andhra Candidates Top The List On Crime And Money
You can find all the data here